The status of child marriage and its impact upon girls in Nepal
This research report will help policy makers, programme implementers, researchers and advocates to end child marriage in Nepal.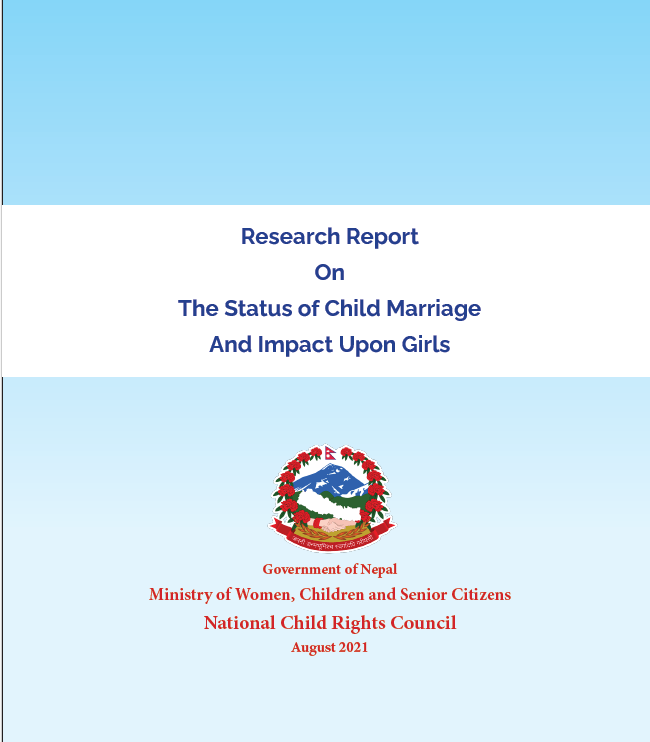 This research report highlights that the incidence of child, early and forced marriage (CEFM) still significantly prevails in Nepal but is a decreasing trend. It also shows the pattern of CEFM is diversified and underreported in communities.
The research identifies a number of risk factors (personal and socio-economic) that have a correlation with the practice of CEFM. It reports on the perceived adverse impacts on the physical and mental health, social lives and legal rights of children. Further, the study has policy, programme and service delivery recommendations to prevent the practice.
Since Nepal is committed to ending CEFM by 2030, the current study is expected to contribute to designing effective and efficient programmes to reduce CEFM and its adverse impacts. It is anticipated that the report will provide evidence that enables policymakers and implementers to make the right decisions and act effectively to end CEFM. Additionally, it will be a reliable reference for researchers and the advocates who engage in different work related to ending and reducing CEFM.
The research was undertaken by National Child Rights Council (NCRC) and is published by the Ministry of Women, Children, and Senior Citizens with the financial and technical support of Plan International Nepal.
Download report
Protection from violence, Sexual and reproductive health and rights, child marriage