"I rarely stepped out of my house during the lockdown. My classes were online. When the lockdown was partially lifted, it was such a relief. But I never go out without wearing a mask and always maintain social distancing. It's a COVID-19 fear," explains 18-year-old Kreetisha from Sunsari district in Nepal.
Kreetisha's father is a primary school teacher and her mother works as a tailor to earn extra money to support the family of 5. Kreetisha spent her time during lockdown helping her mother with the household chores, looking after the family goats and cooking.
Impact of the pandemic
"COVID-19 impacted us financially and mentally. My father's income from his school was not regular and my mother couldn't find any sewing work. We had to borrow money from our relatives and neighbours to buy food. On the other hand, news of near and dear ones dying of COVID-19 affected us a lot."
Although COVID-19 cases are now decreasing, the second and third waves of the virus caused even more fear. Now that people are starting to resume their day-to-day activities, Kreetisha can't help but feel worried. "It seems the situation is back to normal, but this does not mean there is no more COVID. I can't help worrying when I see people not wearing masks."
As a well known youth activist in her community, Kreetisha has led successful campaigns on menstrual hygiene and young people's access to sexual and reproductive health and rights, so she decided to use her advocacy skills to raise awareness of the COVID-19 safety measures and encourage her friends and family to follow them.
"I worked as a volunteer for COVID-19 data collection for few months and observed that people in my community were not following the COVID-19 safety protocols. I was upset," shares Kreetisha. "I started to provide them with information on COVID-19 prevention. I showed them how to properly use face masks properly and took part in a mask awareness campaign."
Tackling misinformation
The widespread misinformation and disinformation around the COVID-19 vaccine is also causing confusion in many communities with people unsure whether to get vaccinated or not. During the first roll-out of the vaccine in Nepal, few people took up the opportunity to be vaccinated, despite the Nepalese government offering it for free.
"I had heard that the vaccine is fake and the Nepal government bought a low quality version," says Kreetisha. "There were many rumours, myths, and misconceptions going around about the COVID-19 vaccine which made me believe they were true."
Keen to learn more about the vaccine, when Kreetisha came across an opportunity to become a youth volunteer at her local vaccination centre, she decided to join up. "I was done with my exams and didn't want to stay idle. This is a great opportunity for me to help the health workers at the vaccination centre and assist older people."
The vaccination volunteer project is being implemented by Plan International through our working partner, Community for Social Development Center (CSDC). The selected youth volunteers first took part in a training workshop to learn about COVID-19 prevention and the vaccination. The volunteers, who are aged between 18-24, were also encouraged to be vaccinated before they started their work.
"My journey as a COVID-19 youth volunteer is life-changing for me. I cleared all my doubts related to the vaccine. I realised that what we see on social media is not always true. We need to check the source of the information to be more informed," says Kreetisha. "I wanted to get my vaccine much earlier, but due to my exams, I missed the opportunity."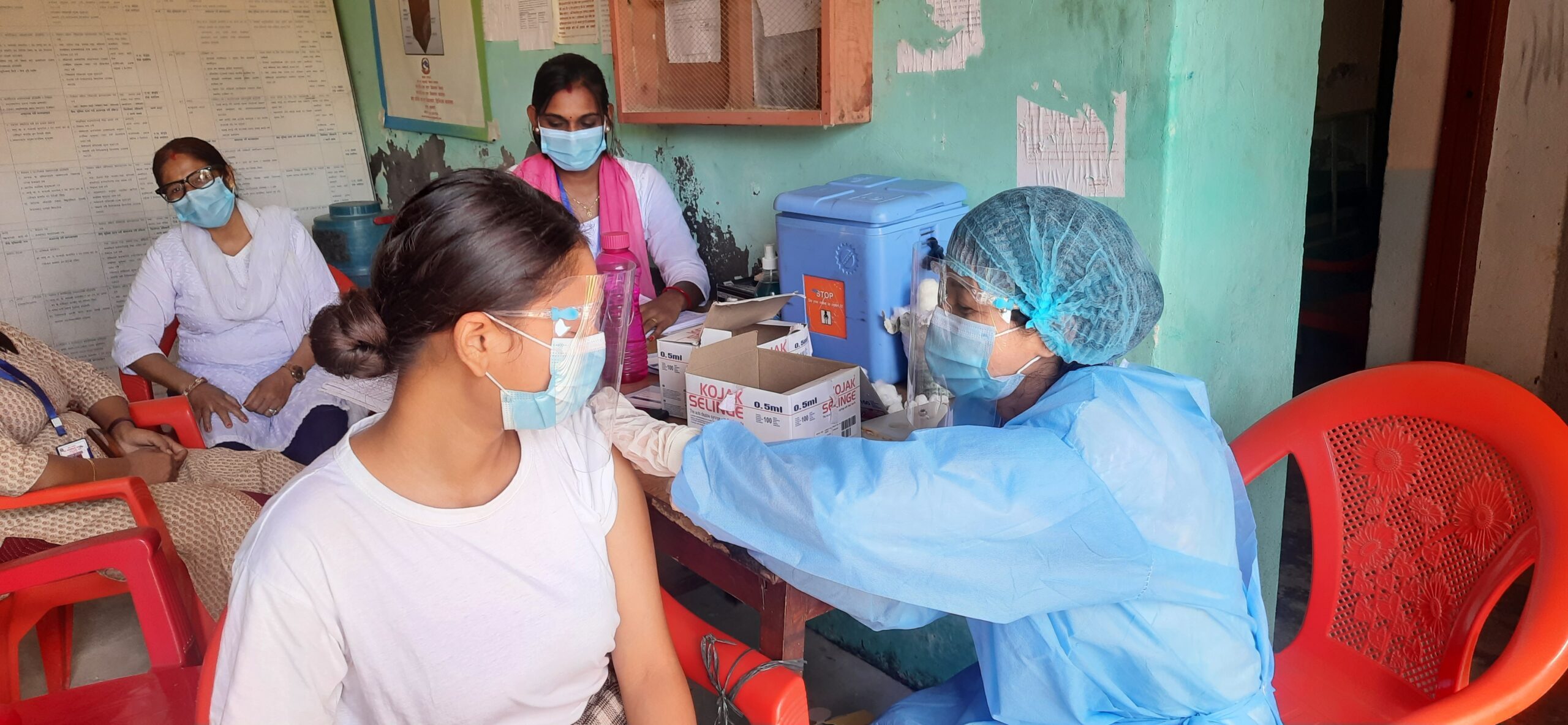 Kreetisha is now volunteering at a vaccination centre around 15km from her home. "I distribute masks to people coming for their vaccine. I ask them to maintain social distance and provide them with information about the vaccination," explains Kreetisha. "During the training programme, our project coordinator encouraged me to get my first dose of Verocell. I am now more protected against COVID-19 which boosts my confidence."
Sabita Niraula, who works at the vaccination centre where Kreetisha works, says: "Kreetisha is very active. She helps us make reports, makes people aware to use a mask, and manages the crowds in the centre. I have not seen a young girl like her who has such a keen interest in volunteering her time to help her community."
Supporting community members
Kreetisha also goes door-to-door in her community to raise awareness of the vaccination schedule. When she realised that one of the middle-aged women in her community was not yet vaccinated, she reached out to her family to provide them with information about the vaccine, and also accompanied the woman to the vaccination centre to get her job.
"I am imagining the world without coronavirus. We are back to normal. I want to complete my education and get a job," says Kreetisha. "I want everyone in my community to get vaccinated and make all of them realise, that even if they are vaccinated they still need to follow the COVID-19 safety protocols. I hope all my family members get vaccinated soon."
"I want to study for a bachelors degree in business administrator at university. Currently, I am preparing for my entrance exam and hoping for the best," says Kreetisha. "I miss going to the college each morning, meeting my friends and studying together. I want to go back to the time where I could enjoy being free again. I hope there won't be anymore lockdowns," Kreetisha concludes.