Leveraging Meaningful Youth Participation into Real Policy Change
31 March 2023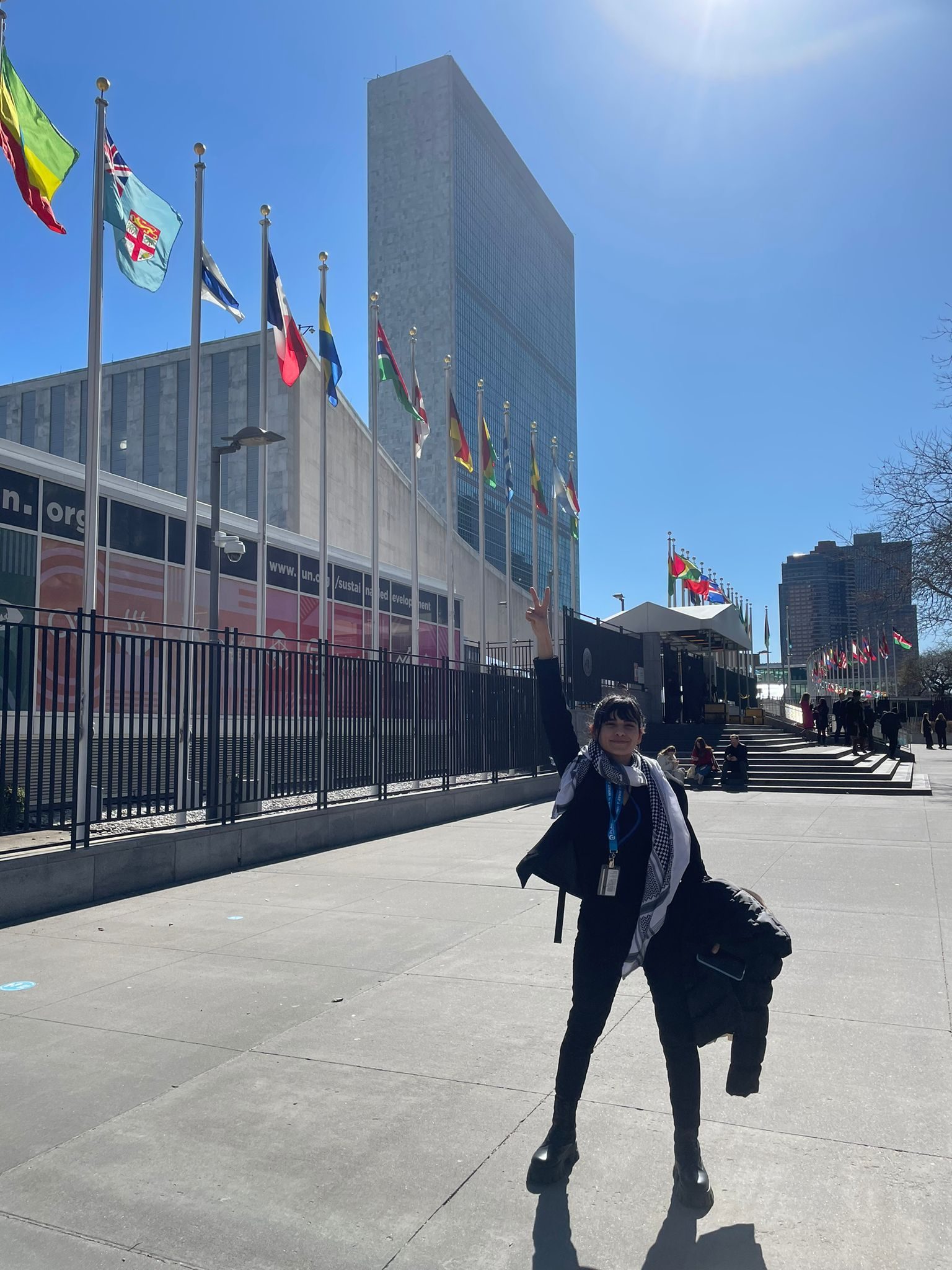 Youth access to the United Nations has been, at best, extremely limited, and at worst, merely tokenistic. The practice of hosting young people on event panels as one-off experiences has traditionally been more useful for event organizers, with no real follow-through for the youth advocates or accountability for those in power. Members of a Plan Germany Youth Delegation reflected on this reality:
"When young people are included in political processes, their presence is often used to enhance representation, which leads to a tokenistic form of participation. At events, they need to be provided not only a chair at the table but also respect towards their expertise….to be listened to and be understood so that they actually influence the negotiations and the content/wording of the Agreed Conclusion from their perspective."
The Commission on the Status of Women (CSW) is the main intergovernmental body dedicated to gender equality, with a special focus this year on innovation and technological change, and education in the digital age for achieving gender equality and the empowerment of all women and girls. Plan International's engagement in the 67th session of CSW sought to disrupt that traditional tokenistic model of youth participation in favour of a more meaningful approach which guarantees that the rights, experiences and expertise of girls and young women are centred in our policy development and advocacy, and one which we will be using as a blueprint to build upon for all future advocacy that concerns girls and young women.
A Different Approach to Advocacy
Plan International's strategic approach at CSW67 was to focus on two strands of work; policy development and meaningful and ethical youth engagement, with both strands intertwining to strengthen the other. Instead of young people merely "getting involved in events," we worked directly with a year-long cohort made up of girl and young women activists from the She Leads program, a network active in 9 countries across Africa and the Middle East, with a core emphasis on country-level partnerships with autonomous grassroots girl- and youth-led groups. These youth advocates were leading and co-creating policy recommendations from the very beginning of our CSW engagement.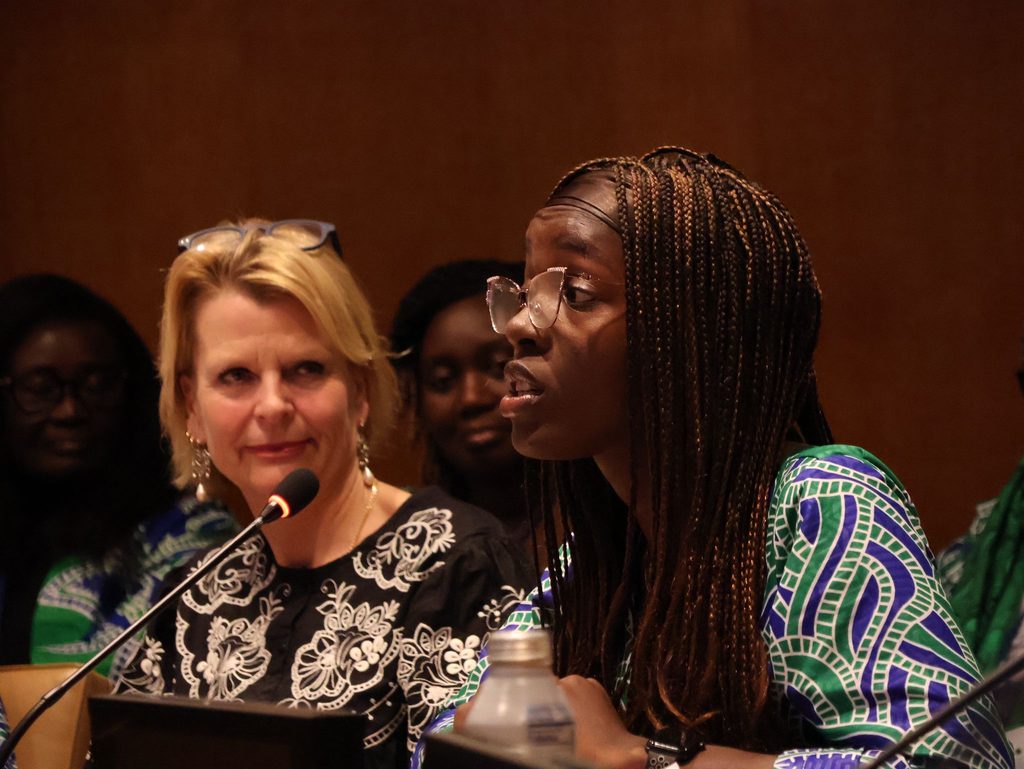 Plan International's philosophy on meaningful youth engagement envisions the sustained influence of girls and young women on decision-making and the transformation of gender norms in formal and informal institutions, with girls as agents of change at the UN and on its policy, ensuring that girls are able to exercise influence over those critical decisions affecting their lives. Our ultimate goal is to institutionalize youth participation at the UN moving away from ad hoc engagement to sustained and meaningful presence.
Creating substantive policy recommendations in partnership with youth advocates represents an increasing shift in the way Plan International engages with the UN on all levels. The cohort itself was convened in July of 2022 to ensure sufficient time to prepare for the multiple UN processes they would soon be engaging with. Our written statement for CSW was submitted in October and was fully informed by the lived experience of the She Leads UN Youth Advocacy Cohort, who were actively engaged in its development, along with Plan's own research. Additionally, several members of the cohort with an active interest in policy joined the internal CSW policy working group, attending meetings and feeding into documents (such as the Zero Draft) as equal members.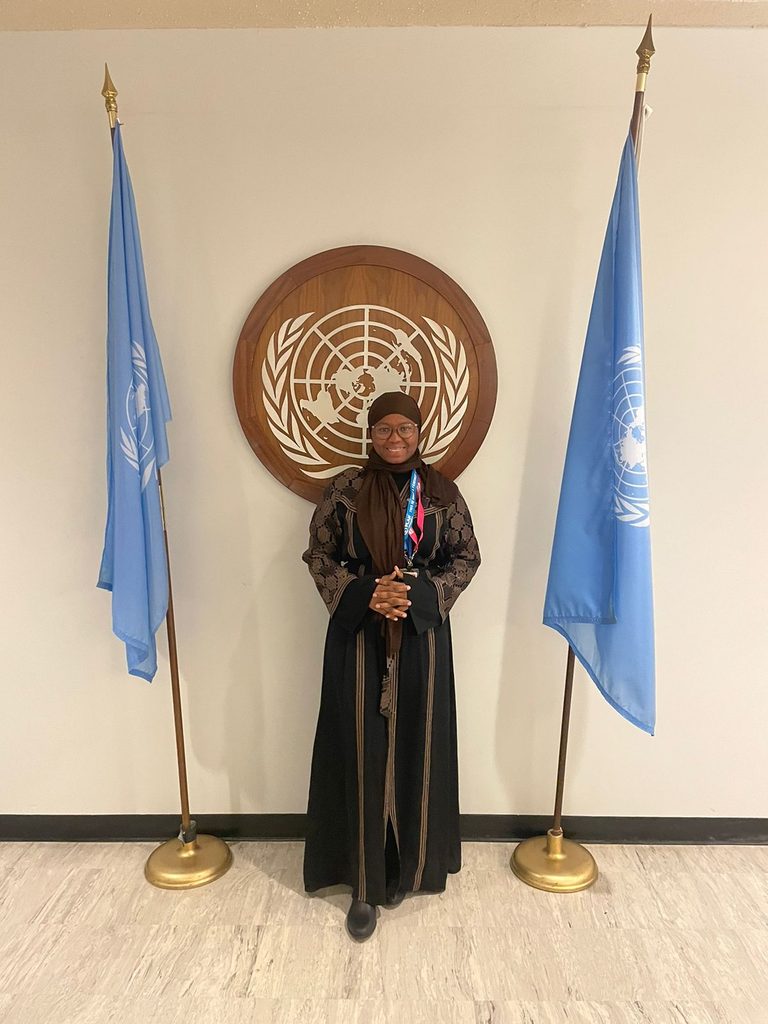 "My experience as a young girl from Ghana participating in the 67th session of CSW was incredibly valuable and allowed me to gain a deeper understanding of the critical role that technology and innovation can play in achieving gender equality in education. I hope that my recommendations can help to ensure that future events are more inclusive and provide young people with the opportunity to engage in meaningful discussions and provide their perspectives." – Hiqmat
At the same time, members of the cohort independently developed their own recommendations for keeping girls safe online, writing an official declaration with an accompanying launch video. The youth advocates from the cohort who attended CSW in person distributed hundreds of these declarations at CSW, including at every meeting they took or event they attended, to the elevators of the UN, to their meetings with Member States – seeking every opportunity as an opportunity for advocacy on their youth recommendations for the CSW. They engaged with CSW in a wider range of ways than ever before – from attending a closed-door meeting in February with EU officials, to speaking at events at UNHQ, to 1-1s with member states in New York, to hosting their own youth activist networking event. Two youth advocates from the She Leads cohort were part of the official CSW programme of work, with interventions that made history: Margaret from Kenya as a speaker in the first ever Intergenerational Dialogue within the official CSW programme, and Hiqmat from Ghana delivering an Oral Statement which she crafted in the form of a poem she had written – to our knowledge, a first of its kind.
Though the full Plan International delegation was made of 30+ members from multiple countries across the globe, the development of clear and robust policy recommendations, informed by youth experts and research, meant that delegation members were on the same page about advocacy approaches, thus ensuring a coordinated and effective campaign.
Celebrating Wins
CSW concluded with one of Plan & young people's biggest policy wins to date – an entire paragraph in the Agreed Conclusions (the principal output of the CSW, containing analysis of the priority theme and a set of concrete recommendations for governments, intergovernmental bodies and other institutions to be implemented at the international, national, regional and local level), co-designed with youth advocates and focused on adolescents impacted by technology-assisted GBV.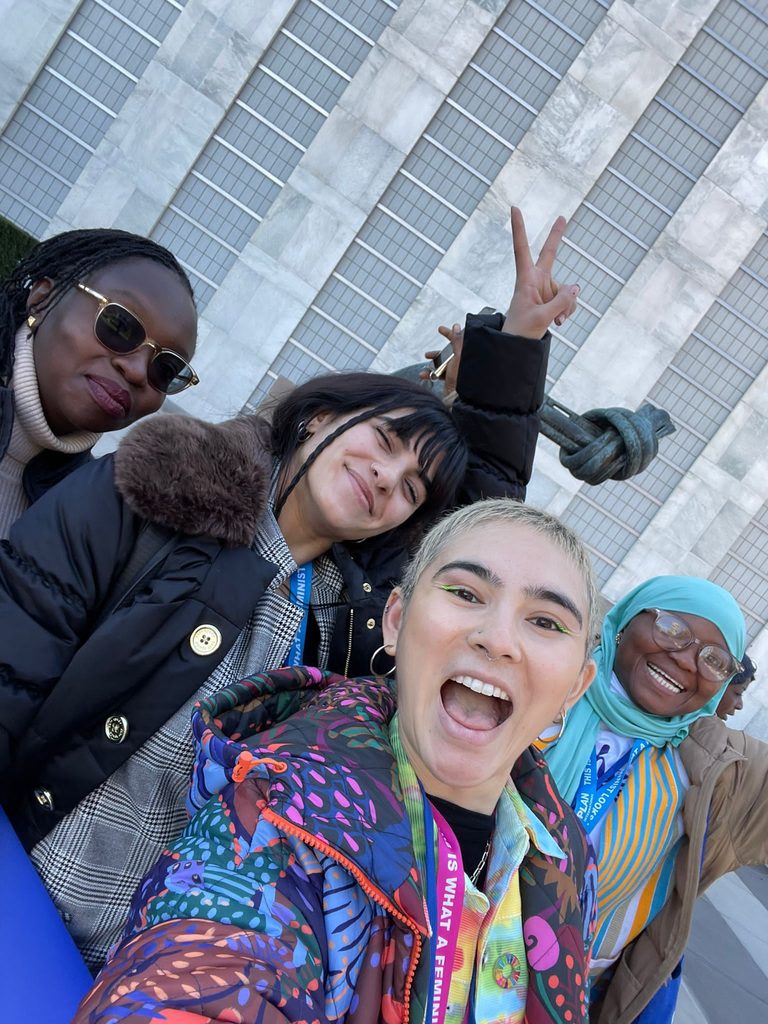 This represents the first time in CSW history a paragraph was devoted to adolescents, with language largely influenced by our own policy recommendations:
Adolescent girls are part of the most digitally connected generation in history, and can disproportionately face discrimination, violence that occurs through or is amplified by the use of technology, and other barriers in the context of innovation and technological change, and education in the digital age, which prevents them from accessing the full benefits of digital technologies and meaningful participation in society, and can create and exacerbate inequalities. (Article 19)
In addition, the mention of "girls" was up 57% from last year's Agreed Conclusions. Meaningfully, the text builds on our State of the World's Girls 2021 report, The Truth Gap and Girls Get Equal campaign, which investigated how misinformation and disinformation online affects adolescent girls' lives, learning and leadership and called on national governments to educate children in digital literacy. The outcome document text also draws on Plan International's definition of digital literacy particularly in regards to searching for, sharing and managing information online.
The text also recognizes that girls are often at greater risk of experiencing online discrimination and gender-based violence and links the continuity between offline and online violence, recognising the rise of harmful behaviours and narratives which undermine and discredit women's and girls' online and offline expression. There is also formal recognition of the under-representation of women and girls, and their lack of participation in the conceptualization, development, implementation and use of digital technologies, as well as the use and production of imbalanced and non-representative data which can lead to biases in algorithms. This builds on our EqualityTech project and thought leadership, where we brought together over 100 girls to ideate technology to promote positive biases in algorithms.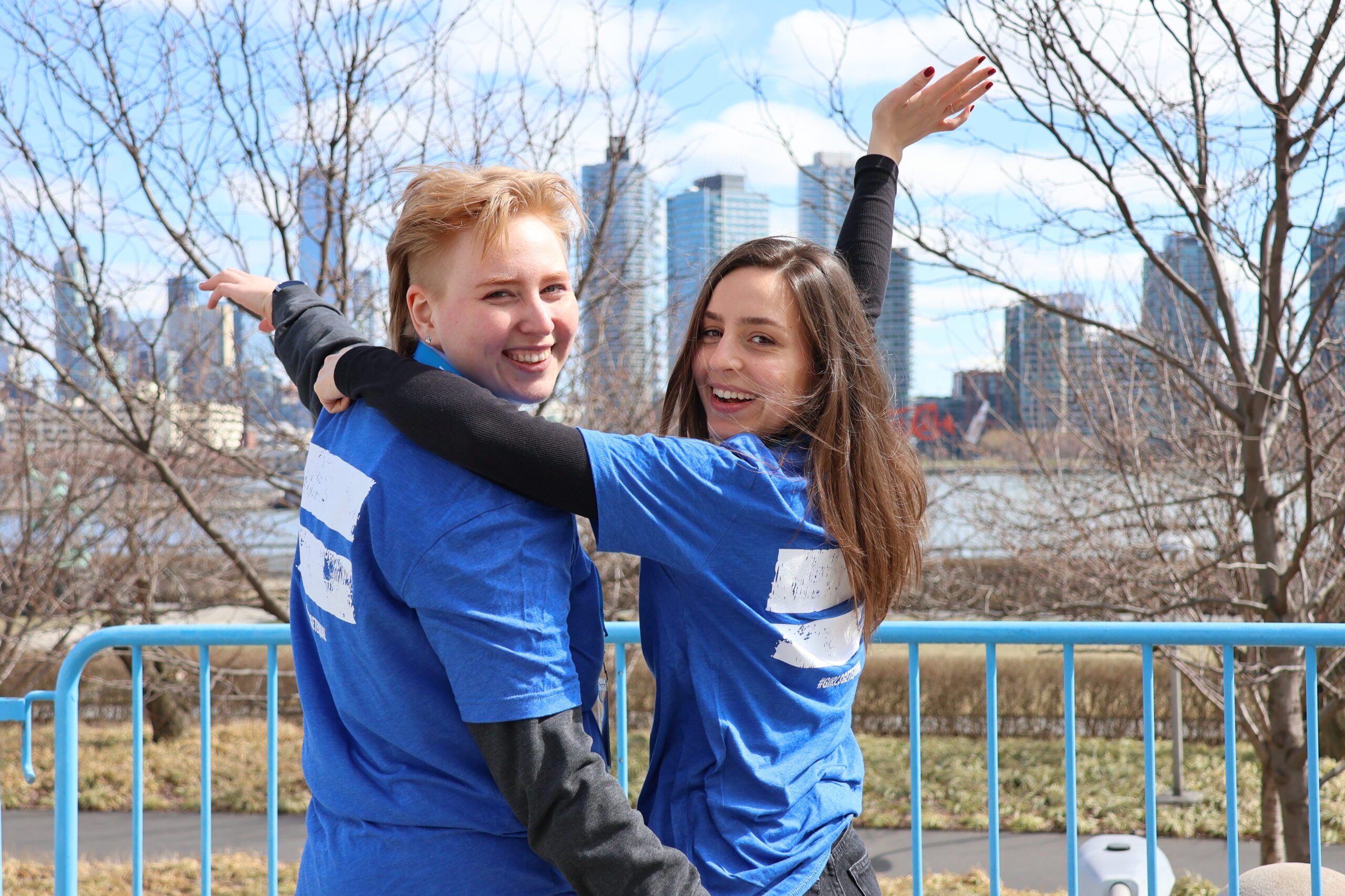 The inclusion of adolescent girls as a separate category for the first time ever in the CSW67 Agreed Conclusions is a tremendous victory that was made possible by the model of co-creation and youth leadership of our policy development. Though the work is not yet done, this is the beginning of a new way of working that shows young girls and women leading the way.
"This moment was a needed reminder that I have every right to bring my expertise to the table and that I have valuable contributions to share. This is why full, equal, and meaningful youth participation and co-creation are necessary. Not only does this achieve a greater diversity of voices, but it helps my generation have trust in and excitement for policy change," said Luna Silvana Abadia, a Youth Delegate with Plan USA, and a member of the official US Government delegation.
"Amidst burnout, desensitization, and political fatigue, we cannot let go of the passion and insight young people have to offer."
Girls Get Equal, Protection from violence, Youth empowerment, Activism, Gender-based violence, girls' leadership