11 AUGUST 2020
Parents in Cambodia are supporting their children to learn even though schools are closed due to the COVID-19 pandemic thanks to educational materials distributed by Plan International Cambodia and partners.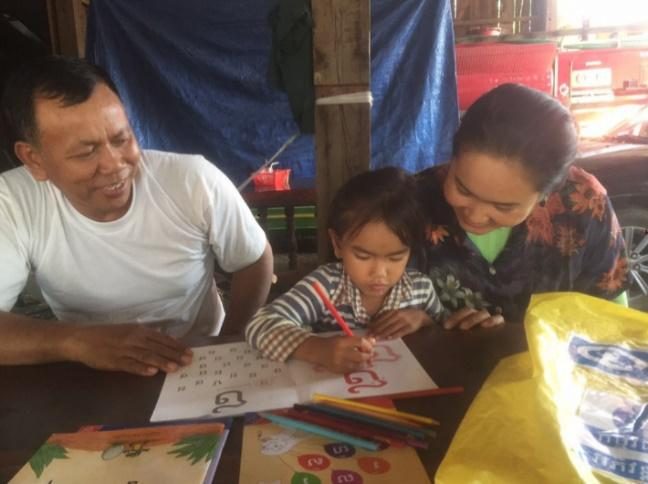 Due to the COVID-19 pandemic, all schools in Cambodia have been temporarily closed. This means that children, especially in rural areas, haven't had access to a proper education which is crucial for their development, learning and stimulation.
In June 2020, Plan International Cambodia, partner organisation Wathnakpheap (WP), and the Provincial Department of Education, Youth and Sport distributed educational materials and personal protective equipment to parents of preschool children. The package included storybooks, colouring books, pencils, colouring pencils, study materials, soap, and gel.
Mrs. Khon Chenda is a 26-year-old mother of 2 sons, living in Stung Treng province. One of Chenda's sons is 4 years old. His preschool was forced to close because of the COVID-19 pandemic.
Before receiving the educational materials, Chenda did not know how to help her children learn at home.
"I am happy to receive these materials to support my children learning at home," she says.
"I did not know how to help them learn before, but after receiving these materials and the short orientation on how to use them, I now can help my children learn every day even though schools are closed. I can help my son and he enjoys painting and reading a lot."

Similarly, Mr. San Sopheap, a 40-year-old father in Stung Treng Province, Cambodia, said, "I help my wife in taking care of my children. My daughter's preschool teacher advised us to help teach our daughter at home.
"After receiving the materials my daughter studies hard every day. Sometimes I was busy so my wife helped her study with those materials. My daughter enjoyed learning. She always asked to paint and draw pictures and she kept everything well organised. We would like to thank Plan International and its partners for helping us with these important materials for us to support our daughter learning at home."
As of 13 July 2020, together with government and NGO partners, Plan International Cambodia has responded to the needs of children and communities during the COVID-19 pandemic. We have directly benefited over 10,600 beneficiaries of whom over 5,000 are children through our Early Childhood Care and Development programme.
Education, Emergencies, COVID-19, Education in emergencies