28 JULY 2020
In Northern Cambodia, primary school children are continuing their education despite COVID-19 school closures thanks to book distributions by Plan International.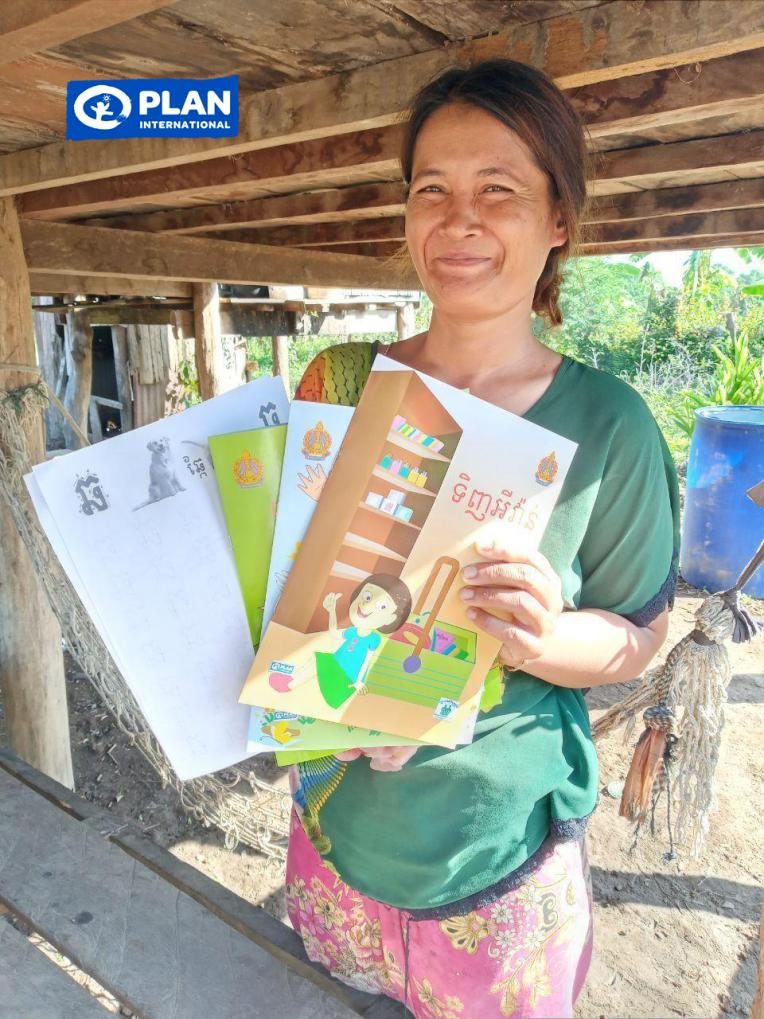 Northern Cambodia's Stung Treng province is a rural area where children are used to being able to go to school and get an education. However, this is no longer the case due to the COVID-19 pandemic.
In response, Plan International Cambodia is working alongside partners to ensure children can continue their primary education by distributing books for children to study at home. Plan International Cambodia is also working with local teachers to support them to reach out to students in their communities.
Mrs. Mangnoy, who has 3 children, has received books for her children to read and study at home. She says, "I was worried when COVID-19 hit. I was concerned that my children could not learn anymore."
Supporting children to learn
Despite not being able to read herself, Mrs. Mangnoy tried her best to support her children's learning at home after their school was closed due to the pandemic. She is brought extra books by a teacher who goes around to his students' houses to check on their progress with learning from home.
Lon Bunyorn is a teacher who has been working with Sovannaphum Organization and Plan International Cambodia, especially during the COVID-19 pandemic. He teaches and reaches out to his students at home to ensure that they can continue learning. He said, "Students know how to read better than before as I have noticed. Some students really pay attention to studying and even prepare materials neatly too." However, he also says that the students he is most concerned about are those who have no parents.
Books support home learning
As a response to COVID-19, Plan International Cambodia, through its Education Programme, has distributed 3,000 books for students to borrow and read at home. The books include mathematics, Khmer literature, storybooks and colouring books, as well as 605 storybooks for teachers to read for their students when they go to teach students at home. So far, over 500 children from 32 primary schools have directly benefited from this COVID-19 response in Stung Treng and Ratanakiri provinces.
Education, especially for children aged 3-5, is a key area of focus in responding to the COVID-19 outbreak for Plan International Cambodia. As well as supporting children to continue their learning during the pandemic, parents and teachers have been taught how to prevent the spread of the virus. This includes training teachers on safe handwashing so their students and their families remain safe and healthy when the teachers visit them in their homes, and setting up handwashing stations at 285 preschools.
Mrs. Mangnoy hopes her children will be able to finish their education and go on to follow their ambitions. She says, "When I was young, I did not have a chance to study, so now I really hope that my children can have a proper education to pursue their studies."
Education, Education in emergencies