Inclusive Community Disaster Risk Reduction and Management
This is a series of knowledge management products from the Inclusive Community Disaster Risk Reduction and Management (ICDRM) project.<br>
The aim of this booklet is to show how the ICDRM Project succeeded in supporting communities in the Asia Region to become more inclusive, especially in disaster risk management.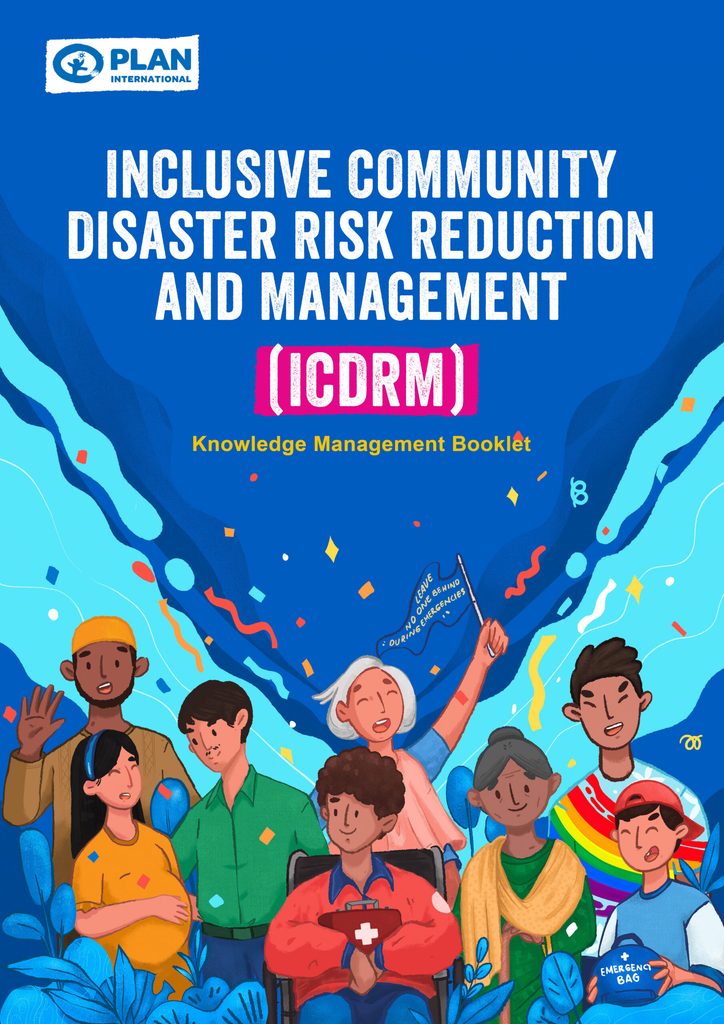 These are case stories, research findings, infographics, videos, and other supporting documents of the "Inclusive Community Disaster Risk Reduction and Management (ICDRM)" Booklet.
The booklet has been prepared by Plan International Asia Pacific Hub with the financial support of Margaret A. Cargill Philanthropies.
The chapters featured in this booklet cover the interventions made by Plan International in Asia Region countries under the ICDRM Project. The chapters describe the interventions for community disaster preparedness in Bangladesh and the Philippines, the efforts to support inclusive community disaster risk management, and the implementation of the emergency response and early recovery funds in the Asia Region.
ICDRM Knowledge Management Booklet
IEC Material – Bangladesh – Handwashing Leaflet for covid-19 awareness raising
IEC Material – Bangladesh – Hygiene Practice Poster for Covid19 awareness raising
IEC Material – Philippines – Family Guide booklet to support disaster preparedness enhancement
IEC Material – Philippines – Family Plan booklet for disaster preparedness
IEC Material – Philippines – Covid19 Protection Guideline Brochure
IEC Material – Philippines – Hand washing poster for Covid19 protection
IEC Material – Philippines – Social Distancing Poster for Covid19 protection
IEC Material – Philippines – Comics Promoting Covid19 Protection
IEC Material – Philippines – Word Puzzle Game promoting Covid19
IEC Material – Philippines – Snakes and Ladders Game promoting Covid19 protection
IEC Material – Philippines – Radio Announcement for Covid19 Awareness raising
Media Coverage Clippings – Bangladesh
Government Endorsement Clipping – Philippines
Research Findings – Philippines – Elements of Replicable models to increase inclusion of vulnerable groups
Research Findings – Bangladesh – Elements of Replicable models to increase inclusion of vulnerable groups
Case Story – Bangladesh – An enabling environment for people with special needs
Case Story – Bangladesh – The ICDRM project elevated my dignity – including the LGBTIQ voice
Case Story – Bangladesh – Preparing the Younger Generation to Become Agents of Change in DRR
Case Story – Philippines – Making Preparedness a Way of Life
Case Story – Philippines – Including Youth and Indigenous People in Disaster Risk Reduction
Case Story – Philippines – Helping the Mangyan People
Infographic – Bangladesh – Hygiene Kit Distribution
Infographic – Philippines – Implementation of the ICDRM project
EREF Case Story – Nepal – Staying Resilient during Covid19 Pandemic
EREF IEC Material – EREF for ICDRM Project
EREF IEC Material – Nepal
EREF IEC Material – India
EREF IEC Material – Indonesia
EREF IEC Material – Philippines
EREF Infographic – ICDRM Quotes
EREF Infographic – overview
Additional video resources:
Emergencies, Disaster risk management
Inclusive Community Disaster Risk Reduction and Management
15 June 2022
Emergencies, Disaster risk management