Young woman with disability becomes sanitary pad entrepreneur
After receiving training from Plan International, Chiring has tripled her income by making and selling reusable sanitary pads, and is thriving despite losing a leg as a young child.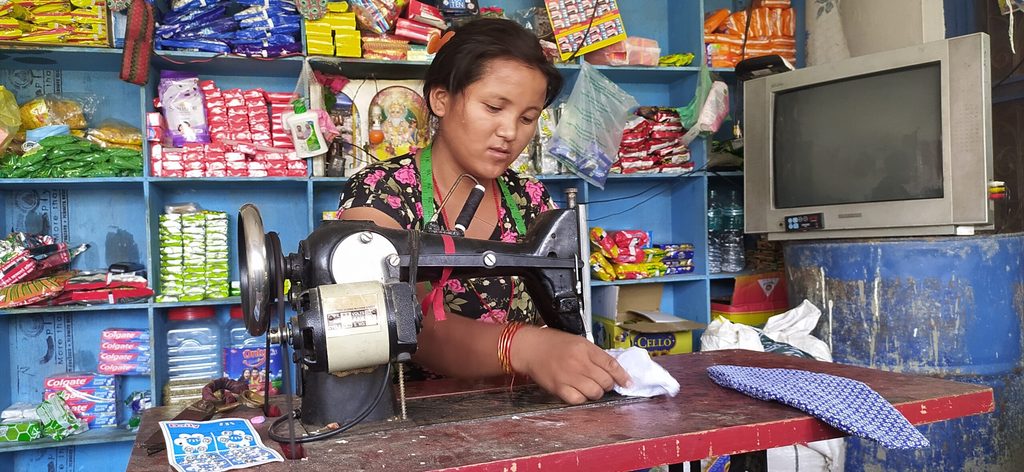 Girls with disabilities face inequalities and exclusions because of their disability and their gender.
At Plan International Nepal, we're ensuring every child completes a quality, inclusive education and has access to menstrual hygiene products even during emergencies without discrimination or exclusion.
On International Day of People with Disability 2022, we are celebrating the amazing stories of girls living with disabilities.
Women with disabilities can struggle to manage periods
"For a disabled woman, it is difficult to manage her period. Most of the time it is stigmatised and often we cannot access sanitary pads" says 28-year-old Chiring.
Chiring lost one of her legs due to cancer when she was just 8 months old. Remembering her childhood, she says it was difficult to manage the stress that comes with having a disability. For many years it was tough for Chiring to even walk and do her day-to-day chores. Later she received the prosthetic leg. This helped her confidence and she learnt tailoring and opened a small shop.
Chiring got an opportunity to be part of a Plan International Nepal programme that supports marginalised women's entrepreneurship by helping them to make reusable sanitary pads. Chiring showed her dedication to make reusable sanitary pads and sell them in her shop. Through the programme, she also received materials worth $200.  
"I received information about business planning during the training," she says. "Now, I am making the reusable pads and selling them.
Training boosts menstrual hygiene and sales
"Before the training, I was doing unhygienic things like using dirty clothes, hiding the clothes in dark places. I did not know I need to change clothes frequently during my period.
"Now when I sell the pads, I provide all this information on menstrual hygiene management to the girls and women buying them."
Chiring sells goods worth $40 to $50 per day after receiving start up support. Before the training, her daily income was roughly $15. She says, "Sales increased once I started to sell pads and talk with female customers about their sanitation and hygiene."
Sexual and reproductive health and rights, Skills and work, Livelihoods, Menstruation, Vocational training