The young married couple advocating against child marriage
Melina married her husband Suman at the age of 17. Having faced a number of challenges, they are now working in their community to educate other young people about the risks of child marriage.
Nepal has the third highest rate of child marriage in South Asia. In response, Plan International Nepal's NORAD-Funded project Girls Get Equal: Preventing Child Early and Forced Marriage is implemented through a comprehensive approach to increase the agency of adolescent girls and boys to exercise their rights to informed choices about their futures. The project helps young people make informed decisions through education, economic empowerment, knowledge of sexual and reproductive health and rights, and life skills.
Melina was 17 when she got married. "I never thought I would get married before I had completed my education, but I fell in love," explains Melina who passed her secondary education exams with high grades.
From a rural community in Bardiya district, Nepal, Melina's father is a migrant worker, employed as a security guard in an automobile company in India and her mother is a farmer. She also has a younger sister and a grandmother.
Melina met her husband Suman, 25, online after he sent her a friend request on Facebook. Suman had just returned from working in Saudi Arabia. "It was not a stable job. For a few months, everything was going smoothly and I was paid well but when the company owner changed, I hardly got 5 days' work a month so I decided to return home," he explains.
Melina was studying in grade 10 and was about to take her secondary education exams when she first got chatting to Suman online. "I was happy to know that someone was interested in talking to me. It was a good feeling. My mother used to scold me because I was using my mobile phone continuously to chat with Suman. I was not able to keep the secret from her."
Child marriage puts girls' rights at risk
Suman's mother Bishnu Maya is an active member of the women's committee in her village. She is a strong leader in her community, often rallying women to raise their voices for change. A keen child rights activist, she has often campaigned against child marriage.
"My heart pumped faster when my eldest daughter ran away with a man," says Bishnu Maya. "She faced domestic violence. I had to rescue her. Now she is living with us. I used to keep telling my son to not marry at a young age, so when he brought Melina home to meet me, I was ashamed to show my face to others."
With the knowledge that child marriage is a crime and aware of the negative consequences of this harmful practice, Bishnu Maya decided to report her son's marriage to the local branch of the Child Rights Committee (CRC). After meeting with government officials and CRC members, Suman and Melina agreed not to get married until Melina had turned 20.
"This did not happen. After a few days, both of them ran away together. Melina's parents and I then discussed it and we agreed to accept their marriage. I was afraid they might harm themselves if we took further steps," explains Bishnu Maya.
It has been 6 months since their marriage and 18-year-old Melina is now in college and determined to complete her studies with the support of Suman and his family who the couple now live with. "Education is very important. Melina is continuing her higher education. She is in 12th grade and doing well," Bishnu Maya tells us.
Young people struggle to make a living
However, things are not easy for the young married couple, and they struggle to survive. Suman's family depend on a small plot of land where they grow rice, seasonal vegetables, and fruits.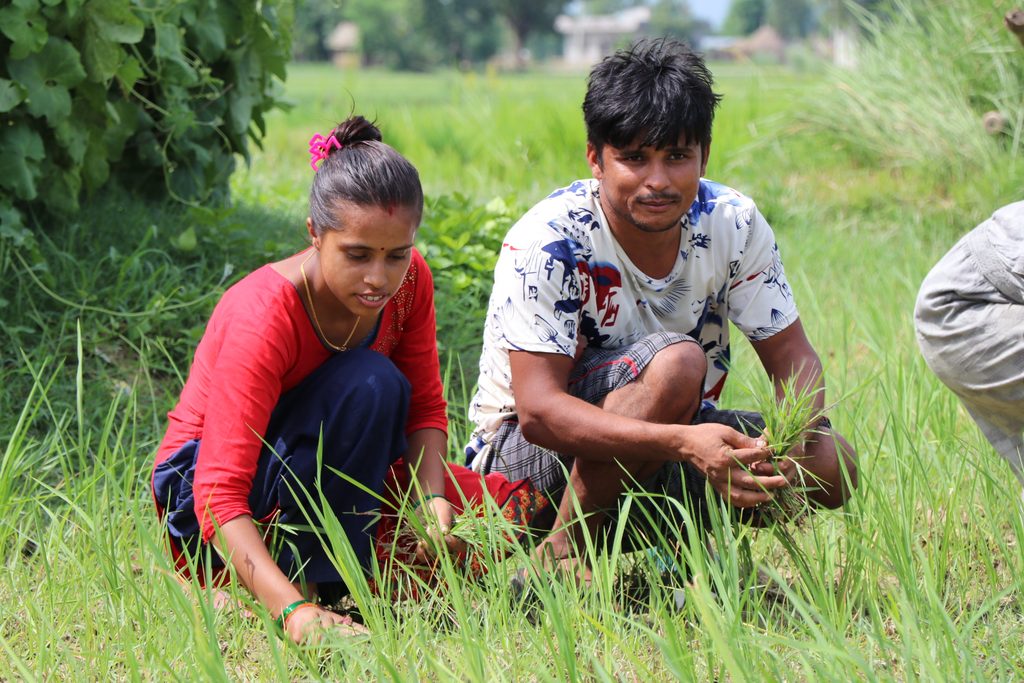 "Farming is getting difficult day by day. This year we started planting too late as the rains didn't come on time. We do not have enough money to buy water for irrigation. The groundwater is contaminated with arsenic. It damages the land and the crops," explains Bishnu Maya.
Despite having no skills training, Suman wants to go aboard again and try to make his fortune. He is now in the process of applying for a visa and sorting out the paperwork to travel. "Life is difficult here. Now I am not only a son. I am a husband as well. I feel the responsibility. I am trying to go to Croatia, a European country this time," Sumon says.
Both Melina and Suman say they have learnt their lesson of getting married without planning ahead for their future first. "We are living in a small hut with few rooms. There are 10 family members. It is difficult as we do not get any privacy," says Melina.
One thing they are both sure of is the need to wait before having children. Melina smiles as she looks at Suman and explains: "I am not thinking about getting pregnant. I have to complete my studies and get a job first. I want to work as an accountant in a reputable bank."
Suman agrees with Melina. "I look back and think that my mother was right. We were not ready when we got married. Marriage comes with responsibilities and planning a child right now is not for us."
As a community leader well versed in sexual and reproductive rights, Bishnu Maya has advised the couple to use contraceptives and regularly invites a female community health volunteer to provide them information about family planning.
Calling for an end to child marriage
Melina and Suman are now working with the Banke UNESCO Club, a Plan International programme partner. The young couple use their own example to advocate against early marriage and encourage other young people to stay in school and complete their education.
"We tell teenagers to finish their studies, grow in their career and then think of getting married only after reaching 20 years old," says Melina who enjoys being able to work alongside her husband to raise awareness in her community.
"We are not just a typical husband and wife. We are best friends. We support each other in many ways including household chores and understanding each other's needs," Melina concludes.