Unlocking potential of women with disabilities in the workplace
Sabitri is among several young women with disabilties who have good jobs and are earning money for a better future following training from Plan International Nepal.
Sabitri Rana, 24, was partially deaf when she was born, and following an illness became completely deaf at 6. From a rural village in Western Nepal, her parents took their eldest daughter to various hospitals, care centres and traditional healers in an attempt to cure her. But nothing could bring back her hearing.
"I was not able to understanding what was happening around me. It was terrible as I was not able to hear properly. I remember seeing my parents moving their lips, but I heard no sound," says Sabitri. "Every weekend, my mother used to take me to traditional healers. She prayed for my quick recovery. After a few months, my parents realised I was not able to hear anything."
It was a traumatic time for Sabitri as she was not able to communicate with her family members. Whenever she tried to express her feelings, it was hard for people to understand her. Facing bullying from the other children in her school, she eventually dropped out.
Children with disabiltiies less likely to get an education
Children with disabilities are on average 6 times less likely to go to school than children without disabilities according to new data from Plan International's Sponsorship database, which includes over 1 million children across a range of low and middle-income countries. Shockingly, more than 60% of the children with disabilities who are out-of-school cite their disability as the reason for non-attendance.
In Nepal, many schools are still not able to accommodate children with disabilities due to poor physical accessibility. The schools lack disability-friendly infrastructure, specialist resources, adapted curricula and teacher training, particularly in mainstream schools, making it difficult for many children with disabilities to attend and learn.
Sabitri spent most of her childhood at home and had to watch as her younger sister went to school each day. Worried about their daughter's health and education, Sabitri's parents decided to move to the city of Pokhara, which was around 70km from their village. Pokhara is known as the gateway to the Himalayas and is a popular tourist destination. But importantly, it has a dedicated school for deaf children.
Once in Pokhara, Sabitri's parents applied for a place at the school and Sabitri was overjoyed when she was accepted. "I was amazed to see so many deaf children in the school. I did not understand why they were using their hands to communicate," she says.
Because of the high living costs in Pokhara, Sabitri's father migrated to the Persian Gulf to work as a labourer to support the family while her mother found work as a support staff member at the deaf school.
School provides new skills and confidence
Now in school, Sabitri quickly learnt sign language and gained a new found confidence. Full of life, she decided to look at her disability as a challenge and make the most of any opportunities that came her way. After completing grade 12, she decided to look for work to help support her family financially, but found it difficult due to her disability.
One day, while on Facebook, she spotted a training course for women with hearing disabilities. "I am quite active on social media. I interact with the audiences by making informative videos about myself with sign language. I got to know about the training through the Facebook page for the association of hearing-impaired people."
The training course forms part of a Plan International programme to support young women into employment in Pokhara. Implemented by our working partner, Right4Children, applications were invited from young women living with disabilities for housekeeping and life skills training.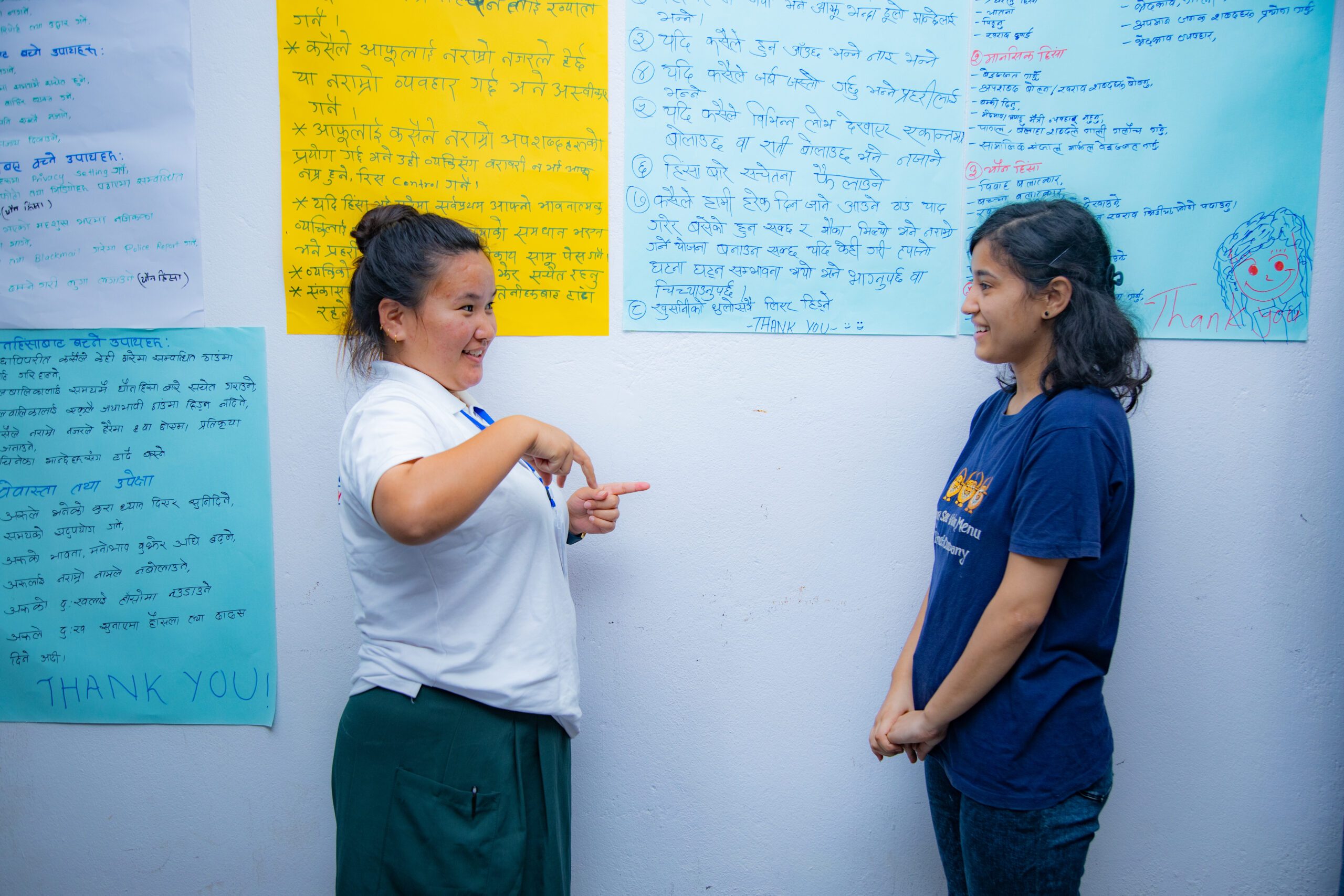 Sabitri was excited to learn about the opportunity. "I did not believe it when I saw the training was free of cost. Immediately I talked with my mother and went to Right4Children's office the very next day," explains Sabitri.
Sabitri's mother was equally excited. "I was hoping everything would go well for my daughter. After meeting the Right4Children team, I got to learn more about the training. I was even happier to find out that a sign language interpreter would be assisting my daughter," she says.
Training for women with disabilities
Once she was accepted onto the training, Sabitri had to wait patiently for all the places on the course to be filled before it could start and so encouraged her friends from the deaf school to also apply to join the course. The training was facilitated by the Gate vocational college and was a 3-month residential course so Sabitri and the other participants stayed in a hostel at the centre which was around an hour away from the city.
"I was scared at the beginning as I have only studied and worked in places where most people are deaf. But the presence of a sign language interpreter made it easy. I loved the environment of the training and the supportive nature of the facilitator. Interacting with the other participants energised me to learn new techniques."
There were 24 young women on Sabitri's training course. Out of them, 8 were women living with different disabilities. Of the 24, 16 completed their training and are now doing on-the-job training or, like Sabitri, have found paid employment in hotels in Pokhara.
"My working environment is safe and inclusive. All the staff respect me and treat me as one of them. I am happy I found work right after my on-the-job training," says Sabitri.
Key knowledge through life skills training
As well as learning the housekeeping skills that helped her gain employment, Sabitri also took away important life skills which are an integral part of the vocational training package.
The young women learn topics such as gender equality, protection from violence, and sexual reproductive health and rights. The participants are also taught how to identify red flags in the workplace and where to report instances of violence.
"During training, the facilitator created safe spaces where we could discuss the different forms of violence we have faced and how to manage our well-being. Many times, we cried together. We supported each other. Next morning, we always attended the training full of energy," shares Sabitri.
At the hotel where Sabitri now works, Plan International and Right4Children have trained the management team who are now working together to create a workplace harassment policy.
"I have experienced different kind of violence in my life, such as being cat-called in the street," says Sabitri. "For someone with a disability like me, it's difficult to voice our concerns or complain. I did not know where or how to report it. If I had tried to report it, I didn't think the police would understand. I did not know I could report it in written form. If I had known this before, I would have filed complaints about the violence I have faced."
Skills and work, Lifeskills training, Livelihoods, Vocational training