Plan International at the United Nations: 2021 Annual Report
This annual report covers the Plan International United Nations Team's 2021 activities and achievements in New York and Geneva.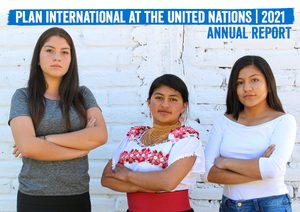 2021 was a year of reflection and change. The COVID-19 pandemic has pushed us to think outside our pre-determined siloes. The entire world has been plunged into the same challenging situation, bringing a level of commonality and solidarity that we have rarely seen before. It is in this context that Plan International has been rethinking the way it approaches its work at the United Nations, to break down the siloes and create synergies across our goals.
This has required developing new ways of working and learning new things. It has required thinking about the values we espouse in doing what we do, and making an investment to live out those values. It has meant making sure our global advocacy is always informed by local expertise and experience. It has implied strengthening collaboration with and support to Plan International's offices across the globe, and centering the voices of children and young people, especially girls and young women.
As the new year commences, we would like to share our Annual Report, outlining our achievements and activities in 2021. We look forward to working with our partners to continue this journey during the course of 2022.
About Plan International, Organisation information