Conflict in Northern Mozambique – Realities of Children and Adolescent Girls
Joint Briefing Note from Plan International, Save the Children, and World Vision on the situation of children in Northern Mozambique – June 2021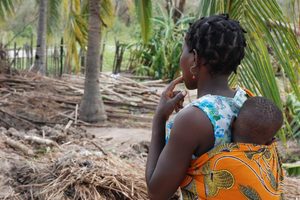 The situation in Cabo Delgado province, Northern Mozambique has seriously deteriorated over the past 12 months, with the escalation of armed conflict and attacks on villages and district capital towns, leading to significant civilian casualties and grave violations against children. Since the conflict began in October 2017, at least 2,838 people are reported to have died in the conflict, including 1,406 civilians, although the true number is expected to be much higher.
The conflict has caused hundreds of thousands of children and their families to flee their homes, often having to leave with nothing but the clothes on their backs. At least 800,000 people are now displaced in the provinces of Cabo Delgado, Nampula, Niassa, Sofala and Zambezia as a direct result of violence and insecurity. This includes at least 350,000 children, who are currently in temporary accommodation, either in IDP camps, with family and friends, or have been moved by the government into new resettlement sites, where they will need to completely restart their lives. In too many cases, these children are living in squalid conditions, in need of food, clean water, shelter, and healthcare.
We are disturbed by the targeting of children in this conflict, and horrific reports of grave violations against children including killing and maiming, abduction, recruitment and use, and sexual violence especially against adolescent girls. Children have been deeply traumatised by the violence and upheaval and require a range of support to help them recover. Many children have been separated from their parents and loved ones, and are at heightened risk of violence. We are particularly concerned at the risks facing displaced girls related to their exposure to gender-based violence and sexual exploitation, as well as their lack of access to reproductive health services, and private, safe, and clean hygiene spaces.
The Government of Mozambique, the UN, and donors should address the specific needs of displaced girls, adolescent girls and host communities, including by investing in age- and gender-responsive sexual and reproductive health services so that girls and young women can prevent unwanted early pregnancy and access life-saving health care, including for survivors of gender-based violence.
All stakeholders should support initiatives to address the underlying causes of violence in Cabo Delgado, and promote economic development, gender equity and social cohesion in the north of the country. Additionally, in this complex context, with short and long-term risks and underlying causes of the crisis, we believe that a humanitarian-development-peace nexus approach could help to address the roots of conflict, reduce vulnerabilities, and promote gender equality.
Plan International, Save the Children and World Vision, who are all responding to the humanitarian crisis in Northern Mozambique, came together to issue this joint briefing note to UN Member States and the UN system. Read the full statement on the situation facing children and our recommendations below.
Emergencies, Protection from violence, Child protection in emergencies