UN adopts first ever global policy on girls' and young women's activism
13 July 2022
<strong>The UN Human Rights Council's landmark new policy document on girls' and young women's activism is an important step towards making sure that they are recognized as drivers of change and that they have the space to safely, equally and meaningfully make their voices heard! </strong>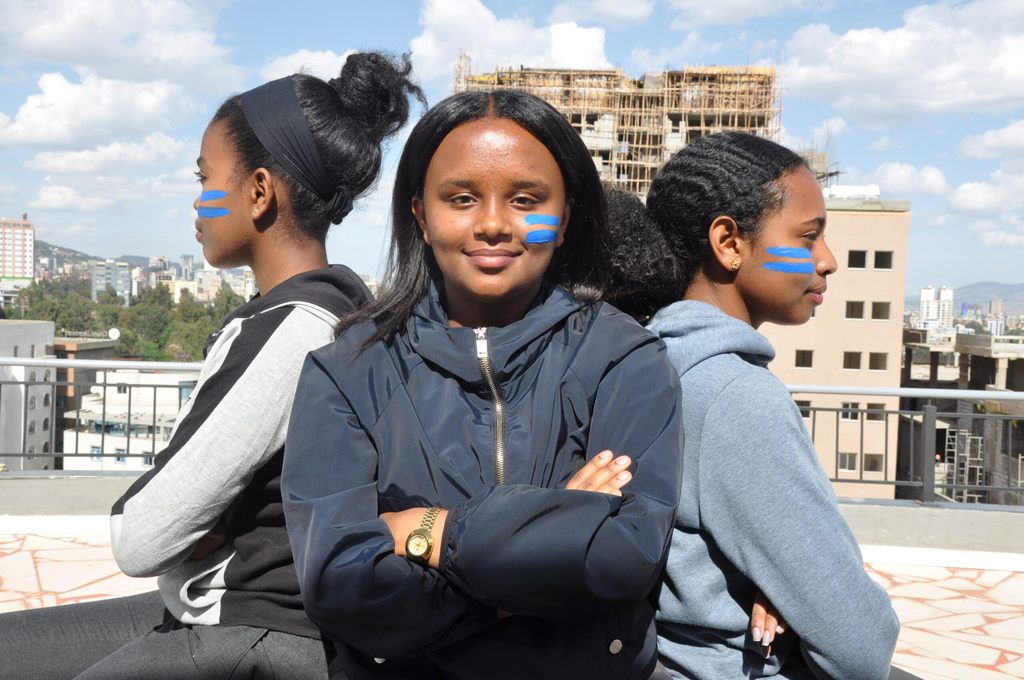 Around the world, girls and young women are driving change. They are activists and advocates on the front lines of movements for social and racial equality. They are calling for urgent action and demanding space at decision-making tables in their communities, countries and beyond. Just being a girl is often enough to be denied freedom of expression and an equal chance to participate in decision-making.
Decision-makers are finally taking notice. We still have a long way to go to make sure that girls and young women can be heard and that their calls for change truly make a difference. But those in power are starting to realize that they have to do more to address the challenges girls and young women activists are facing.
In this vein, the UN has just adopted its first ever global policy document on girls' and young women's activism. This year's UN Human Rights Council resolution on discrimination against women and girls focused on the specific theme of girls' and young women's activism, highlighting the particular barriers they face in their work and making recommendations to decision-makers on how to best address these obstacles. Through this resolution, governments have made a clear statement that girls and young women have the right to participate in decision-making, and that clear steps must be taken to make sure that no one – including governments – prevents them from exercising that right.
So what does this policy document say specifically? Here are a few highlights!
The resolution acknowledges that:
Girls and young women lack the same opportunities as boys and young men to participate in decision-making, due to stereotypes and discrimination.
Women and girls are among the most affected by violence and discrimination when it comes to their participation in decision-making.
Education is critical for girls and young women to fully exercise their right to participate.
More efforts need to be taken to ensure in particular that girls and young women with disabilities can participate on an equal basis.
It calls on governments to:
Remove all barriers – social, religious, legal, etc. – to girls' and young women's participation, and in particular, remove discriminatory laws and policies that restrict girls' and young women's ability to exercise their civil and political rights.
Create an enabling environment for all of civil society, but especially "women's and girls' rights organizations, feminist groups, women and girl human rights defenders and girl- and youth-led organizations" (this could be for example through laws and policies, training of law enforcement officials and other ways).
Adopt policies to facilitate girls and young women to create their own groups, organizations and networks.
Create safe spaces for girl and young women activists, both online and offline, and establish protection systems to safeguard them from discrimination, violence or harassment.
Invest in making sure that girls and young women have the education and skills they need (literacy, digital skills, human rights education, etc.) to participate meaningfully.
A strong text but not without significant resistance
In general, the resolution is a strong text that recognizes that girls and young women have the right to participate and calls on governments to take action to address the barriers girls and young women face. But the discussions were not without significant challenges.
Challenge #1: The issue of children's meaningful participation in decision-making remains extremely contentious at the international level. Many governments want to place many restrictions on the degree to which children – including girls – can and should participate. And they succeeded in doing this in part in this text, managing to include phrases like "in accordance with their age and maturity" to limit girls' full participation in decision-making, which sounds fine on paper, but is really a masked attempt to say that girls of a certain age don't have the maturity to participate in decision-making, and so that restrictions should be placed on them. What became evident in these discussions is that we must continue to work to change the mentalities of decision-makers on child participation, ensuring they understand what it really means and how to enable it.
Challenge #2: The original version of the resolution had very strong language on sexual and reproductive health and rights (SRHR), including on comprehensive sexuality education (CSE). This led to heated debates, as many governments do not support girls' SRHR. The good news is that the final text keeps the reference to CSE, but weakened much of the other language related to SRHR. There is still much work to be done to convince some governments that girls indeed have the right to decide what happens to their body (what we call "bodily autonomy").
We still have a long way to go, but this landmark policy document is an important step in our collective efforts to make sure that girls and young women are recognized as drivers of change and that they have the space to safely, equally and meaningfully make their voices heard!