For a Fairer Future, Girls Must Help Design Decision-Making Processes
On 8th October, Youth Activist Angelica Ojinnaka, supported by Plan International Australia, joined an intergenerational dialogue with high-level leaders to address girls and young women's participation in decision-making processes. One of these leaders was Martin Chungong, IPU Secretary General and Chair of the Global Board of the International Gender Champions. Together, they make the case for an overhaul in decision-making processes so girls and young women are no longer excluded.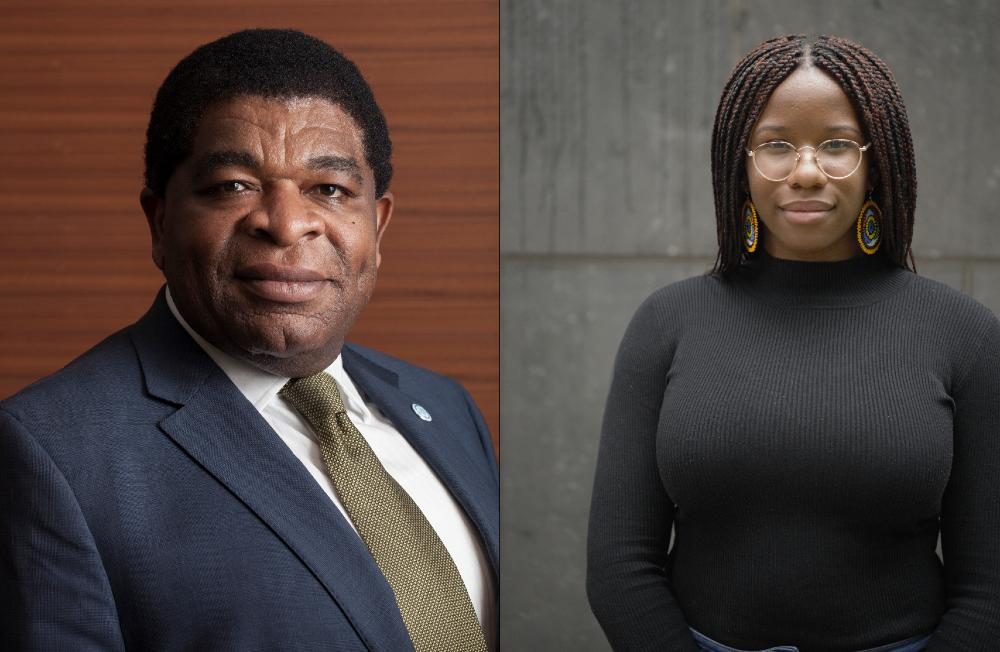 It's clear the voices of girls and young women are critical in co-creating a just and sustainable future. However, young people need to be involved in designing the table where decisions are made and democratic processes occur as well as taking a seat.
Decision-makers must co-design participatory processes with girls and young women, in all our diversities, at different levels (local, regional and national), so that our experiences are accurately represented.
INTERGENERATIONAL DIALOGUE ON YOUNG WOMEN'S PARTICIPATION
Earlier this month I was invited to join fellow girl advocates from around the world to participate in an intergenerational dialogue with high-level leaders. This dialogue was co-designed by girl advocates and addressed girls and young women's participation in decision-making processes.
We believe that current youth participatory approaches need to be re-evaluated and re-designed, without the barriers associated with age. Age and maturity should no longer be used as an excuse for excluding girls and young women from participating in democracy.
Rather, the United Nations (UN), governments and community structures must systematically overhaul their approaches to youth participation and become more youth and gender-responsive. This includes embracing intersectional frameworks, valuing diverse experiences and recognising that vulnerable groups may need more support to participate.
DEMOCRACY MUST INCLUDE THE VOICES OF YOUTH AND YOUNG WOMEN
This is a position supported by Martin Chungong, Secretary General of the Inter-Parliamentary Union (IPU), the global organisation of national parliaments, who also participated in the talks. He argues that for democracy to be truly representative, it needs the voices of youth and young women.
"Young people are marginalized and have lost confidence in our democracies"
"Political and social change begins with young people as they are forward-looking, creative and able to challenge status quos. But all too often, rather than participating and playing a part in formal political bodies, their participation is seen on the streets or social media. Many of our political institutions have been around for a long time, but they still do not include enough young men and women in their work. Due to this failure and inaction of our institutions, young people are marginalised and have lost confidence in our democracies."
GIRLS SAY PARLIAMENTS FEEL DISTANT AND EXCLUSIONARY
There is often the misconception that girls and young women have a lack of interest in engaging in political decision-making. However, our panel agreed that the global mobilisation from youth-led movements and activism, like what we saw during the school strikes for climate change, is evidence of the readiness and capacity of girls and young women to engage in meaningful democracy.
As noted by girl advocates in the intergenerational dialogue, accessing the UN and national parliaments is difficult and often seems 'too far away'. This sense of distance is caused by gender exclusion, limited access to information on human rights and democratic processes, and convoluted governance structures.
Unfortunately, this distance seems to only be reduced when youth representation is needed on special days such as International Day of the Girl. But engagement with girls and young women should be regular practice.
TACKLING THE EXCLUSION OF GIRLS AND YOUNG WOMEN
Mr. Chungong and the IPU are taking steps to address this exclusion of girls and women, and make sure that their participation is simply a part of the way our institutions work:
"Young women in particular are doubly discriminated against. Social pressure, combined with limited access to resources and network support, cultural and legal barriers, and gender-based online violence can discourage young women from running for public office or even engaging in public debates.
"In order to promote progress at the national and international levels, the IPU collects data on women's and youth participation in political institutions and promotes youth and gender quotas both within the organisation and nationally. We support initiatives aimed at changing mentalities and building an environment that is conducive to a greater role for women and youth in parliaments. Our #NotTooYoungToRun campaign and Gender-Sensitive Parliaments framework provide a much-needed push to open up parliaments to youth and women.
"In this time of pandemic, when young people are hugely affected in terms of access to education, employment and healthcare, we need to speed up action. Increased levels of violence and economic hardship are affecting women and girls in particular. And yet young women are the least represented group in political leadership."
INVEST IN THE SOLUTIONS PROPOSED BY GIRLS AND YOUNG WOMEN
We cannot return to a normal that devalues the voices of girls and young women. To rebuild from gender injustices post-pandemic, the UN, governments and community structures need to invest in the attainable solutions suggested by girls and young women.
The intergenerational dialogue I was part of shows that girls are eager and ready to help create systemic change in decision-making processes. I hope to be invited for more opportunities to consult, beyond special days like International Day of the Girl.
Mr. Chungong agrees:
"I was pleased to join other international leaders to hear from young women and girl advocates. We discussed strategies to lift the barriers to young women's and girls' participation in public life, such as combatting online violence and promoting civic engagement by girls from diverse backgrounds at an early age.
"I am confident that together we can ensure that the voices of young women and girls are heard and that our common future is designed with them and for them!"