Ugandan girl advocate, Stecia (15) held an historic virtual bilateral meeting on Wednesday, 28 October 2020 with the United Nations (UN) Secretary-General António Guterres. The Secretary-General had the opportunity to listen to Stecia discuss her advocacy and to address the disproportionate ways in which girls have been impacted by COVID-19, specifically on education and child marriage.
Because of the lockdown, across the world many children can no longer go to school and are dependent on online education, which is not accessible for everyone. Due to the pandemic, more child marriages are taking place, which in turn is leading to more teenage pregnancies. "It is not only important that girls who are pregnant receive support to return to school, but also that the boys who got the girls pregnant are aware of the consequences and take their responsibility. The government should support this with by providing information and support awareness raising," Stecia said.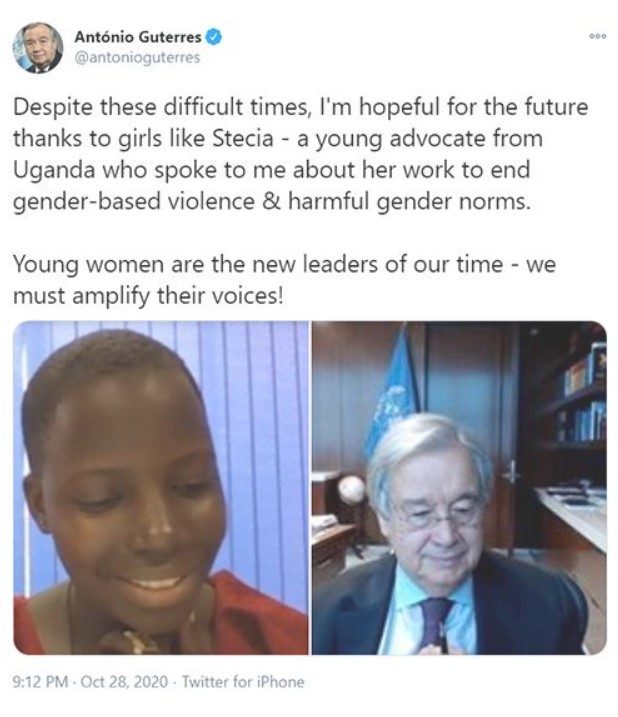 In July 2020, Stecia was part of the virtual girl delegation to official follow-up and review of the 2030 Agenda on Sustainable Development: the annual High-level Political Forum on Sustainable Development (HLPF). During this key UN Moment, Stecia spoke at several official side events and met with the UN Special Representative to the Secretary-General on Violence Against Children, the UN Secretary-General's Envoy on Youth, and the UN Deputy Secretary-General. Stecia left a lasting impression among the representatives attending the forum, with her strong vision on combatting gender inequality and gender-based violence.
As the UN Secretary-General stated during an August 2020 Townhall with Civil Society: "We must address the vulnerabilities that girls and young women experience, ensure girls and young women's central role in societies and in the long term, contribute to sustainable development and more inclusive and resilient communities."
Stecia lives in the capital of Uganda with her brother and her mother. In her area many girls drop out of school as a result of teenage pregnancy and poverty, while boys often still can go to school. Stecia: "In my school I formed a girls' club that advocates for girls rights during school assemblies, educates children on the need to respect girls and questions injustices directed to girls especially decisions that are normally taken that oppress girls and promote boys. Girls at the school benefit from psychosocial support provided by the group and it has helped many girls remain in school." Stecia dreams of setting up a foundation that supports girls who have dealt with gender-based violence and teenage pregnancy.
The Secretary General concluded the meeting by saying of Stecia: "I very strongly admire your work."
"I am happy to represent the girls from the Kampala slums. Not many girls from where I come from get the chance to make their voices heard this way," Stecia said.