Whenever an emergency happened, 17-year-old Diana used to leave her home without knowing where to go or what to do – putting her and her family at risk. Haiti is highly vulnerable to disasters and severe climate events, with the population regularly exposed to different hazards, such as hurricanes, flooding, and earthquakes.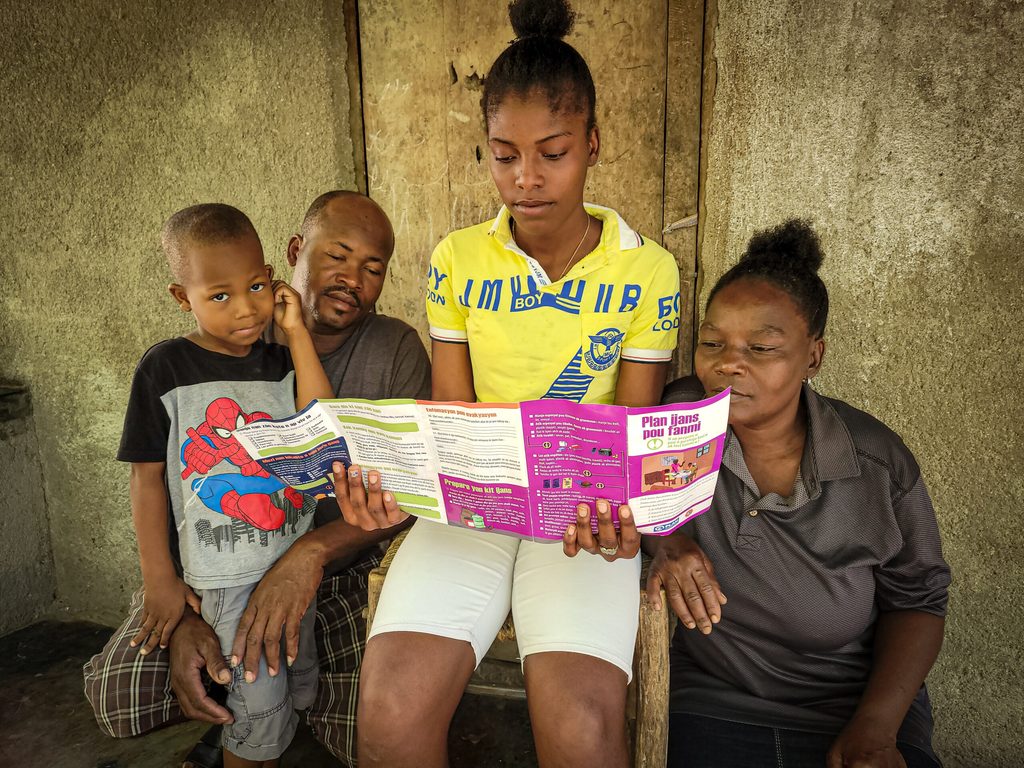 "The country has been facing severe land degradation, erosion, flooding, desertification, and depletion of water resources for decades. The Southeast Department is highly vulnerable to natural disasters, including hurricanes, which puts children, especially girls, at greater risk," explains Pierre Richard Francois, Plan International's Programme Unit Manager in Jacmel.
But now Diana and her family have received training as part of a project implemented by Plan International in eight communities in the Southeast Department to help them make better decisions in the event of a disaster. More than 600 families took part in the programme which helped them develop emergency plans that they can follow to keep themselves safe.
"The family emergency plan helped us understand how vulnerable we were. We used to live without any planning. We were never aware of the dangers hanging over our heads. Now we are aware of why we are most affected during disasters," Diana says.
According to data[1] published by the Ministry of the Interior and Territorial Collectivities (MICT) in its national plan for risk and disaster management, nine Haitians out of ten are exposed to at least two natural hazards during their lifetime. The vulnerability of the population, especially the poorest categories who are generally the most exposed to extreme phenomena, has increased over the last decade.
"Plan International is strengthening our local emergency response team and will ensure that our work is well coordinated with our partners and other organisations responding to emergencies. We are also supporting families to be aware of the actions to take before and after a disaster," explains Pierre Richard.
The current hunger crisis in Haiti, which is exacerbated by environmental changes, has led to widespread insecurity due to a lack of availability and accessibility to the goods and services needed by people, conflict and gang violence is also exposing families to additional risks.
The area where Diana and her family live is prone to flooding, so building their family disaster plan together helped them discuss the dangers posed by the floods and share the responsibility of their safety as a team.
"This emergency plan is helpful for my family as well as other families in my locality as this community is known as one of the most vulnerable areas to flooding. Since I was born, I can't count how many times our house has been flooded. We've lost everything we had at home: books, clothes, uniforms, shoes. However, I will never forget the year following Hurricane Laura in 2020, I lost a few days of school because my family had lost all their belongings," says Diana.
As well as support to develop their family plan, the family also took part in two training sessions to learn how to mitigate the risks of disasters such as flooding, learning to store their belongings high up where the water cannot reach them and to decide on a meeting place where members of the family can find each other.
Thanks to this emergency planning programme, Diana and her community have all the all information they need to make good decisions before disasters occur in order to avoid loss of life, belongings and property.
The families have prepared emergency kits containing medicine, sanitary pads, important family documents such as birth certificates, water, food, etc. They have also identified the closest and safest places to go in case they need to evacuate their homes. By planning ahead, we hope that people's lives will be less impacted by disasters and they are able to recover quicker.
---