Insecurity cripples girls' education opportunities in Haiti
Girls in Haiti like Dialissa, 15, are struggling to get an education due to violence and food shortages. Plan International is responding to the crisis to help save lives and keep girls in school.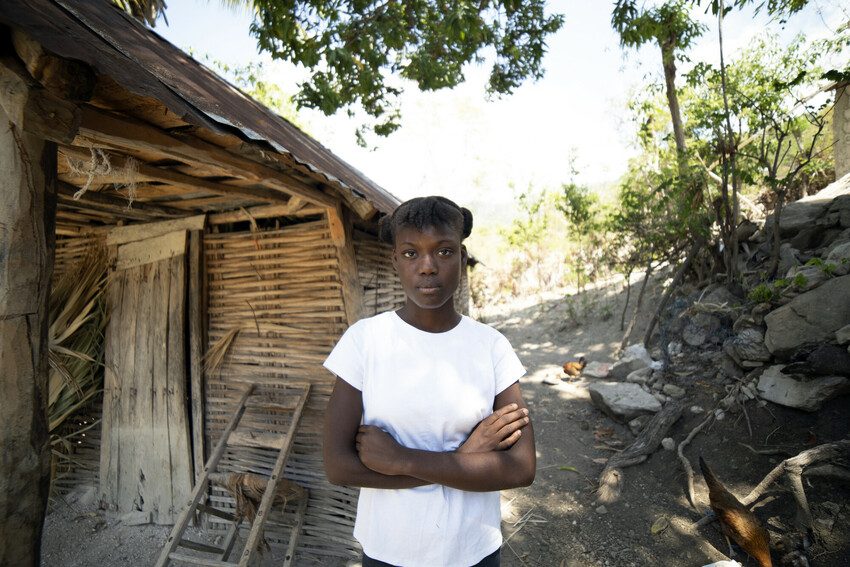 "We can't walk safely at any time of the night because of the situation in the country," says 15-year-old Dialissa, who lives in the South East of Haiti with her godmother, 2 uncles and cousin. Her mother lives nearby and her father has recently migrated to the Dominican Republic in search of work.
"I'm afraid about coming home when I'm alone because I don't know what will happen to me," she says, reflecting on the escalating gang violence that has resulted in murders, hostage-taking and rapes.
As gangs in Haiti expand their operations beyond Port-au-Prince into regional areas, the country has been gripped by a devastating hunger crisis that has left nearly half the population or 4.9 million people struggling to feed themselves.
"There is violence against girls in the area, sometimes boys rape them," Dialissa tells us, sharing a story about a girl from her neighbourhood who was raped while walking home at night. The girl's family found out and took her to the hospital, where they discovered that she had contracted HIV. When the rape was reported to the police, the perpetrator had already escaped the region.
"She no longer lives here, she lives in the Dominican Republic," says Dialissa, who now fears for her own safety. "As a young girl, sometimes I have to walk home alone and I'm afraid that something might happen to me."
Education limited by hunger and insecurity
Dialissa enjoys school and says French is her favorite subject, but she was unable attend classes for a few months last year. "During the national strike, I couldn't go to school," she explains.
In September 20202, a country lockdown also known as "Peyi Lòk" in Haiti was initiated by citizens to push the government to fix the current economic crisis. It followed a desperate scramble for fuel and senseless shootings, forcing children to remain in their homes. Dialissa was out of school for more than 2 months.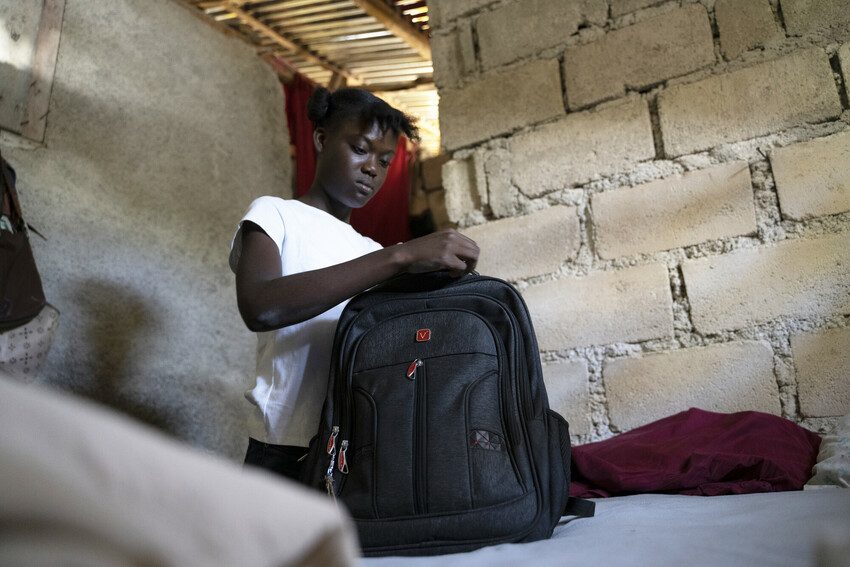 Although she is now back in school, hunger often makes it hard for her to concentrate on her studies. "I wasn't feeling well. There are many things I have lost that I will never be able to get back," she says with sadness in her voice.
Even though her family are able to buy food thanks to the money her father sends from the Dominican Republic, they are still struggling to live a normal life and pay for Dialissa's school fees and learning materials.
The family also support their friends and neighbours who are going hungry. "I have a 15-year-old friend who goes days without eating anything, her mother died, and her father has no resources," shares Dialissa.
Dreaming of a better future
Plan International is responding to the crisis affecting Haiti, delivering cash transfers and hygiene kits to help save lives. The organisation is working in the South East and North East regions of the country to provide nutrition, protection, and gender awareness support.
Dialissa has been taking part in training to learn about her sexual and reproductive health and rights, and her family have received financial assistance to help them support Dialissa's education.
When we ask what she dreams of, Dialissa tells us she simply wants to become a good citizen. "If I were president of Haiti, I would try to solve the problem of insecurity," she says. "I would make sure that the bandits stop killing innocent people and that we all unite to fight against them."