Young mother struggles to provide for family amidst Haiti hunger crisis
In the face of the devastating hunger crisis in Haiti, mothers like Dina are struggling to feed their families. Plan International is providing life saving assistance to those most in need.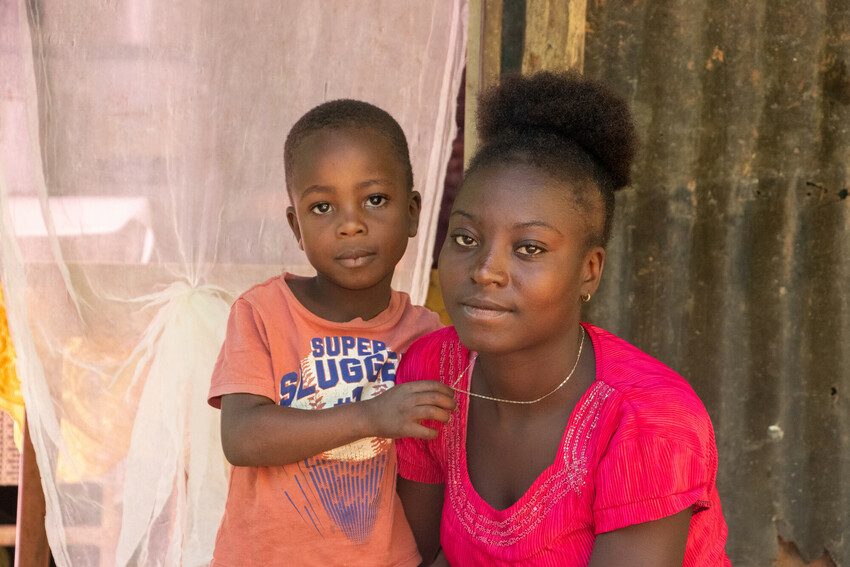 Dina and her son Dawens at their home in Haiti.
"I still wonder to this day why I got pregnant at 17 years old. Even though we used to talk all the time, when my boyfriend found out, he abandoned me," shares 22-year-old Dina.
Her son Dawens is now 5 years old, and they live together with Dina's parents and her younger sister in the Southeast department of Haiti.
According to UNICEF, 14% of Haitian girls give birth before they are 18 years old. Pregnancy complications are the leading killer of girls in this age range as their bodies are often not ready to carry a child. Babies of adolescent mothers face higher risks of being born too early, with a low birth weight and less chance of survival.
Dina works as a hair stylist and manicurist which allows her to contribute to the household income, but she explains they often struggle to get by. "It's not easy for my family to eat 3 times a day, we normally only eat twice a day, in the morning and at night."
Hunger crisis causes chaos
The hunger crisis in Haiti has driven up food and fuel prices, leading to growing civil unrest that has plunged the country into chaos. "Our family has been greatly impacted by the rise in food prices. We are unable to live as we would like. For a low-income families like ours, it's even more difficult, we are just struggling to survive."
Nearly 5 million people in Haiti do not have enough food to eat, which represents almost half of the population. At least 1.8 million are estimated to be in Emergency, up from 1.7 million in the September 2022 analysis.
Hunger crisis appeal
Almost half of Haiti's population do not have enough food to eat.
Act now. Save lives.
Dina starts her day at 4am to take care of her son, work, study, and do the housework. Her mother and sister look after her little boy while she is at school. "Fortunately, I have been able to go back to school," says Dina who is hopeful that she will be able to complete high school in the next 2 years.
Another challenge facing Dina and her family is access to safe drinking water which they have to treat with chlorine and water purification tablets. The lack of clean water has exacerbated cholera outbreaks in the country. The political unrest is affecting the water distribution network, which is resulting in more cholera cases and compromising capacity to treat the disease.
Plan International's response to Haiti hunger crisis
Plan International is responding to the crisis in Haiti by providing lifesaving assistance to those who are most in need, including the delivery of water, sanitation and hygiene kits to prevent cholera, and training on nutrition and protection. Cash transfers have also been provided to families such as Dina's who says she used the money to buy food supplies for her family.
Despite the challenges they face, Dina is optimistic about the future and hopes to become a nurse one day so she can help save lives. However, she says her biggest ambition is to see her child have a happy life. "My son's future in Haiti is my dream. This is my home, and I genuinely love it here," she concludes.
Emergencies, Cash and voucher assistance, Disaster relief, Food crisis