Items distributed to support COVID-19-affected communities
Plan International Ghana has distributed emergency relief items to help communities deal with the effects of the COVID-19 pandemic.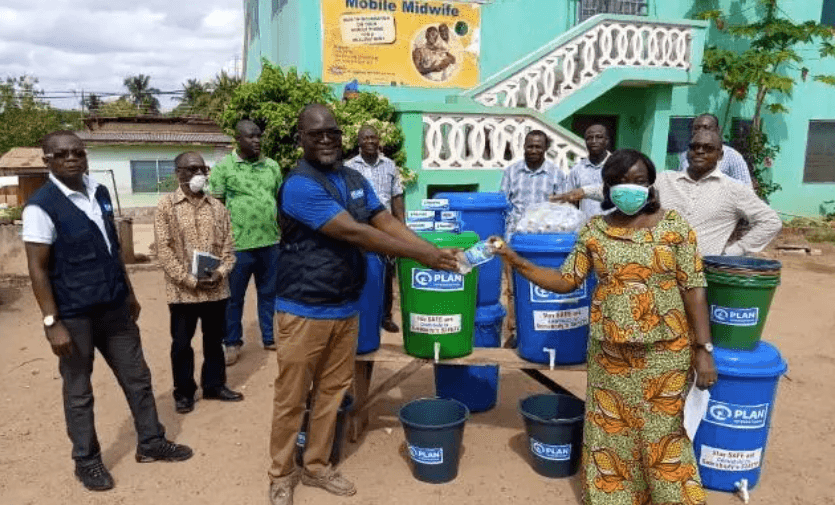 Alfred Dzikunoo, Plan International Ghana Central Regional Programme Manager delivering aid items.
Emergency relief items have been delivered to community members in Ghana's Awutu-Senya District to help ease the effects of COVID-19 pandemic.
Mr. Alfred Dzikunoo, Acting Central Regional Programme Manager for Plan International Ghana was among staff members delivering the aid items. He said Plan International was supporting the government in its efforts to reduce the impacts of the pandemic.
Reduce impacts of pandemic
He also stated that COVID-19 was a real risk to community members and called for greater efforts to spread good behaviours among people in the district to stick to guidelines to prevent the spread of the virus.
The items were distributed to various health facilities and markets with the support of the district COVID-19 logistics and response team.
The Awutu-Senya District Health Directorate has applauded Plan International Ghana for delivering sanitary items to support girls to manage their periods.
Support for communities
Dr. Patricia Antwi, Awutu-Senya District Health Director and also a member of the COVID-19 logistics and response team in the district, commended Plan International Ghana when it presented the items on Wednesday.
The items delivered included:
Liquid soap
Hand sanitiser
Water tablets
Hand washing facilities.
The district director said the items would be used for their intended purpose and appealed for personal protective equipment for frontline staff such as nose masks, face shields, goggles, medical gloves and disinfectants to protect them from contracting the virus.
Emergencies, COVID-19, Disaster relief