Community development plan delivered to district assembly
10 July 2023
Plan International Ghana supported community members in Volta region to create a development plan based on their needs and experiences and deliver it to local stakeholders at an event.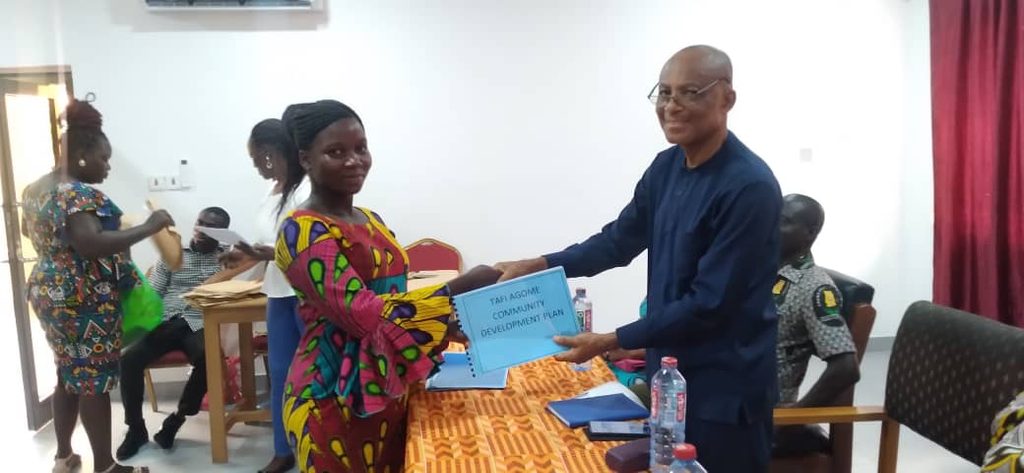 Community members delivered a self-directed development plan to local authorities and stakeholders at an event organised by Plan International Ghana.
At the event, Mr. Sulemana Hor Gbana, the Southern Programme Impact and Influencing Area Manager of Plan International Ghana, emphasized the need to strengthen community-based programmes for accelerated development.
Local people lead sustainable development
He said building the capacity of people at local level would ensure their effectiveness in identifying, prioritising and planning to address challenges confronting communities so they can lead sustainable development.
Mr Gbana was speaking at an event in the Volta region where communities within Plan International Ghana's operational areas submitted their development plan to the district assembly. Plan International Ghana supported the decentralised units of the assembly to engage the communities to create a community development plan as a framework for future development interventions.
The development plan was developed after community representatives were selected. Mr Gbana said they believed that when challenges confronting communities were documented with proposed interventions, it made it easier for the communities and stakeholders to take steps to address the situations to improve peoples' lives.
He said one way of accelerating growth at the local level was to engage communities to diagnose issues affecting them and encourage them to be actively involved in providing solutions. He also said communities were a critical part of Plan International Ghana's programmes delivery and that their consultation informed the development of the organisation's 5-year country strategy which runs from 2021 to 2025.
Community development plan influences decision makers
He said assemblies received input from the people when drawing up their medium-term development plans, so the community development plan submitted to the assembly was to help it in executing its mandate.
Mr Fabian Vorvor, District Coordinating Director of Afadzato South, commended Plan International Ghana for the initiative, saying the document would help guide the assembly to deliver better services to the people. He said Plan International Ghana had been instrumental in the district in improving the lives of the people through its programmes and that coming out with the community development plan was another milestone. Mr Vorvor pledged the Assembly's commitment to coordinating and harmonising the development plans to implement them as a single unit.
Various stakeholders at the event included representatives from the Commission on Human Rights and Administrative Justice, Ghana Health Service, Social Welfare, and National Commission for Civic Education, Assembly members and traditional authorities.
Youth empowerment, girls' leadership