Learning materials support quality education
1 November 2023
Plan International Ghana has donated learning materials to Ghanaian communities to support inclusive quality education.
Plan International Ghana has donated educational materials to the Ghana Education Service (GES) to support quality education delivery in the Volta and Oti Regions.
Mr. Solomon TesfaMariam, Country Director for Plan International Ghana, said the gesture was to complement the government's efforts to enhance equality in education in the country.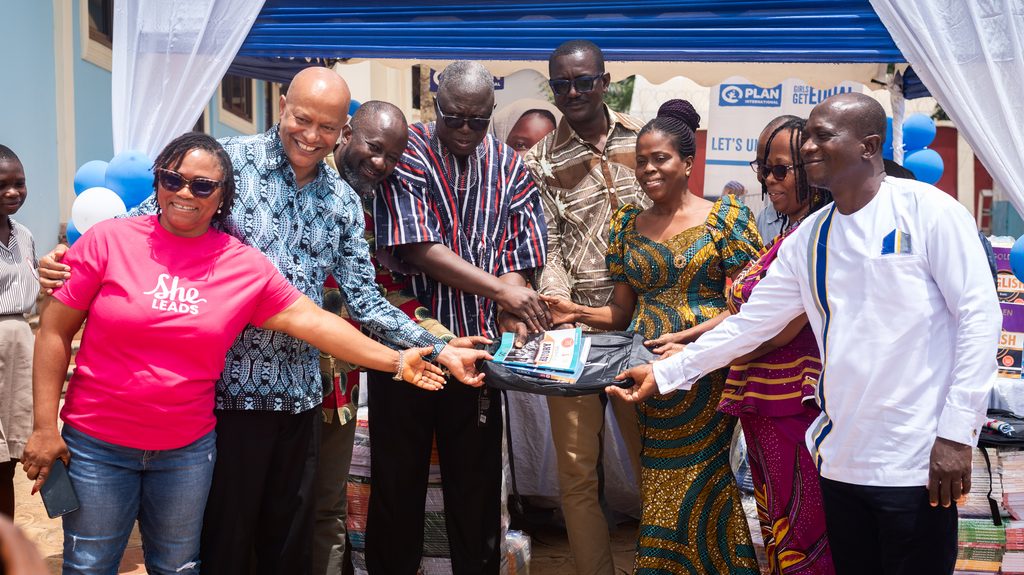 In 2023, the Southern Programme Impact and Influencing Area (SPIIA), Plan International Ghana invested more than 2.7 million Ghanaian cedi to supporting inclusive quality education in Plan International Ghana's operational districts and municipalities.
Key achievements of this initiative:
A total of 28,552 children and youth benefited.
Sixty-six communities across 5 districts and municipalities were supported.
Communities were supported with a range of materials including school infrastructure, teaching and learning materials, secondary scholarships for children in need, and capacity building for teachers and school management committees.
In collaboration with GES, 128 English language, science and mathematics teachers across 46 communities in the Volta and Oti regions were trained in gender-responsive pedagogy.
To fill furniture gaps identified in lower grades, a total of 1,360 dual desks were distributed to 46 schools in the partner communities in the Volta and Oti regions.
A total of 2,251 textbooks in English, mathematics, and science and 2,957 library books were procured and distributed to schools within partnership communities.
Textbooks and school bags were distributed to schools.
"With financial support to GES, 12 school management committees capacities were enhanced to effectively support the management of their schools and 21 school-based children clubs were formed and trained on issues affecting their development, especially learning," shared Mr. Solomon TesfaMariam.
The Country Director said Afadzato South Educational Directorate was also supported in 2023 to organise reading competitions amongst pupils to enhance their reading skills.
Power of collaboration
Volta Regional Director of Education, Mr Francis Yaw Agbemadi, who received the items on behalf of the beneficiary districts and municipalities, thanked Plan International Ghana for the gesture.
He said Plan International Ghana had played a key role in enhancing quality education delivery in both the Volta and Oti regions and demonstrated the true power of collaboration and spirit of support.
Mr. Agbemadi said the government alone could not shoulder all the increasing needs in the educational sector and required partnership and collaboration from all stakeholders to complement government efforts, and that was exactly what Plan International Ghana's doing.
He appealed to Plan International Ghana to scale up its activities to cover a lot more schools in the region, so they could also benefit, and called on other organisations to emulate this initiative.
Education, Untagged