Plan International Ghana phases out of Sissala
9 July 2023
An event has been held to celebrate Plan International Ghana's longstanding work alongside communities in Sissala as the organisation shifts its focus to operating in other areas of the country.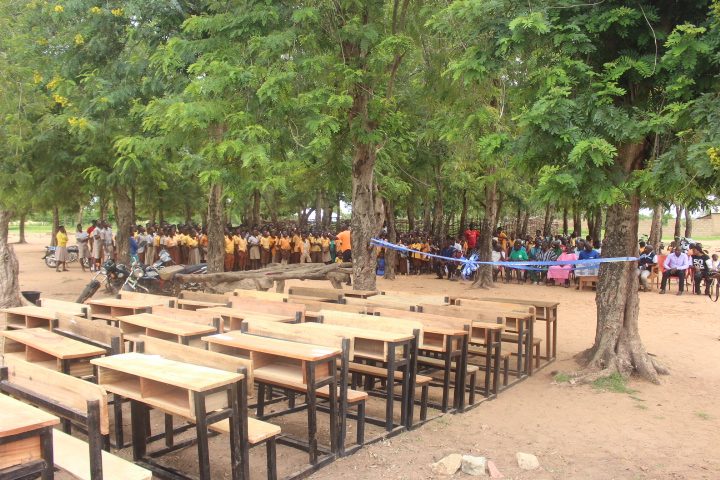 Plan International Ghana is phasing out of operations in Sissala West District. We have implemented education, health, agriculture, nutrition, livelihood and sponsorship projects in the district since 2002.
A phase-out programme has been organised to support communities while the organisation focuses on operating in other areas of the country.
Asum Kwarteng, Head of Programmes and Influencing at Plan International Ghana, said, "The Radford Radio project that has been handed over to the community is still vibrant and working. I am happy to know it is still transmitting agriculture, health and nutrition information to the population.
Parting support for community members
Before phasing out of operations in Sissala West District, Plan International Ghana distributed 1,420 desks to 18 schools and gave donations and certificates with citations to volunteers who worked on child sponsorship. In addition, 34 boreholes were dug and commissioned for communities, and two tricycle ambulances, a grinding mill and a health shed were provided following consultations with communities.
"Whilst Plan International Ghana is phasing out, we decided to give some parting legacies in recognition of the roles played by the people and communities," said Asum Kwarteng.
Asum Kwarteng also said this was part of the organisation's work to partner the government in supporting communities in hard-to-reach areas.
Working with communities
Eric Ayaba, the Northern Programme Impact and Influencing Manager of Plan International Ghana commended the volunteers for their contribution since 2002. "Seeing you face to face handling sponsorship families and partnerships, you accepted the pressure of your community and the perception you faced, the organisation is appreciative of your effort," he said.
Madam Ayisha Batong Hor, the Sissala West DCE, extended appreciation to Plan International Ghana and commended the volunteers saying, "There is benefit in service."
A volunteer remarked that, "Plan International Ghana's support has been worthwhile. Other parts of the country would need their support to be like us."
Education, Skills and work, Livelihoods, Sponsorship, Water and sanitation