Youth Voices in Youth Employment
A roadmap for promoting meaningful youth engagement in youth employment programmes
This document has been developed to guide and equip funders and stakeholders with tools and information to support the integration of meaningful youth engagement into youth employment programming and strategies.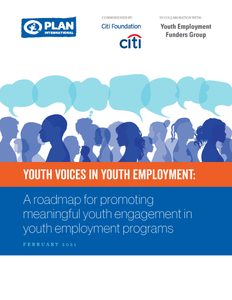 Bearing in mind that funders are at different stages of their journeys, the heterogeneity of young people and the wide range of youth employment programme interventions, the roadmap's recommendations are both immediately actionable and aspirational. 
The roadmap is divided into several interconnected sections:
An introduction section, which frames the discussion in subsequent sections
The research methodology and summary of findings section, which outlines the methodology that directed our approach and a summary of data collection findings
The defining meaningful youth engagement in youth employment programmes section, which proposes a definition for meaningful youth engagement and presents a framework to operationalise this concept in youth employment programmes
A roadmap to meaningful youth engagement in action section, which builds on the framework by providing entry points for mainstreaming meaningful youth engagement in programmes – these come in the form of milestones and action steps per programme life-cycle stage and into organisational strategies.
Throughout the paper, there are callouts, case studies, and quotes. The paper also provides detailed supplementary reading via annexes, which include a case for meaningful youth engagement in youth employment programmes, a detailed methodology, literature review findings, and qualitative and quantitative data summaries, among others. There is also an excel database available that contains the data used to inform the research.
Skills and work, Youth empowerment, Livelihoods