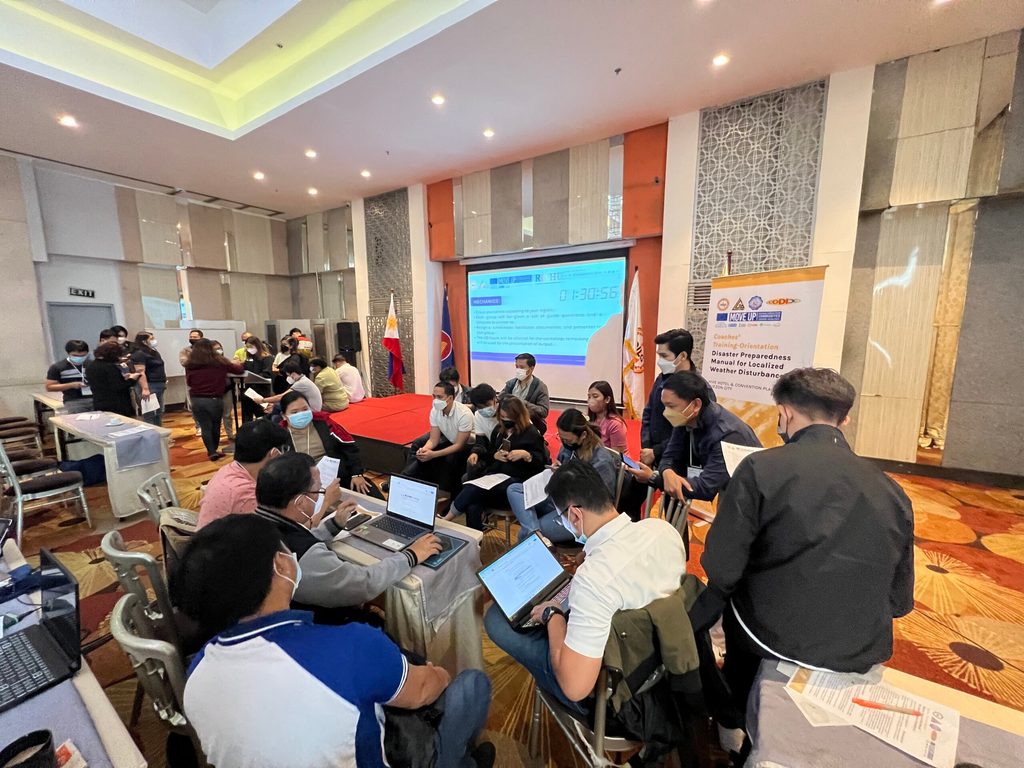 September 30, 2022 –  The European Union-funded Moving Urban Poor Communities Towards Resilience (MOVE UP) Project and the Department of the Interior and Local Government – Local Government Academy (DILG-LGA) successfully conducted a dialogue with around 80 Local Disaster Risk Reduction and Management Officers (LDRRMOs) and Climate Change Adaptation and Mitigation (CCAM) practitioners last September 30, 2022 at Hive Hotel and Convention Place, Quezon City.
The event is the final installment of the three-leg dialogue and consultation with local DRRMOs in the Philippines, which aimed to gather experiences in the recent occurrence of typhoons and tropical storms. Gathered information will be used to assess their capacity-building needs and recalibrate national policies in disaster preparedness.
The first two legs were participated by around 200 LDRRMOs and CCAM practitioners from Mindanao, NCR, and Visayas clusters and were held in May and June, respectively.
"The crucial work of building resilience rests heavily on local governments. Because it is at their level that policies are implemented, it is only apt that we draw from their rich experience in improving our programs and policies," said John Kien Develos, Head of LGA's Disaster Risk Reduction Management and Climate Resilience Section.
The event was held in connection with the training and orientation on the newly–developed Disaster Preparedness Manual for Localized Weather Disturbances and was participated by DILG Regional Offices' DRR-CCA Focal Persons (and Alternate), representatives from the Office of Civil Defense (OCD), Local Resource Institute (LRI), and Provincial / City Disaster Risk Reduction and Management Officers (P/CDRRMOs).
"The MOVE UP Project & LGA are currently working together to revisit the Disaster Preparedness Manual for Typhoon. Since its last update in 2018, several hydrometeorological hazards have severely affected the Philippines. MOVE UP Project's role in this dialogue is then crucial in ensuring that the updating process is informed by the direct experience of our local actors," Develos added.
The DILG-LGA and the MOVE UP project have been partners since 2021 and have been working hand-in-hand in the conduct of capacity development interventions to local chief executives and other relevant stakeholders involved in disaster risk reduction and management (DRRM) activities.
"With our partnership with DILG-LGA, MOVE UP project is committed to support the national government in reducing the impact of disasters through strengthening capacities of our local government units who are at the forefront of our disaster risk management interventions," said Alvin Dumduma, MOVE UP project's consortium manager. With support from the EU, the MOVE UP project is expected to help more than 90,000 individuals through its urban resilience strategies, anticipatory action, and rapid response interventions in selected cities in Mindanao. The project is implemented by a consortium of international non-government organizations lead by Action Against Hunger Philippines, with Plan International Philippines, and CARE Philippines, and its local partners ACCORD and Nisa Ul Haqq Fi Bangsamoro.
---
About EU Civil Protection and Humanitarian Aid
The European Union and its Member States are the world's leading donor of humanitarian aid. Relief assistance is an expression of European solidarity with people in need all around the world. It aims to save lives, prevent and alleviate human suffering, and safeguard the integrity and human dignity of populations affected by natural disasters and man-made crises.
Through its Civil Protection and Humanitarian Aid Operations department, the European Union helps millions of victims of conflict and disasters every year. With headquarters in Brussels and a global network of field offices, the EU provides assistance to the most vulnerable people on the basis of humanitarian needs.
Media Contact
Claudine Complativo
Communications and Advocacy Specialist
MOVE UP Project