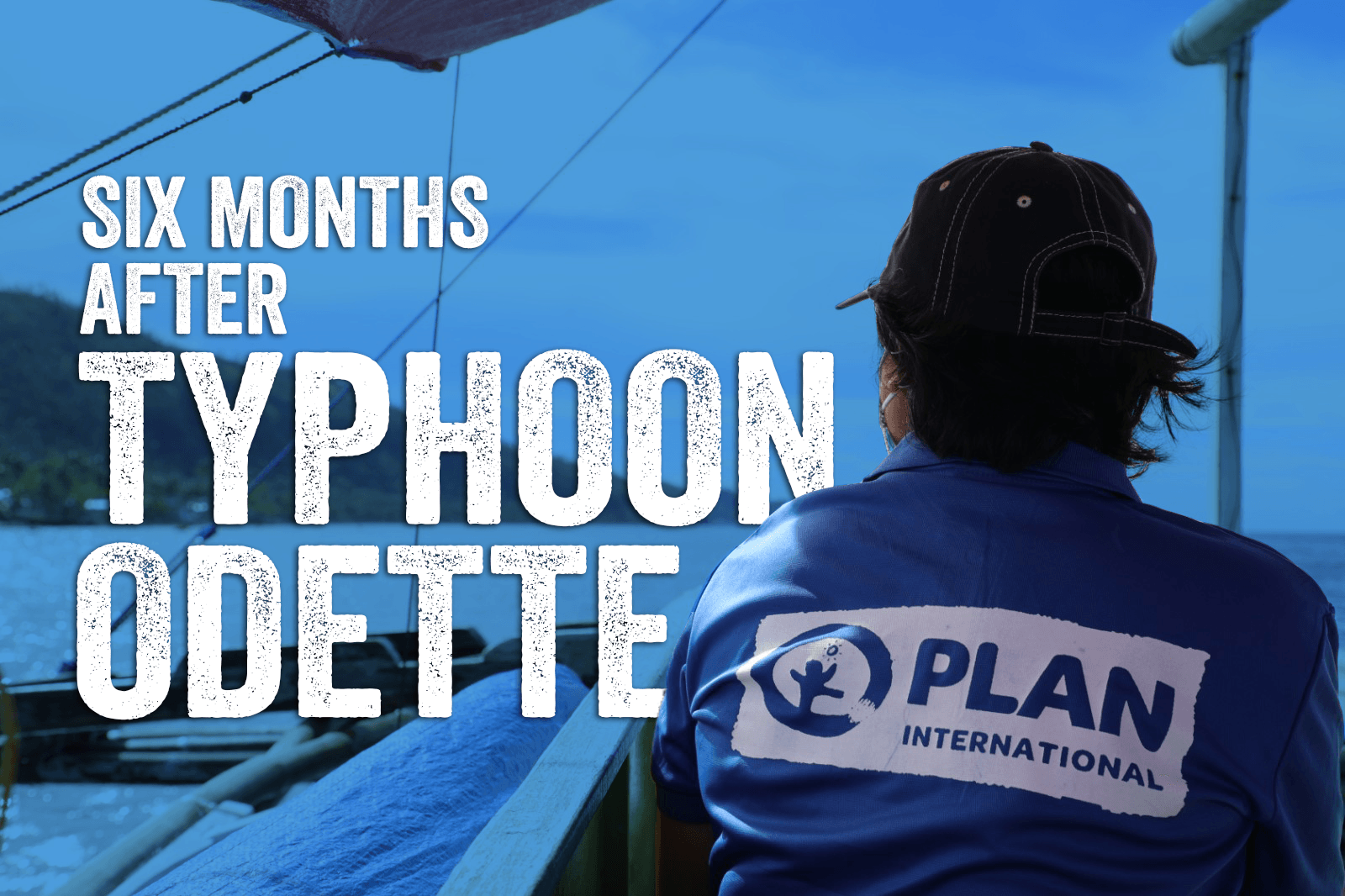 Rebuilding with Hope: Empowering Communities Six Months After Typhoon Odette
16 June 2022
<strong>June 16, 2022 marks the sixth month since Super Typhoon Odette made landfall in the Philippines. Through the support of partner organizations and donors, Plan International and our hardworking Emergency Response Team have been working closely with affected communities over the past six months to provide relief goods and other basic needs and services.</strong>
When Super Typhoon Odette, known internationally as Typhoon Rai, arrived in the Philippines on December 16, 2021, it brought with it two days of torrential rains, violent winds, landslides, and storm surges. When it finally exited the country, it left behind a trail of destroyed homes, hospitals, and schools; ruined livelihoods and businesses; and devastated families and communities who have months and even years of work ahead of them to undo the damage that was done in just two days.
It is difficult to imagine how communities can begin to rebuild after such devastation, as starting over after a natural calamity can seem like a slow and difficult uphill battle. But through the combined efforts of local government units (LGUs), community leaders, and numerous local and global humanitarian organizations, Filipinos were not only given material aid and assistance, but also a chance to rekindle their lost hope.
Six months after Typhoon Odette, we revisit the efforts of Plan International, made possible by the outpouring of support from donor agencies and partners, to help affected families and communities. Through the stories and experiences of the Emergency Response (ER) Team, we can catch a glimpse of the reality behind humanitarian work in an emergency setting, and the challenges humanitarian workers face in bringing aid to disaster-stricken areas
Responding to the Call to Serve
When a natural calamity strikes, it does not choose its victims. Filipinos from all walks of life in the regions of Eastern, Western, and Central Visayas, as well as in the country's CARAGA region, found themselves at the mercy of the super typhoon. Farmers, fishermen, business owners, teachers, and especially vulnerable children were all affected by the storm. When many lives are in need of help, those who are called to serve come from different walks of life as well.
Before joining Plan International's ER team as a logistics and procurement officer, Jhod Dural was doing administrative work in the Visayas Support Center (VSC) in Tacloban City. Since his emergency response training in 2019, Typhoon Odette marks his first time being a part of emergency response efforts. He recalls how the demands of the job were very difficult for him at first, because logistical work in a disaster setting proved to be challenging. During the first two weeks after the typhoon, transportation and supplies were hard to come by as most vehicles, suppliers, and service providers were affected by the storm. For the day-to-day operations to continue, Jhod had to travel back and forth from Tacloban to the Plan International base in Maasin, Southern Leyte, a three to four-hour journey, to provide the ER team with much needed supplies.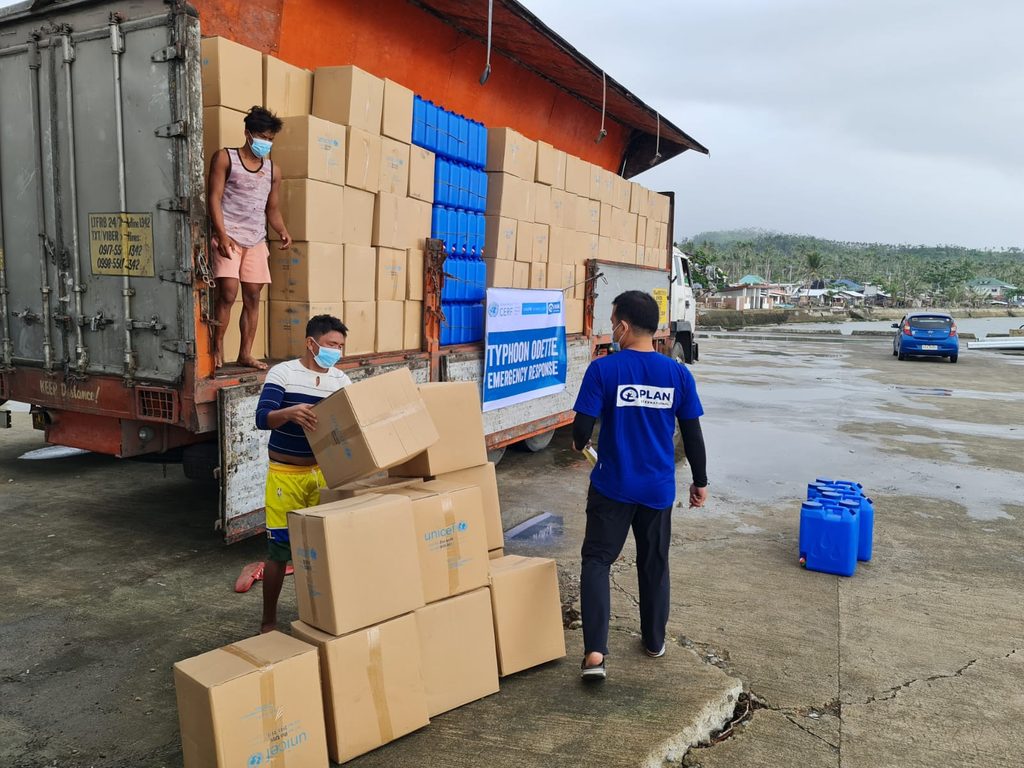 His role in the response operations is a far cry from his regular duties in VSC where he did day-to-day administrative work in the office. Jhod admits that there were times when he thought about returning to his desk job in Tacloban, but he found the strength to continue from the encouragement he received from his family and colleagues who believed that he could power through. He is grateful for his team members, especially for the veterans of the ER team who not only supported and guided him in his job, but also put their complete trust in him. After only knowing them by reading their names on the paperwork he would process in VSC, and wondering when it would be his turn to work in the field, he is now proud to call himself one of them.
He shares that it has always been his dream to be a part of the ER Team. Since 2017, he has been aspiring to become part of a response. When asked why he had a passion for ER work, he responds with, "Kase nga humanitarian organization tayo. Di naman pwedeng nasa office lang ako." (It's because we're part of a humanitarian organization. I can't just be stuck in an office all day.)
For Jhod, the highlight of his job is being able to work with communities. "Yung pinakatumatak sa puso't isipan ko is yung fieldwork. Lalo na sa distribution ng mga hygiene kits, water kits, ng bigas. Kase sa VSC, more on paperwork and admin work ang ginagawa ko. Di talaga ako nakakalabas ng office. Pero dito, nakakataba talaga ng puso ang makilala ang mga tao at makapagbigay ng items" (What stuck with me the most is my work on the field, especially when distributing hygiene kits, water kits, and rice. Back in VSC, my work is really more on paperwork and administrative work. I never really get the chance to go out of the office. But here, it really warms my heart to be able to meet the people in the community and distribute relief goods.)
He recalls the first time he joined his team on the field and shares that,
Jhod adds that if he ever returns to his previous post in VSC, he will tell his colleagues that ER work is worth it.
Finding Meaning in Work for Others
When a natural calamity strikes, it does not care for the time and place. The month of December marks the start of the holiday season in the Philippines, an important and meaningful time for most Filipino families. For those affected by Typhoon Odette, what was supposed to be a time of warmth and comfort spent with their loved ones became a time of loss and confusion. When many families are in need of relief and compassion, help also does not care for the time and place, it goes to wherever it must and arrives whenever it must.
From December 23 – 28, veteran responder Aries Tizon was deployed in Southern Leyte to reinforce the efforts of Plan's First Responders for Typhoon Odette. It was the first time she spent Christmas away from her family, and yet, she shares that celebrating Christmas with typhoon-affected communities gave her a sense of fulfillment. For most people, working on holiday would be considered a worst-case scenario. But for Aries and her team, spending Christmas Day distributing hygiene kits and water kits to the affected barangays made the holiday all the more meaningful. The team became instrumental in bringing aid from the many generous funders worldwide to those in need.

She told the communities she visited that,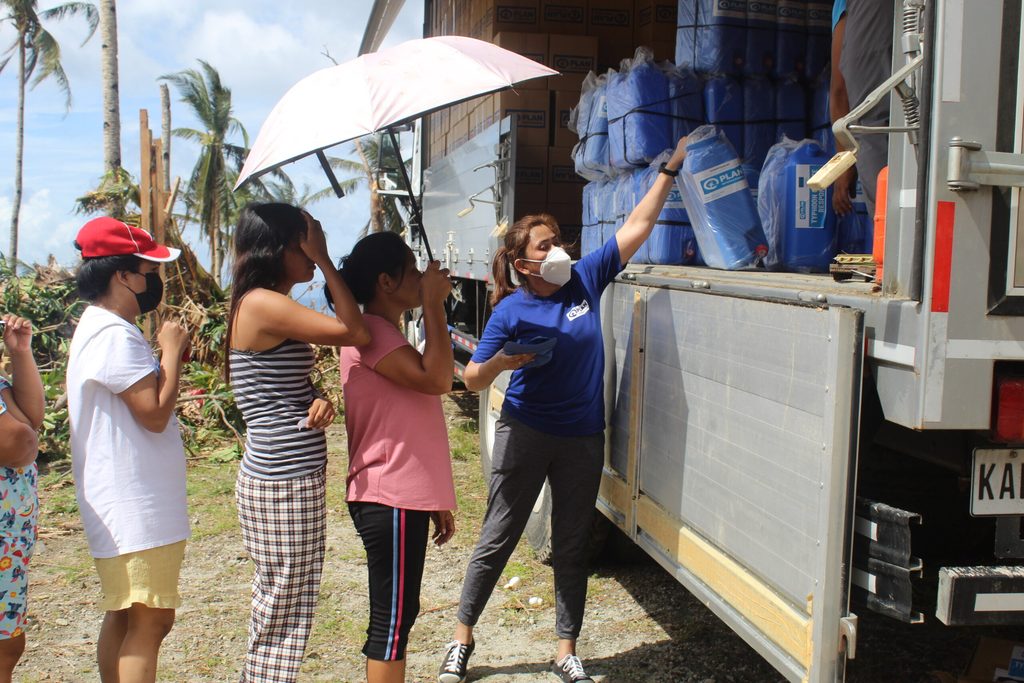 Aries recalls how it was very evident on the faces of the people they distributed aid to that they truly needed the supplies she and her team brought with them. For many barangays in Southern Leyte, Plan International was the first organization to arrive in their communities and provide relief goods. In fact, one of her most memorable experiences working in ER for Typhoon Odette was when some of her Community Development Facilitators (CDFs) went to Barangay Looc, one of the farthest barangays in the municipality of San Ricardo, at the very tip of Southern Leyte.
For days, the relief goods that were supposed to be distributed in that area remained untouched because the barangay was inaccessible following the typhoon. Her team members, however, insisted on visiting Barangay Looc through a habal-habal, a modified motorcycle made to carry multiple passengers. Aries gave them a one-hour deadline, as she had to stay behind to look after their vehicle. But after three hours, her team members had not yet returned. Panicking and on the verge of calling the police, her colleagues finally arrived with good news.
"Sabi nila, 'Ate, sorry at di kami nakabalik agad kase walang signal dun sa area, pero worth it talaga yung pagpunta namin.' Kase grabe daw talaga yung makikita mo yung happiness ng mga tao dahil nabigyan sila ng ganung items. Plan International and ECHO (European Civil Protection and Humanitarian Aid Operations) pa lang daw yung unang nakarating dun na NGO, kahit yung LGU di pa nakarating doon." (They said, 'Sorry for not returning sooner, there was no [cell] signal in the area. But going there was worth it.' It was overwhelming for them to see the happiness of the people there when they received the relief goods. Plan International was the first NGO to arrive there, not even the LGU arrived there yet.) Aries adds that these are the types of experiences she and her team members never forget when they work on the field.
Keeping Hope Alive
When a natural calamity strikes, it is capable of not only destroying resources and infrastructures, but also destroying a community's spirit. When the dust and debris have settled and people are left with almost nothing to rebuild, hope becomes the scarcest resource. It is during these times of despair and hopelessness that humanitarian work is most needed.
Ging Chavez, a Community Development Facilitator, has been responding to natural disasters and calamities for years. When faced with such devastation, she shares that it is best not to focus solely on the damage caused by the typhoon.
For Ging, a level head is crucial for humanitarian work to be done in disaster settings. And despite six months of continuous emergency response efforts, she recognizes that there is still much to be done in Typhoon Odette-affected communities, especially when it comes to restarting their livelihoods.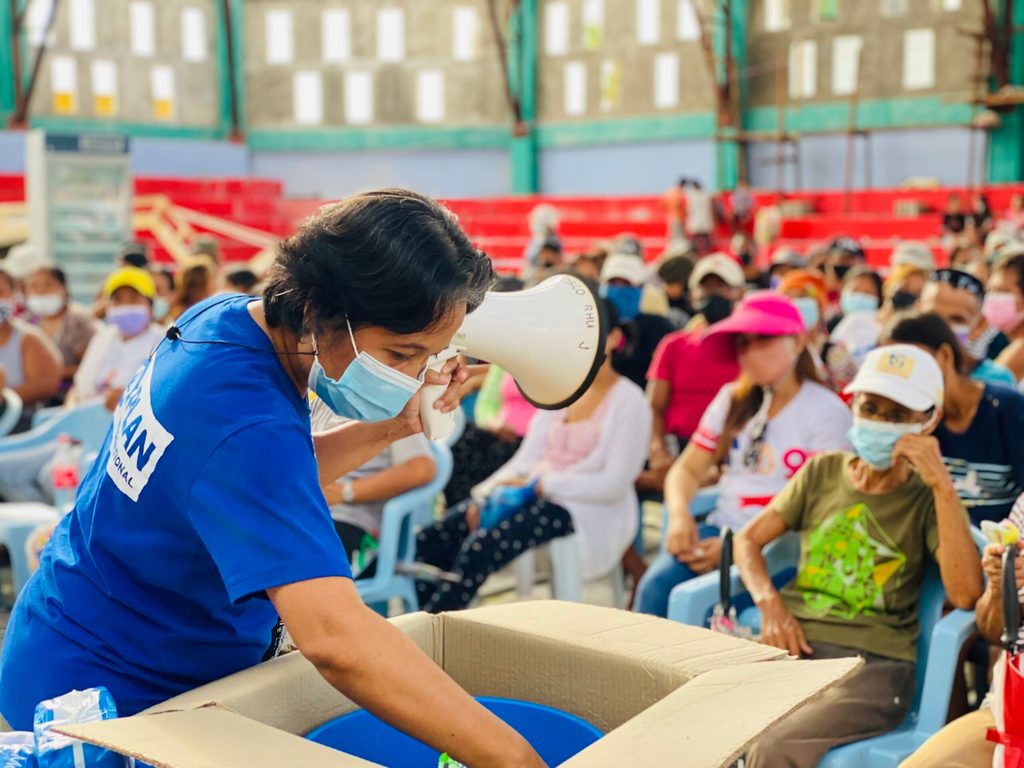 "Yung livelihood kase (sa area) more on coconut farming at tsaka sa fishing. Yung sa coconut, almost 100% yata na yung mga cocount na natumba at nasira. Tapos yung sa fishing naman, yung mga boat nila nasira din. Sana may alternative sila na livelihood kase yung iba dependent lang doon," (Their main sources of livelihood are coconut farming and fishing. For coconut farming, almost 100% of coconut trees were felled or destroyed. For fishing, their boats were also destroyed. It would be better if they had an alternative source of livelihood because some are completely dependent on coconut farming and fishing.) Ging adds that the distribution of life-saving relief is necessary but are only short-term solutions. She hopes that continued response in the area towards rehabilitation can offer alternative forms of livelihood for communities, so they are able to support themselves in the long run.
As for the youth in typhoon-affected communities, Ging laments how most of the schools and classrooms in the area have been destroyed. Fortunately, through the tents provided by UNICEF, classes are able to resume in limited capacity and students are able to resume their education despite the devastation caused by the typhoon. Ging hopes that support for the education sector in the affected areas continues and that schools are rebuilt for the future of the children and youth in the area.
Although the road to recovery is long and tedious, progress is being made slowly but surely, especially when communities, LGUs, and humanitarian organizations work together. Aries realized that her work had an impact on communities whenever she attended the network meetings coordinated by the United Nations Office for the Coordination of Humanitarian Affairs (UN OCHA) in the Philippines. When she sees humanitarian organizations gathered together in a room and discussing emergency response efforts with LGU's and communities, she realizes that there is a fighting chance for these areas to recover because there are many people that are willing to help.
In fact, Plan International's Typhoon Odette response would not be possible without the countless support and efforts of donor organizations such as the European Union through the EU Civil Protection and Humanitarian Aid Operations, and the United Nations through the UN Central Emergency Response Fund (UN CERF). In emergency settings where the work to be accomplished seems daunting, there is immeasurable value in cooperation and collaboration with partner organizations. We work with multiple consortia of humanitarian actors who enable us to deliver life-saving relief and support for the rehabilitation of the affected communities.
Jhod hopes that the communities remember not only the items they received, but also the lessons they learned during their seminars on proper hygiene. More importantly, he hopes they remember the value of treating their fellowmen with compassion. "Sana maremember nila yung talagang may mga tao at mga organization na tutulong, kung may sakuna pa mang dumaan, huwag mawalan ng pag-asa." (I hope they remember that there are people and organizations who will always help them, and that in the midst of any disaster, they should never lose hope.)
Humanitarian work is instrumental in restoring people's spirits, but communities cannot be rebuilt on hope alone. For Plan International and the dedicated members of its Emergency Response Team, the true measure of the success of our work is based on how empowered people, especially children and youth, are to be the agents of change in their communities. . True change in a post-typhoon recovery setting is achieved when people are empowered to be part of the solutions to rebuild their communities.
For Aries, she hopes to see genuine smiles return to the faces of those affected by the typhoon, "Hindi man naibalik, mas nakapagbigay tayo ng improvement sa kanilang mga buhay. Yun naman talaga ang ultimate na goal natin, yung magkaroon ng pagbabago ang kanilang mga buhay dahil sa mga ginagawa nating mga ginagawa, kasama ang community." (Although we may not have been able to restore their old lives, hopefully, we improved their lives. That is our ultimate goal, for change to happen in their lives because of the work we do with the community).