Towards Self-Reliance
Success stories from the Marawi Response Project
This e-book shares the stories of community members who took part in the Marawi Response Project between August 2018 and March 2023.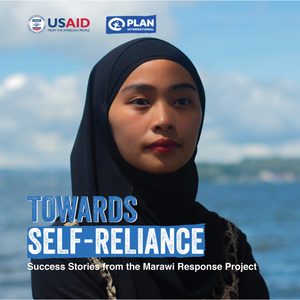 In May 2017, a 5-month conflict between armed groups and Philippine state forces swept across Marawi City, Lanao del Sur. The Marawi siege, took the lives of 500 people, displaced 365,000 residents, destroyed homes and key infrastructure, and disrupted an otherwise vibrant local economy in the Southern Philippines. 
In partnership with Plan International, the Philippine government, civil society, and the private sector, the U.S. government through USAID committed to improving the economic and social conditions of Lanao communities affected by the Marawi siege. Implemented from August 2018 to March 2023, the Marawi Response Project channeled vital support to both home-based internally displaced persons (IDPs) and their host communities across 23 municipalities in Lanao Del Norte and Lanao Del Sur plus Marawi and Iligan cities.
Towards Self-reliance: Success Stories from the Marawi Response Project showcases the gains of the U.S. government-funded project through the testimonies and accomplishments of project participants.
In the book are 18 stories of IDPs and host communities and their experiences as participants in civic engagement activities and training, retelling the impact of MRP in their lives. 
These success stories developed over the life of the project echo the core outcomes of the project: participation, trust, empowerment, and representation.
Download e-book
Emergencies, Child protection in emergencies, Disaster relief, Livelihoods, Youth economic empowerment in emergencies