Technical-Vocational Education and Training Program produce 80 new graduates in BARMM
25 June 2023
When the months of May and June come around, so does graduation season for students in the Philippines. Last May 15, 2023, 31 young men and 49 young women from the Bangsamoro Autonomous Region of Muslim Mindanao (BARMM) had their own graduation ceremony after finishing the Technical and Vocational Education and Training (TVET) Program.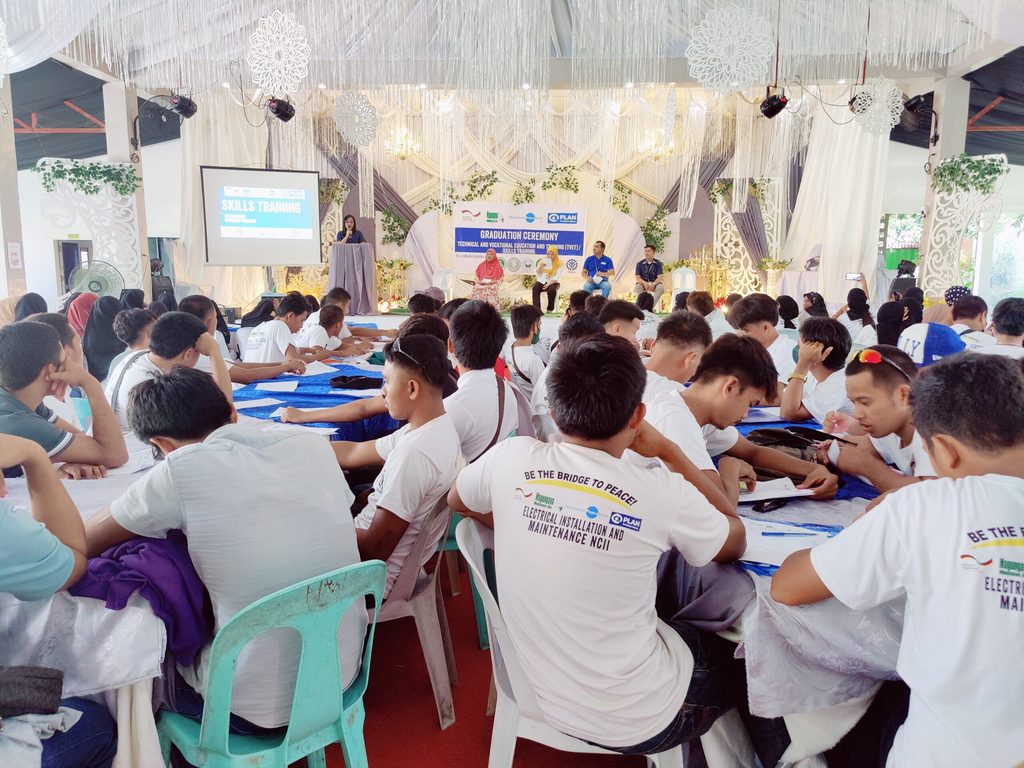 Funded by the German Federal Foreign Office (GFFO), the 3-year project is one of the socio-economic components of peace building activities being implemented by Plan International Philippines, Nonviolent Peaceforce, and Magungaya Mindanao, Inc. in 30 barangays in BARMM – Datu Saudi Ampatuan, Datu Unsay, Datu Salibo, Mamasapano, Shariff Saydona Mustapha, and Shariff Aguak.
The program benefited a total of 141 youth (78 young men and 63 young women). Each participant completed one of the program's course offerings designed to equip them with skills to be ready for employment. These courses included electric installation and management (EIM), motorcycle and small engine servicing (MSES), bread and pastry production (BPP), cookery and dressmaking – all of which were under the National Certification II of the Technical Education and Skills Development Authority (TESDA).
Life skills
Life skills sessions were also among the offerings of the program. These covered safe migration, peace building, gender equality, and financial literacy through the Hope Town Hero (HTH) app. They also covered the use of TESSA, a chatbot that helps young people navigate pre-employment processes such as creating a curriculum vitae.
On their part, the graduates made sure to plan out how they can maximize their opportunities and gain income through self-employment. Towards this end, GFFO generously provided additional support for the development of basic toolkits and the equipment needed to kick start the young people's income-generating activities.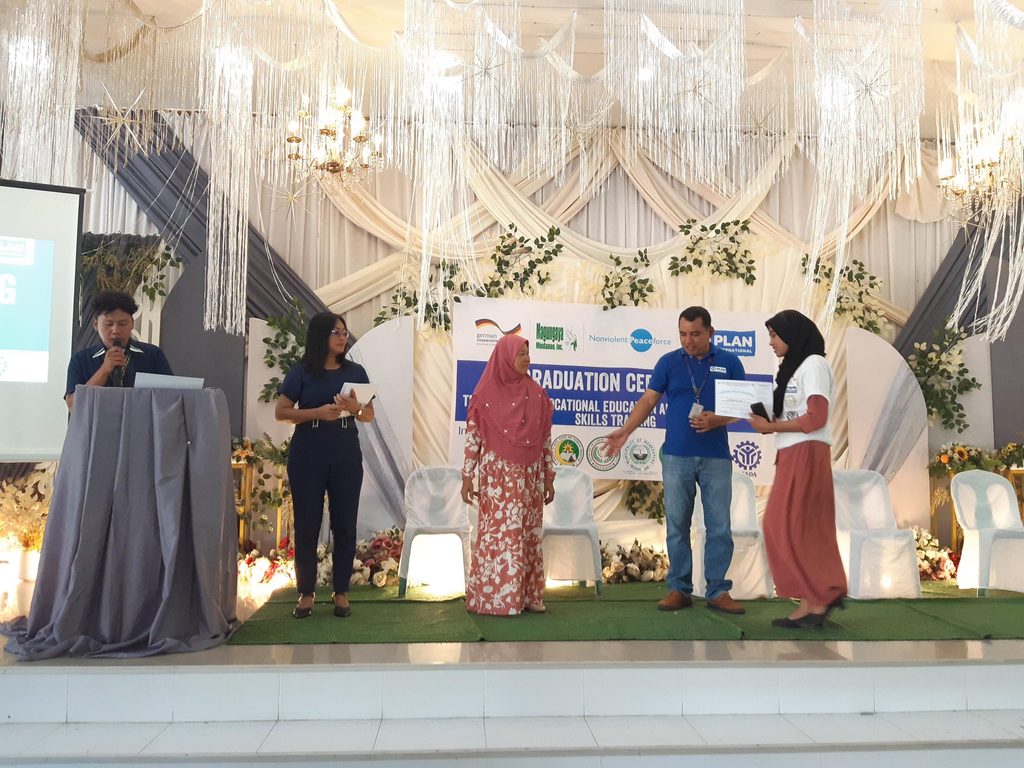 Coming from a place where conflict is rife, 28-year-old Homidi Zainudin highlighted the value of the project, saying "We were trained not to fight, but to develop skills that were helpful for youth like us who did not complete college education."
Homidi is now a graduate of EIM and sees the opportunity that his electric installation and management skills can bring. With his capacity, he can now do on-call electric servicing in their locality, providing him a source of livelihood.
Meanwhile, Baby Jane Lamalan, 28, of Datu Salibo, found her choice of livelihood in the dressmaking course. She said, "I am happy that through this opportunity, we can help our families and parents."
Moving forward
Michael Antony Cruz, Project Manager from Plan International, acknowledged the support of the Ministry of Basic, Higher, and Technical Education – TESDA, Ministry of Labor and Employment (MOLE), and Technical-Vocational Institutions such as VMC Asian Institute and FOUREYCH. The local government unit of Mamasapano also shared their resources to transport the needed tools for home-based training and ensure that youth participants completed their training.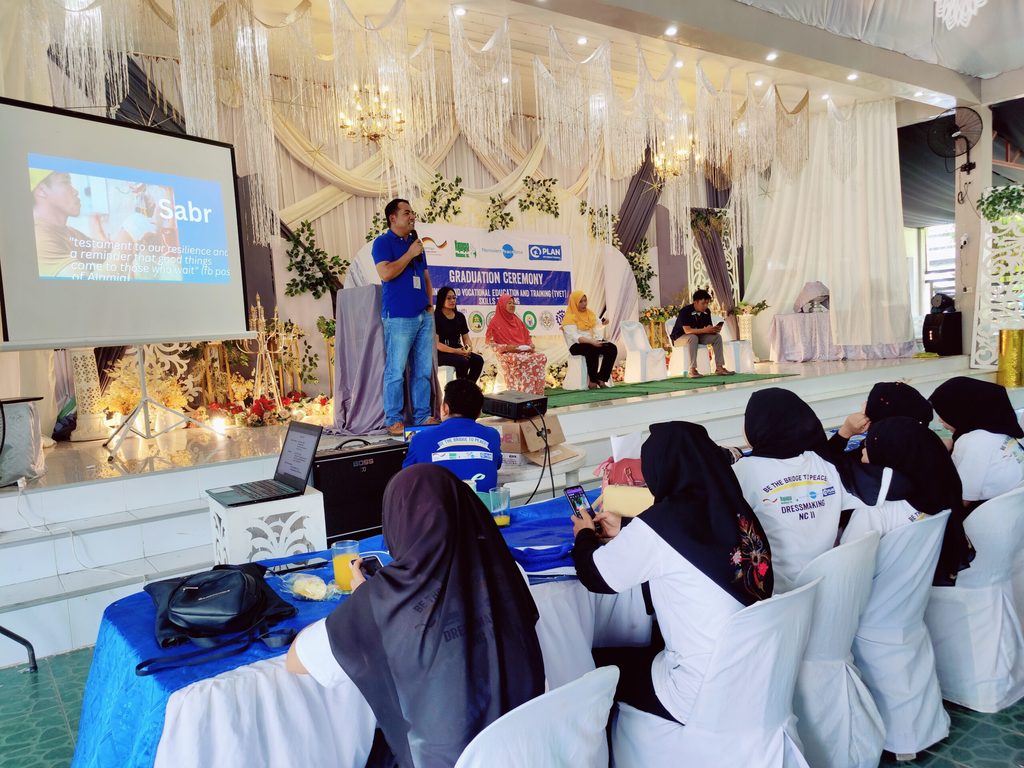 In his address to the newly graduated batch, he applauded their patience (Sabr) and perseverance in attending weekly classes and expressed his gladness upon seeing them finish the program. As a send-off message, he called on the youth to contribute to BARMM's campaign for economic stability and lasting peace.
Education, Skills and work, Youth empowerment, Financial literacy, Lifeskills training, Vocational training