Written by Julieanne Tabilog
Photos by Michael Perfecto
In a move to follow through with the recommendations presented in the 2022 State of the World's Girls Report titled Equal Power Now, Plan International Philippines held a Girls' Takeover day with Country Director Ana Maria Locsin last October 17, 2022.
Taking over the highest post of the local office were sponsored children Angelie, 15, and Athena, 17. Angelie is a Grade 11 student from Tacloban City and officer of a youth group called Caridad Active Movers for Progress Association. Meanwhile, Athena is a first year college student who has been consistently facilitating Sexual Health and Reproductive Rights seminars in her barangay.
Through the Girls' Takeover, girl advocates participate in a symbolic turnover of position and authority from leaders of various institutions, in recognition of girls' right to participation and their ability to take on leadership roles. For a day, they are able to occupy spaces where they are rarely seen or heard, giving them a platform to share their lived stories, highlight their concerns, and elevate the discussion on girls' rights.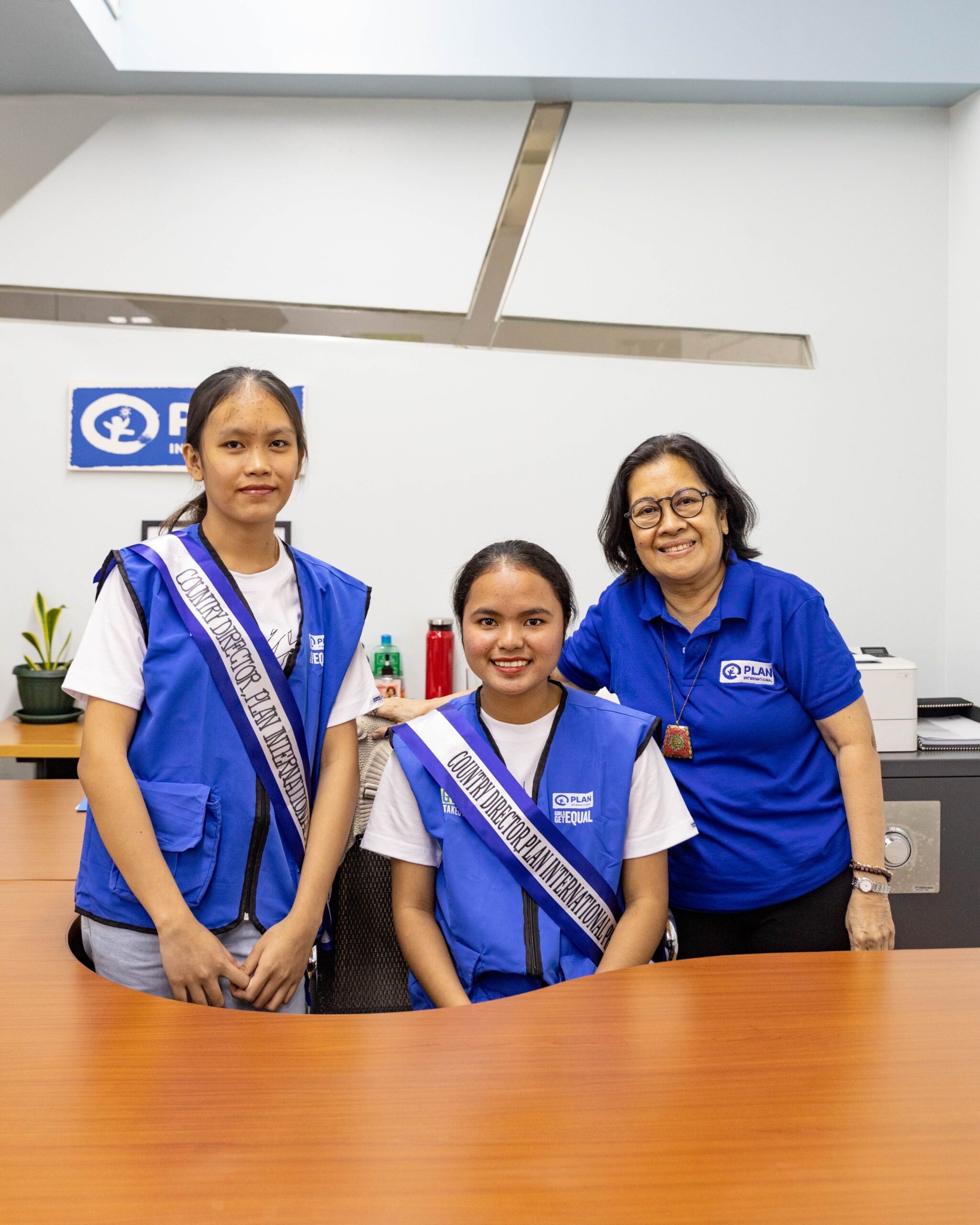 Journey to leadership
At the Philippine Country Office, the Takeover event began with an office tour and meet-and-greet with the local staff, who each shared a bit about their role in the organization. Afterwards, a round-table discussion commenced between the staff and girl leaders. Part of the program entailed Country Director Locsin reading out her penned "Letter to my Younger Self" — an exercise inviting women in positions of power to reflect on their personal journey to leadership.
The girl advocates also gave their respective messages. Athena shared her experience being a youth leader for their Girls' Challenge Grants (CGC) Project, through which her group was able to establish a Young Hearts Hub. Growing up, Athena shied away from attention. Content to live a normal, quiet life as a young girl, she put her primary focus on her studies.
"I thought engaging in different activities was a waste of time but everything was [turned around]. Plan taught me that as a girl, I am capable of so many things. Plan gave me a lot of opportunities, showed me different kinds of open doors, and with all the experience, it helped me boost my confidence, shape my persona and understand myself more. Plan helped me to be strong, to be a leader and a spokesperson for every child, especially the girls who are neglected."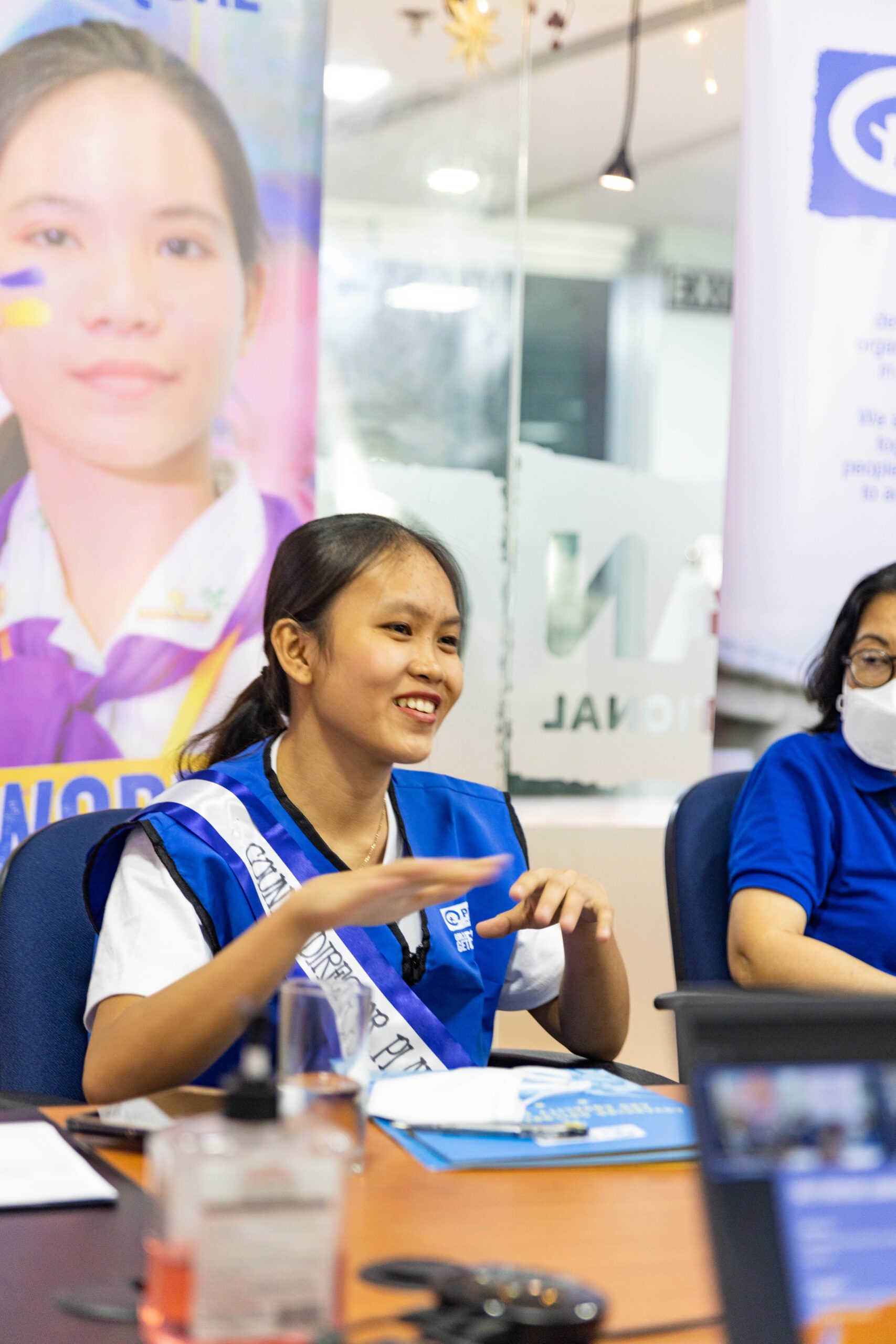 15-year-old Angelie, meanwhile, was moved to emotion during the takeover, saying that she never expected in her life that she would be able to one day sit with (and as) the head of an international organization. In her message, she expressed how lucky she felt growing up in a family that included her in decision-making. Yet, she recognized that not all children have this privilege to express their needs and wants, and not all families are open and supportive of children speaking up for themselves.
"It breaks my heart kapag nakikita ko ang mga taong laging pinagbabawalan at hindi binibigyan ng pagkakataon na sabihin at gawin ang gusto nilang gawin, [gaya ng] mga babaeng hindi pinapasali sa mga patimpalak dahil masyado daw mahina," she said.
(Translation: It breaks my heart when I see people who are held back and not given an opportunity to say and do what they want, [such as] girls who aren't allowed to join contests because they are perceived as weak.)
She ends her message with a call for society to recognize and acknowledge women and girls, and give them adequate opportunity to become empowered leaders who can champion gender equality. She also called on leaders and decision-makers to establish more programs to promote positive parenting and mainstream the participation of children.
Solidified commitment
To solidify the commitment to increase children and young people's participation and representation, the Takeover ended with a ceremonial signing of a Declaration of Support which expresses the concrete steps the organization will take towards this endeavor.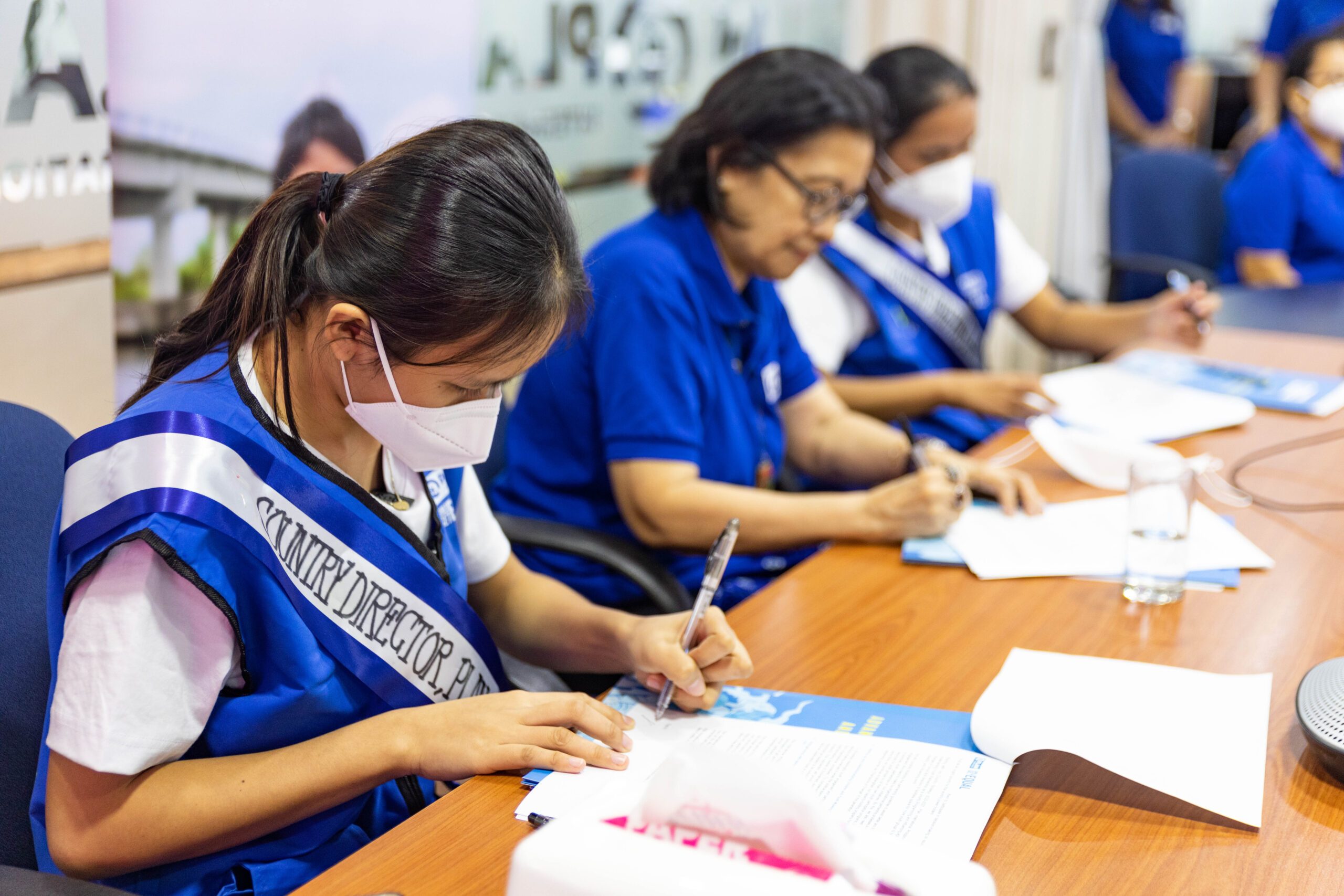 Per the declaration, Plan International Philippines will be instituting changes to facilitate space for more youth groups to be involved in its programs, projects, and influencing work. Some of the steps outlined in the statement were:
Expanding and strengthening partnerships with children and youth groups and networks,
Increasing funding and budget support for the activities of children and youth groups,
Strengthening risk assessment and support mechanisms for youth organizations,
Mobilizing sponsored children, youth partners, and their allies in global, regional, and local campaigns
Prioritizing Youth Partnership in the Programming and Influencing agenda
Setting up Youth Working Committees – a formal space for partner young people's organizations and sponsored girl leaders to be consulted on its Programme and Influencing Work
Lobbying for the approval of laws, policies, ordinances, guidelines, and budget allocations that support girls' collective action and organizing
It is in this direction of #EqualPowerNow that the organization aims to trek for the final year of the global Girls Get Equal campaign – inspired by the stories of Angelie, Athena, and thousands more girls, boys, young women and men who are still advocating for their rightful place in decision-making spaces.
---
Know more about the campaign towards Equal Power by visiting plan-international.org/equal-power-now/
Watch the Filipino Youth Manifesto at plan-international.org/philippines/equal-power-manifesto
Girls Get Equal, Youth empowerment, Activism, girls' leadership