Plan International conducts Education in Emergencies Training for Southern Leyte Educators After Typhoon Rai (Odette)
25 August 2022
<strong><em>Article by Jamie Gutierrez</em></strong> <br><strong><em>Photos by Remelita Arciga</em></strong>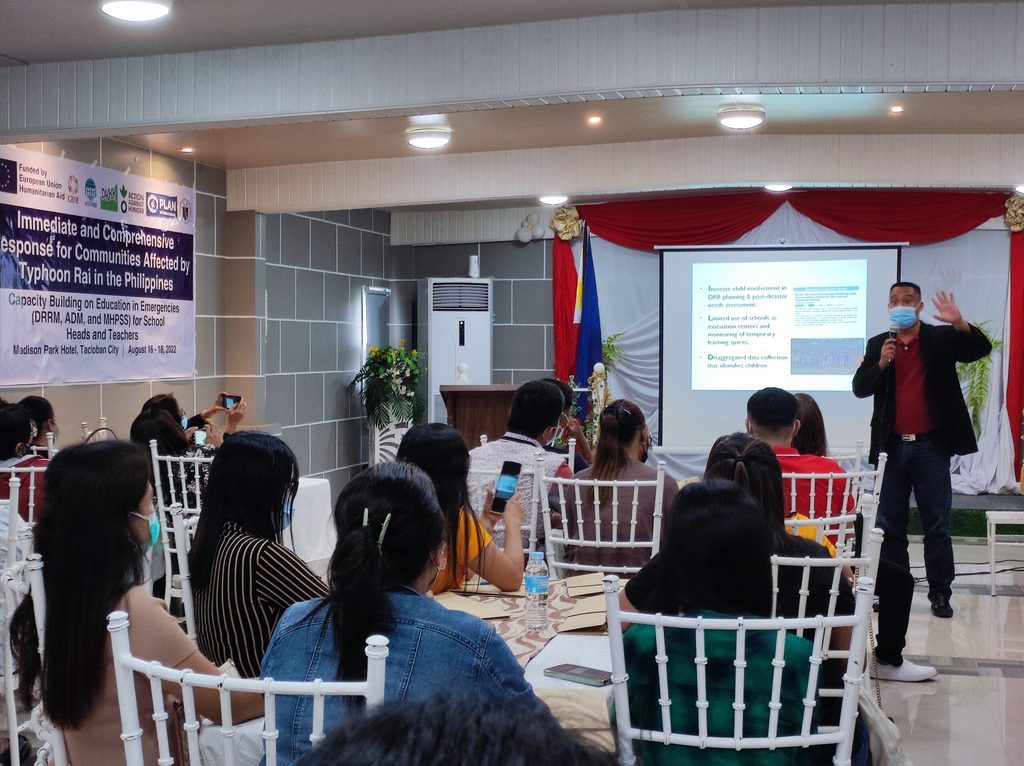 To prepare for the upcoming school year, Plan International conducted capacity building seminars to train educators across six municipalities in Southern Leyte on Education in Emergencies (EIE).
Held on August 16-18 and August 17-19, the participants included school heads and administrators, classroom teachers, guidance counsellors, district and division nurses, and Disaster Risk Reduction (DRR) coordinators from the municipalities of Libagon, Limasawa, Liloan, Pintuyan, San Francisco, and San Ricardo.
The objectives of the seminar were to explain the concepts and legal basis behind EIE, allow educators to organize and establish EIE plans in their respective local contexts, identify inclusive and gender-appropriate strategies to reduce student dropouts during emergencies, and acquire basic knowledge on learning, monitoring, and evaluating Psychological First Aid (PFA) and Mental Health and Psychosocial Support (MHPSS).
Mr. Ariel Frago, one of the speakers in the seminar, highlighted the importance of EIE as it ensures that students have safe spaces for learning where educators can holistically respond to their needs. Teachers have noted that the ongoing COVID-19 pandemic and the aftermath of Typhoon Rai are external factors that make it difficult for children to continue pursuing their studies. Through EIE, students are provided with the psychosocial and cognitive support and protection they need. It also allows them to safeguard their dignity and ensure that education becomes a sustainable option for them.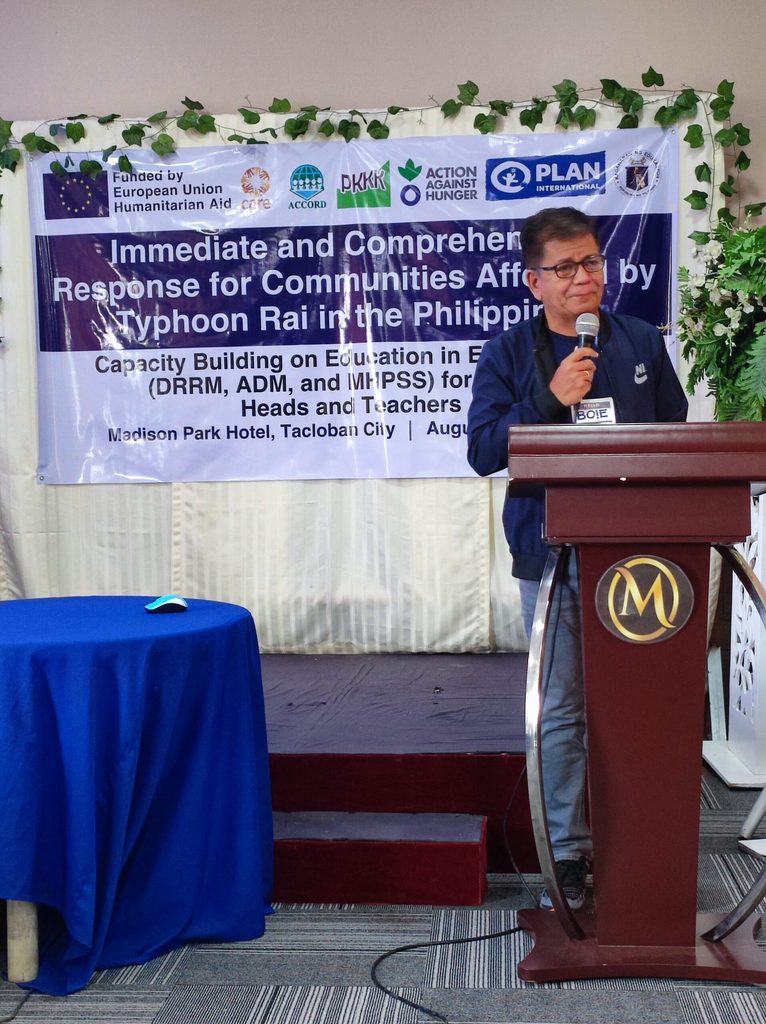 Another focal point of the seminars was the need for Alternative Delivery Modes (ADM) or alternative options to learning. Educators discussed the challenge of ensuring that all children are able to complete their education despite barriers such as poverty, geographical distance, natural disasters, the COVID-19 pandemic, and other health-related concerns. Exploring flexible learning options provides students who cannot easily access or benefit from the conventional educational system with an alternative mode of learning that fits their distinct situations and needs.
Additionally, educators participated in games and activities which helped hone their skills and capacity for Mental Health and Psychosocial Support. Led by District Nurse Menchu Pureza Mercado Mamita, the activities served to help participants mentally prepare for the school year ahead and anticipate any challenges when it comes to responding to the students' mental and psychosocial needs.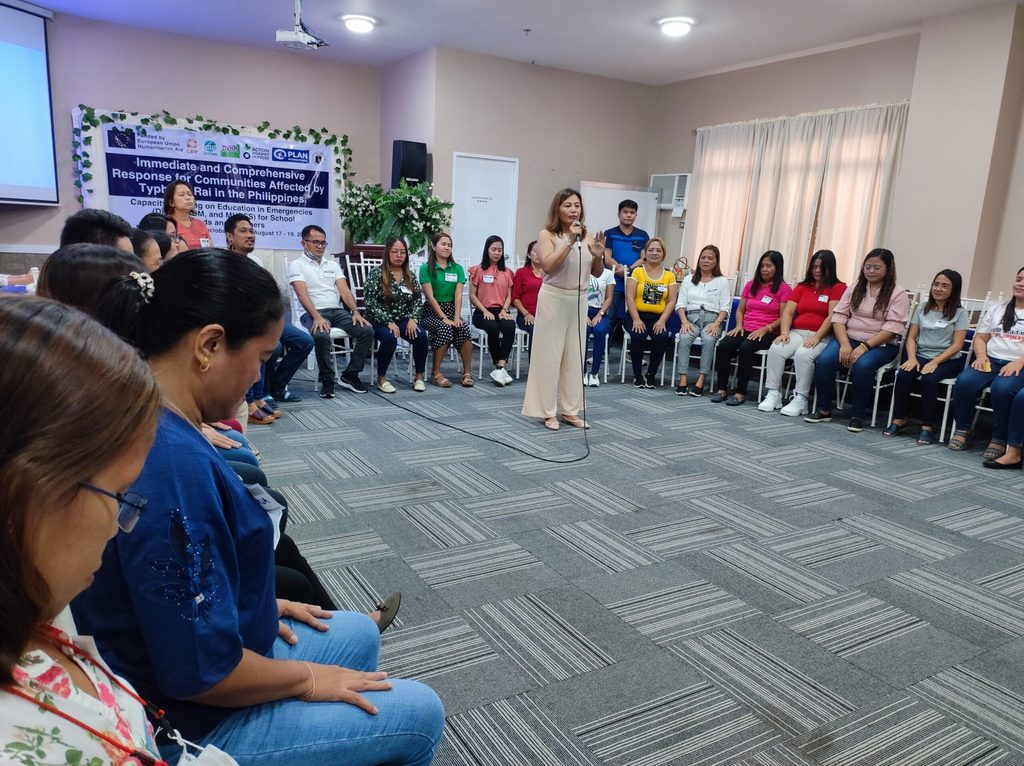 The participants were grateful for the training seminar which allowed them to reevaluate and recalibrate their approach to their students' education, especially during times of crises and emergencies. One participant shares, "The training is very fruitful and valuable especially since we are opening classes soon during this time of pandemic and in the aftermath of Typhoon Rai (Odette), where children need to be motivated and ready to go to school." Another participant notes how important EIE training is for educators, "EIE Training helps us teachers to restore and maintain access to safety and quality education during crisis whether it is natural or man-made."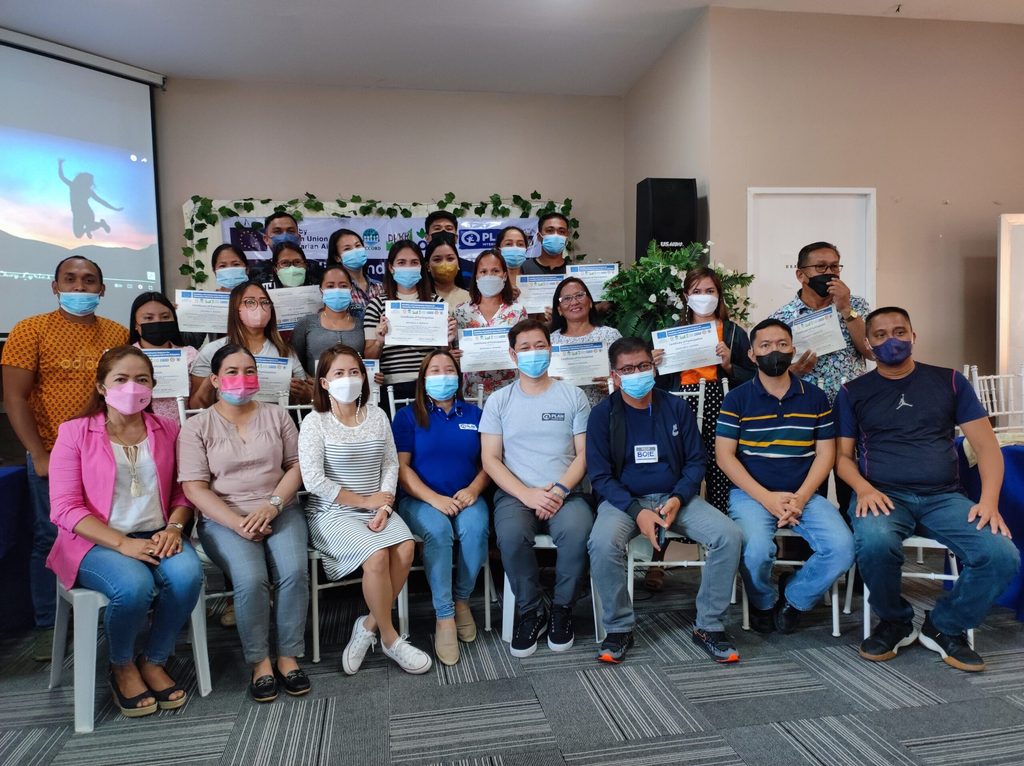 The Capacity Building on Education in Emergencies seminars are part of the Immediate and Comprehensive Response for Communities Affected by Typhoon Rai in the Philippines project funded by the European Civil Protection and Humanitarian Aid Operations and implemented by a consortium of partners including CARE Philippines, the National Rural Women's Coalition (PKKK), ACCORD Incorporated, Action Against Hunger Philippines, and Plan International Philippines.