20 AUGUST 2020
A Message from Plan International Philippines Country Director Dennis O'Brien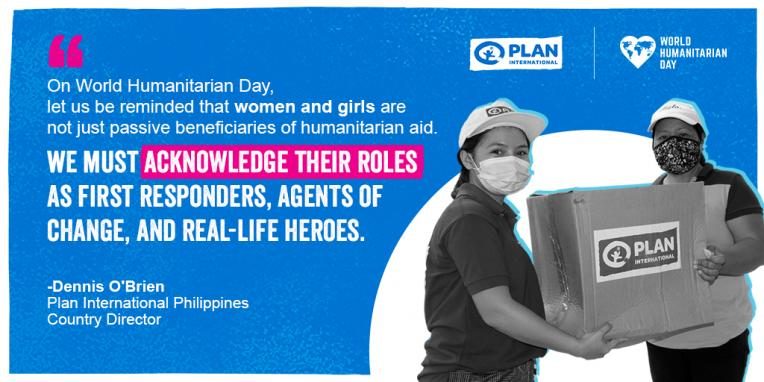 This year, COVID-19 has been the biggest challenge to humanitarian operations around the world. Crippling governments, upending lives, and gravely affecting our future generation, this global health crisis has led communities, civil society and local NGOs to being in the frontline of the response. 
On this year's World Humanitarian day, we pay tribute to real-life heroes who continue committing their lives to helping women, men, girls and boys amid the COVID-19pandemic.
Plan International Philippines salutes its staff and partners for their hard work and unparalleled dedication in the face of crises, disasters, and emergencies, and for ensuring that COVID-19 response reaches marginalized communities, vulnerable sectors, children, women, and girls.
On this day, we take a moment to honor and commemorate all fallen humanitarian,health, and front line workers who died battling COVID-19, protecting people, and saving lives. May they remind us that our aid workers and frontliners also need protection and support to keep delivering services for the most in need.
Lastly, we continue to call for the meaningful engagement and leadership of women and girls in all phases of humanitarian response. We need women and girls in all their diversity alongside other humanitarian actors—the marginalized sectors, women and girls with disabilities, indigenous women and girls, and women and girls of diverse sexual orientation and gender identity. We need them to shape effective humanitarian policies and programs. We need them as partners and drivers of informed humanitarian action.
On World Humanitarian Day, let us be reminded that women and girls are not justpassive beneficiaries of humanitarian aid. We must acknowledge their roles as first responders, agents of change, and real-life heroes.
Only by raising women's and girls' voices, power, and representation in humanitarian response can we truly rebuild a resilient, inclusive, just, and equal world. 
Editor's notes
Media Contact:
Aly Narvaez
Communications Specialist-Media Relations, Plan International Philippines
Email: alyzajoy.narvaez@plan-international.org
Phone: +63 998 962 2399