Jackie: Fighting for Women's Rights after Typhoon Odette
9 September 2022
<em><strong>Story by Kassandra Barnes</strong> <br><strong>Photos by Kassandra Barnes</strong> </em>
Jackie, a 42-year-old from Surigao del Norte, has been the Secretary of her barangay (village) for almost 14 years. She also serves as its Violence Against Women and Children (VAWC) Desk officer and women's organization president. In December 2021, her barangay was devastated by Typhoon Odette.
As a mother to four daughters and an entire village, she says the job got harder after Typhoon Odette, but she remains committed to her duties as a barangay leader. Jackie was one of the first responders during the aftermath of the typhoon, even injuring her foot on debris while going around their community immediately after the storm. The response and rehabilitation have been hard, especially when it comes to managing the community's expectations and catering to all their needs.
"Lisod ang sitwasyon sa mga kababaihan sa amo karon. Labi na sa mga na-totally damage na balay… Ang mga nanay, ilang mga anak, way kapuy-an. Tent ra, trapal ra. Unsa ka tugnaw. Ikaw, inahan, maglantaw ka sa imong mga anak, na kabugnaw, dile jud ka ma-komportable, maluoy ka." (The situation is really hard for women in our village. Especially for those whose houses were totally damaged. There are mothers and their children with nowhere to live but in tents and tarpaulins. It gets so cold. As a mother, you see your children in the cold, you won't feel comfortable, you will feel sorry for them.)
"Ang mga kababaihan didto, maingon kog mag muni-muni nalang ba. Mao na gusto nako naay counseling na mahitabo para sa mga kababaihan." (The women in our village, they are left alone with these thoughts. That's why I really want them to have access to counseling.) She is thankful that there are no new cases of violence against women in their barangay since the typhoon. Through their efforts in the past few years, their community has a level of awareness on women's rights, but she says this is not enough.
"Naa pa gyud kakuwangun sa kaalam ang mga kababaihan about sa ilang karapatan. Kung naa man gud na, bisan pa wala tay grado. Kung imo silang pahibaw-on, to inform every woman about sa ilahang karapatang pantao– naa silay strength mulaban." (There is still a lot for women to learn about their rights. If they know that, even if they didn't go to school, if you teach them and inform every woman about their human rights – they will have strength to fight.)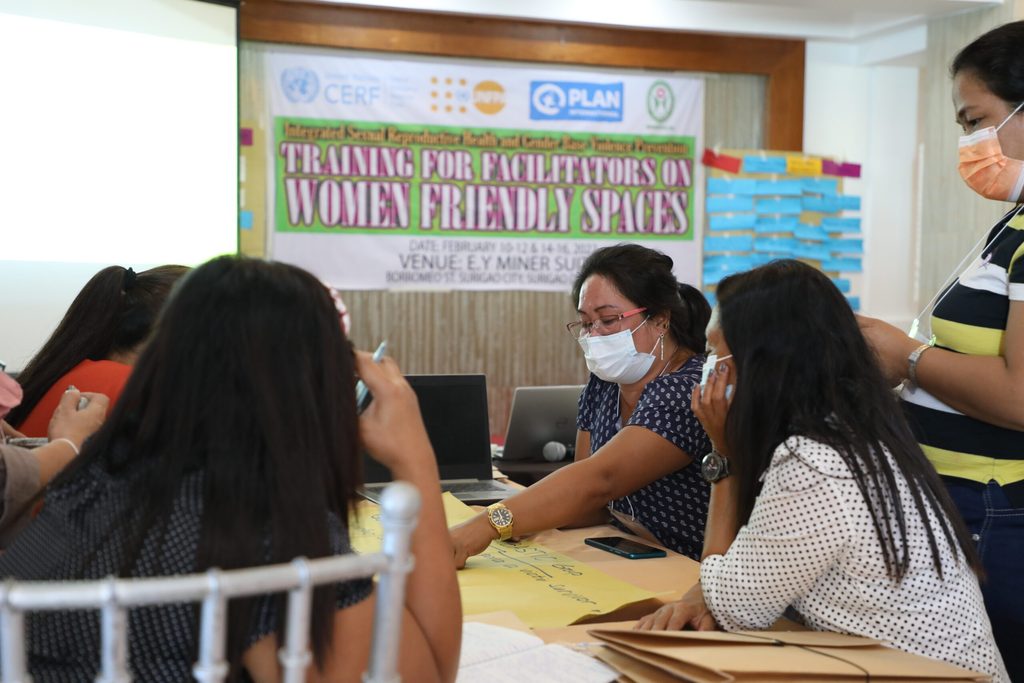 Jackie is one of the participants of the Integrated Sexual and Reproductive Health and Gender-Based Violence Prevention Training for Facilitators of Women-Friendly Spaces conducted by Plan International and MARADECA Inc., through the funding of the UN Central Emergency Response Fund and UN Population Fund. "Karon pa ko nakahibalo anang 'gender-based violence'…Ganahan unta ko na makaabot ang Women Friendly Space sa amoa, para mas mudako ang ilahang nahibaw-an sa ilahang mga karapatang pantao bilang babae. (This is my first time to learn about the term 'gender-based violence'…I want a Women-Friendly Space in our village, so that they can learn more about their rights as women.)