Women in Badiangara, Mali, are learning the skills they need to prevent malnutrition in their families and communities.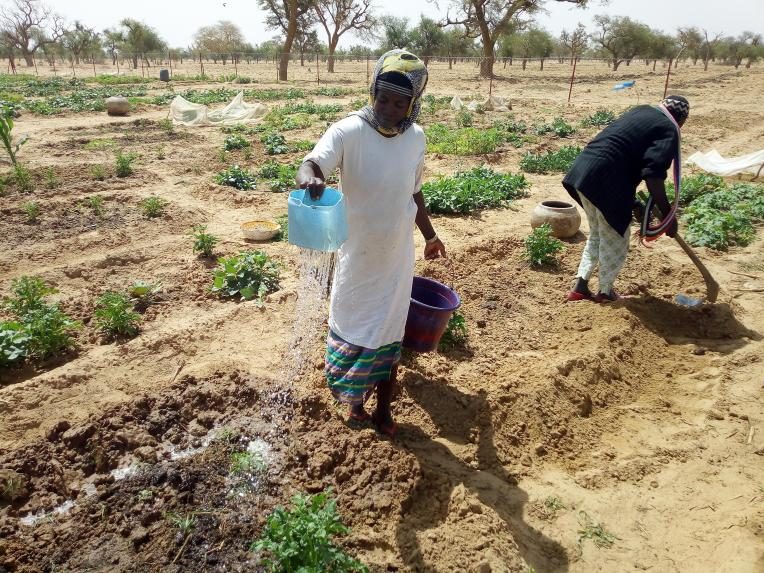 For a few years the magnificent city of Badiangara has been the scene of inter-community conflicts and attacks by armed groups causing massive displacement of communities towards the south and a sharp increase in the need for food assistance.
Malnutrition for women and children is a key issue in the city. This is being caused by an unvaried diet and a lack of knowledge about which foods provide high nutritional value. The inadequate feeding of infants, lack of access to health services, persistent food insecurity and poor access to clean water, sanitation and hygiene are also factors.

Reducing rates of malnutrition
Plan International is implementing a project to reduce the rates of malnutrition in the worst affected areas. The project identified and promoted local products with high nutritional value as well as training local health staff and students on nutrition.
"Before the project, many children and pregnant women suffered from malnutrition, but today I can say that it has almost disappeared because almost all households in my village have adopted good nutritional practices. I am happy to see the wellbeing of the children and especially the women who did not know the real causes of malnutrition," says Djeneba, a beneficiary of the project.
After exchanges with the authorities of Badiangara, land was made available to the community who were trained in agricultural techniques, good nutritional practices, cooking and identification of local products with high nutritional value so they could make the most of the land.

Learning new skills
"The project has been beneficial for me because of the nutritional demonstrations that have reinforced my knowledge," says Mariam, a beneficiary of the project.
"Since applying my new knowledge about dietary diversification, I have found that the children in our family have a better nutritional status and rarely get sick. Other mothers in our community have made the same observation with the adoption of good nutritional practices that have contributed to improving the nutritional status of children and other family members such as pregnant and lactating women."
"Growing okra in low season is new knowledge for me," says Tembely, another beneficiary.
"With the project, I harvest and use the fresh gombo to feed my family and another part is sold in Badiangara where there are many customers who appreciate my production. They come every day to my garden to stock up. I am very grateful for this project which allows me to have the equivalent in fresh okra in all seasons and to receive some money for my small financial needs such as buying clothes, paying the children's school fees and the health care of our families. Before this project, meeting these needs was a real daily problem."

Needs persist
Although the project has ended, the need to address malnutrition persists in Mali. According to the latest statistics from the Food Security Cluster and the Nutrition Cluster, 3.1 million people need food security assistance and 1.1 million are in need of nutrition assistance with 371,614 people at risk of acute malnutrition.