Despite having fled violence, Salimata is still able to attend school after her family received a cash transfer from Plan International.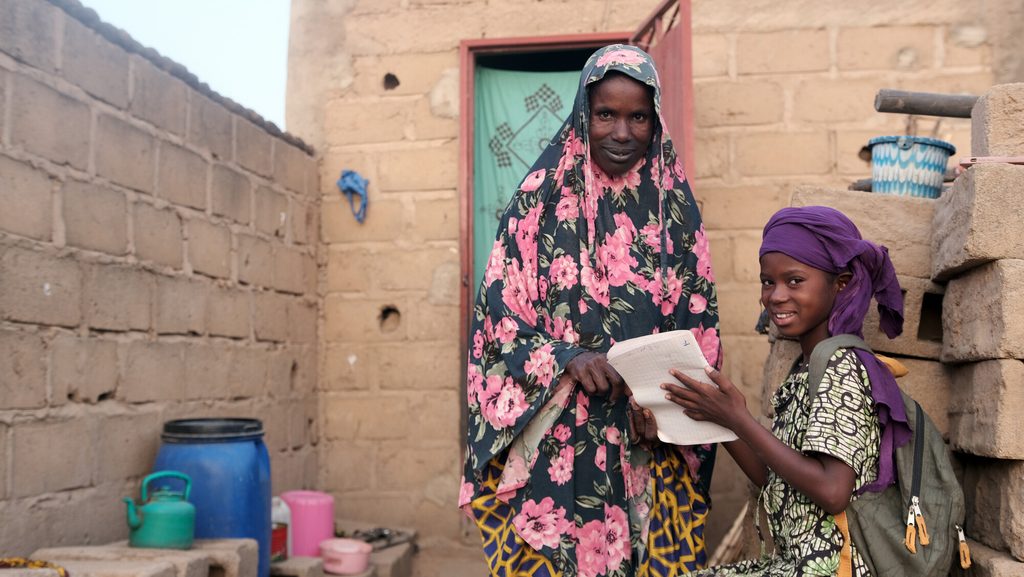 Salimata, her 7 siblings and her father Sanoussi, fled their home village in 2019 when violence struck. Sanoussi received cash and now raises cattle while sending Salimata to school.
Cash transfers support dignity and choice
Plan International runs numerous cash and voucher assistance programmes in Mali, where conflict and hunger have forced more than 375,000 people to flee their homes. We deliver direct cash transfers to people during the emergency as an alternative to distributing food.
Cash transfers are direct payments of money to individuals so they can decide what to buy and what they need most. They support dignity and choice in the face of poverty.
"The cash allowed us to buy food like rice and millet" explains Sanoussi, an internally displaced person now living in Mopti, central Mali.
"Cash is more beneficial for most of us, because in addition to buying food, we also use it to raise sheep and goats. We can make a profit with the cash and be self-sufficient, unlike food donations. We prefer cash assistance to food assistance, because with cash we can afford a lot of things. With food assistance it is really complicated. For example, if we're given a 50kg bag of rice or millet, often it doesn't come with oil, so there are other problems; expenses related to vegetables, firewood," he adds.
Sanoussi explains that cash assistance is a factor in encouraging children from families affected by the crisis to go to school or return to school.
"We kept a little money to motivate the children to go to school, by giving them 50 or 100 franc coins, because there are often children who refuse to go to school if they don't get lunch and snack money every morning" he says.
School key for girls' safety
Access to education for displaced children, particularly girls, is critical for their immediate protection and wellbeing, and to safeguard their futures.
Sanoussi is pleased with his daughter's progress at school. "I am very happy that my daughter is in school because now she can gain a lot of knowledge. Since she is there, I could notice a positive change, unlike the girls who are not in school. Today, she can already write her name and read."
Salimata recalls her life in the village, before she and her family were forced to flee. "There, we helped our mothers to sell the milk, we went to wash out clothes at the edge of the rivers, we accompanied our parents to the rice field. In the millet fields, we watered our cows in the backwaters and we often led the herds. Here, we no longer have milk to sell, we no longer have cows to drive or take out to drink."
In crisis settings, girls are most likely to be removed from school and are most at risk of child, early and forced marriage and sexual exploitation. The cash assistance is one way of keeping them in school and therefore protecting them.
"I am happy to go to school because I like learning how to read, to write and I'm learning bit by bit" says Salimata. "Later, in the future, I would like to be a dressmaker and also learn how to make soap," she adds.
In total, 1,159 vulnerable people (including 805 women) have been supported through Plan International's unconditional cash programme in the Mopti region at the end of 2022, helping them to buy food and start small businesses. The money was distributed in two instalments of 41.000 CFA francs (€60).