Kadidia was forced to drop out of school and flee her home due to violence, but she is now safe and continuing her education thanks to support from Plan International Mali.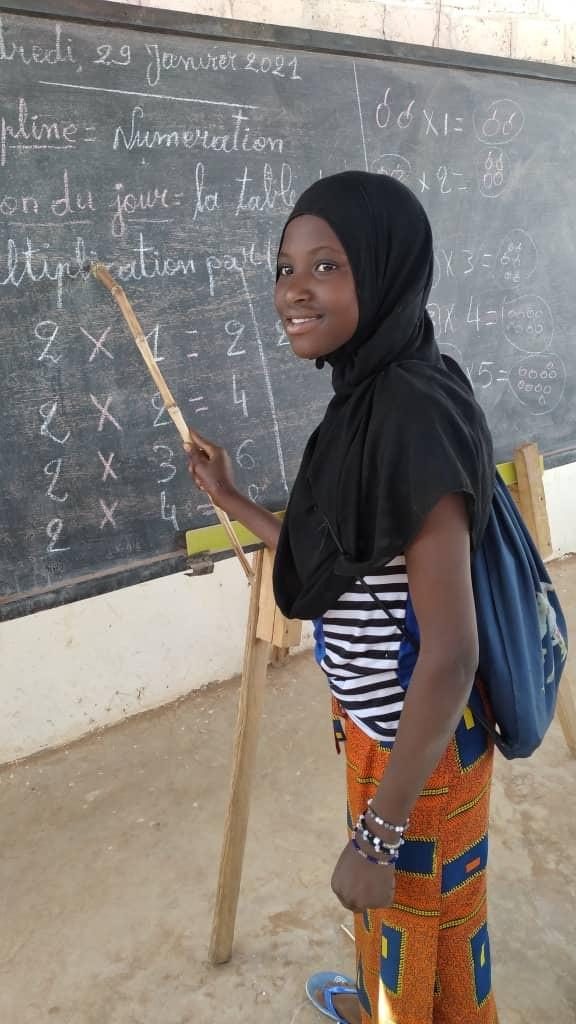 In Mali, attacks on schools are commonplace. The multidimensional crisis facing the country threatens the future of entire generations of children. Without access to education, a generation of children living in conflict situations will grow up without having acquired the necessary skills to contribute to the country's development, thus worsening the situation for millions of children.
Kadidia, 11, was forced to flee her home village in 2019. The region in which she lives is subject to incessant inter-community violence which has led to the death of some of Kadidia's family members. 
Education disrupted
"I was in the second grade and the armed bandits warned us to close the schools," says Kadidia.
"All the children in the village were forced to drop out of school. We were often locked in our houses for 2 or 3 days without being able to go out."
"Anyone who wanted to flee the village was eventually killed, but we had to run away. One evening very late at night, my father took us to a construction site before taking us to another village."
"We spent 2 days there and I fell ill. We had no drinking water, so we drank from a puddle. Some of my brothers also fell ill with diarrhoea and in the transit village there was no health centre. The village healer gave us herbal tea which made the illness worse. It was very stressful and frightening."
Kadidia's father hopes for better days in their new home. He says: "I was constantly threatened in the village. I am proud to have brought my family out, which unfortunately many parents were not able to do. My daughter suffered a lot from not being able to go to school during this period".

Back to school
Following an awareness-raising campaign on the importance of schooling for children, Kadidia's parents enrolled Kadidia and her brothers in a learning centre set up by Plan International. Funded by the Belgian Directorate-General for Development Cooperation and Humanitarian Aid, this project improves access to formal and non-formal, inclusive, quality, basic education in a protective environment, for girls and boys aged 7 to 15 in central Mali.
"I am happy that my parents support me every day and that the centre's facilitator is making sure I can go back to the way I was when I was still in the village. I am no longer afraid; my classmates are now also my friends and they all support me in my daily actions," says Kadidia.
According to her father, Kadidia has good grades in class and is more fulfilled. He regains hope and is happy to see that despite the difficult context, his children are growing up almost normally.
"Since she has been going to the learning centre, my daughter is jovial all the time. She has only one conviction; one day she will become a teacher like the daughter of the chief of our village."