Plan International EU Office Strategy 2017-2022
The Plan International EU Office strives to advance children's rights and equality for girls in the EU's external action.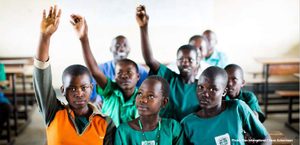 Plan International's global strategy 2017-2022, 100 Million Reasons, represents the first 5 years of a journey to accelerate achievement of the Sustainable Development Goals and to ensure no one is left behind. It will drive us forward with ambition, urgency and determination to ensure all children can enjoy their rights.
The European Union (EU) is one of the world's largest and most important development and humanitarian actors, and influencing its policies, programmes and diplomatic actions has the potential to positively affect the lives of hundreds of millions of children in developing countries.
Plan International EU Office therefore contributes to achieving the organisation's global strategy by influencing EU external action in favour of children's rights and equality for girls.
If we are to deliver the results we seek for children, business as usual approaches will not work. We will push the EU to do more, and do it better.
Our strategy 2017-2022, Unlocking Potential, Progressing Together, therefore takes into account the shifting context and trends where we feel we can make a difference and be a change-maker, and which are most likely to impact – positively or negatively – on our work at EU level to advance children's rights and equality for girls.
A reliable and credible partner
To be successful, we must be recognised as a reliable and credible partner of choice for the EU in policy formulation and implementation, in development and humanitarian funding, and strategic communication. We will be bold and focused in our approach, differentiating ourselves to deliver impact.
We will build our distinctiveness as a leader in the global movement for girls. By focusing on carefully selected strategic priorities, we will increase our impact and influencing capacity as the go-to organisation on girls' rights and youth economic empowerment.
Working together
We will raise our voice, and the voices of the children and communities we work with, as experts in the issues that affect them, combining evidence-based advocacy and influencing with bold, impactful campaigning and communications.
Our experience proves that when we join up our efforts, we achieve maximum impact. We will work with partners at all levels, both within the organisation and externally, driven by a dynamic, diversely skilled and empowered workforce.
Evolve and adapt
Building on our history and strengths, our strategy ensures we are fit for purpose and will help us to deliver the results we seek for children in a changing world.
This strategy was designed in the framework of the current external environment and organisational setting. We will remain agile and open to possible changes and shifts in priorities. As such, this strategy is likely to evolve and adapt as needs and trends evolve over the coming five years.
We will hold ourselves accountable, reporting on our progress, successes and challenges over time.
Our 5-year strategy consists of the following elements:
Our purpose and ambition: The reason our office exists, and the change we aim to contribute to.
Results for children: The changes we will seek to achieve at EU-level, addressing the barriers which prevent children, particularly girls, realising their rights and fulfilling their potential.
Making it happen: How we will work as an office over the next five years to ensure we become a partner of choice for the EU institutions and achieve our ambition.
Unlocking potential, progressing together: Plan International EU Office Strategy 2017-2022
About Plan International, Organisation information