EU Strategy on the Rights of the Child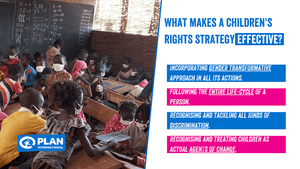 In the build up to the European Parliament's vote on the Resolution on children's rights on 11 March 2021, and to the launch of the EU Strategy on the Rights of the Child (2021-2024) in the first quarter of 2021, we came together with 11 Plan International offices to draft a position paper that elaborates on our views and on how such texts can concretely advance children and girls' rights. The objective of the paper is to influence these documents and their ambitions, in particular with regards to girls' rights.
As Plan International, we believe in ensuring the principles of non-discrimination, the best interest of the child, their right to survival and development and the respect of their views. We also believe the following principles should be at the core of the strategy: a cross-cutting gender transformative approach, a life-cycle approach, an intersectional analysis, the acknowledgment of children as agents of change and finally child-rights and gender-proofed EU policies.
While acknowledging that the COVID-19 pandemic has amplified existing inequalities and injustices and affected the environment in which children and young people grow and develop, we believe that particular attention should be paid to girl's rights in the following thematic areas:
Ensuring the realisation of the rights of children in the most vulnerable situations
Ensuring that children in all their diversity thrive and grow up equally valued and cared for, free from discrimination, violence and fear
Acknowledging the climate crisis as a child rights crisis
Recognising and addressing the digital gender gap
Supporting children's role as active drivers of change by setting up mechanisms for them to actively participate in decision-making
We want to make it clear: by including the above key principles and thematic pillars, EU institutions have the opportunity to ensure girls' rights are promoted and fulfilled worldwide, during the COVID-19 pandemic but also beyond.
Plan International EU Position
Youth empowerment, Civic engagement, girls' leadership