Plan International EU in Women Deliver 2023
14 July 2023
Plan International EU is excited to be joining the Women Deliver 2023 conference! Our team will be part of a broader Plan International delegation and will attend with three objectives in mind: to bring youth priorities back to Brussels, to share EU developments amongst participants and to learn from others' exceptional work around the world.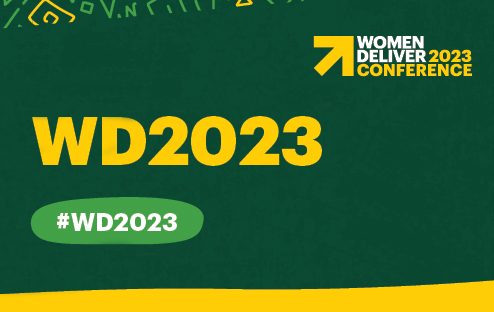 We are a few days away from the Women Deliver 2023 conference taking place in Kigali, Rwanda, on 17-20 July 2023. The conference is a globally recognised gathering that serves as a catalyst for change in advancing gender equality and the rights of women and girls. It will bring together thousands of advocates, policymakers, activists, experts, and leaders from around the world, serving as a platform for engaging in critical dialogues, sharing innovative solutions, and driving tangible action to address the pressing issues faced by women and girls.
With a focus on empowerment, health, education, and economic opportunities, the event will play a key role in shaping the global agenda and inspiring transformative change to create a more equitable and just world for all. Naturally, Plan International EU could not be missing from such a space.
As part of our mission to advance the rights of girls and young women in EU external action, the Plan International EU Office is excited to join Women Deliver 2023. Together with a broader Plan International delegation consisting primarily of young activists, Marcia Banasko, Head of Office ad interim, and Petros Kremonas, Communications and Campaigns Coordinator, will be joining other attendees in Kigali with three objectives in mind.
1. Bring Women Deliver youth priorities to Brussels
Our work in Brussels focuses on creating spaces for children and young people, especially girls and young women, where they can feed their own priorities into EU decisions. As a result, the Women Deliver conference is a unique opportunity to meet with young advocates from around the world, hear from them directly, understand what works for them and what doesn't, and make sure that we continue to put forward their ideas, concerns and priorities. This is the only way to ensure our cooperation with EU institutions continues to happen in a way that is fully aligned with young people's demands.
Within this context, we spoke with Faridah, a young advocate from Kenya involved in the She Leads programme of Plan International who is speaking at Women Deliver 2023.
"I want to advocate for resources to be allocated towards grassroots, youth-led initiatives that have a tangible impact on communities" she shared. "By supporting these initiatives, we can empower young people to address local challenges and make a difference in the lives of girls."
Faridah wants to convey a message to world leaders that investing in equal opportunities is essential.
"We need to dismantle systemic barriers and allocate resources to comprehensive education and empowerment programs. By doing so, we can create an inclusive future where every individual has the chance to succeed."
2. Bring the latest EU developments at the heart of Women Deliver
The EU is an influential global actor when it comes to gender equality and youth engagement in decision-making, both politically and financially. In Women Deliver 2023, Plan International EU will create bridges between key EU files, young activists and other partners. Two EU frameworks are particularly important.
First, the EU Gender Action Plan III (GAP III), the EU external action policy framework focusing on global progress in gender equality. There are important connections to be made between the GAP III and Women Deliver, with the policy following an approach that is gender-transformative, intersectional and rights-based. The Plan International EU team will be exchanging on the GAP III with attendees, especially young advocates, focusing on how they can best utilise it to advance social justice and gender equality.
Second, the Youth Action Plan in EU external action (YAP), the first ever framework promoting meaningful youth participation and empowerment in EU external action. The YAP is an ambitious document, which understands/sees youth participation and empowerment as a basic social justice issue. The policy includes political commitments and a few flagships, although there are still many details to be clarified. Plan International is hoping for an implementation of the YAP that is as ambitious as its intentions. As a result, the Plan International EU team will be bringing the latest information to young activists with the aim of discussing how they can best benefit from it.
Education is one of the many examples where EU institutions and youth priorities need to connect as it is not only a key priority of young people but also one of the political priorities of the EU's global agenda.
"I am passionate about sharing my vision of a world where comprehensive education is accessible to all, with a specific focus on removing gender disparities." Faridah says. "By addressing gender inequalities in education, we can pave the way for a brighter future for girls worldwide."
3. Learn, be challenged and be inspired
We are looking forward to being inspired and to learning from an exceptional group of people who work daily for our societies to become fairer. The conference is an opportunity to meet old friends, make new ones, exchange on our experiences and learn from each other so that we all continue towards our joint mission with fresh ideas and motivation.
"The most significant aspect is that I will have the opportunity to meet and engage with inspiring activists from around the globe during these 5 days, particularly with the young leaders." Faridah shared. "Let's utilize this conference as an occasion to cultivate collaborations, ideas, and bring about change!"
We could not agree more. Spaces like the Women Deliver conference can truly transform our work, our mindset, our ideas – if we are open to it.
In Faridah's words "It is vital to ensure that girls have the opportunities to thrive and reach their full potential." We are looking forward to discussing the best ways to do it!
For all things related to the links between the EU and Women Deliver, make sure to follow Plan International EU, Marcia Banasko and Petros Kremonas on Twitter. You can also follow Faridah here.
Useful links: