European Year of Youth: meaningful action or tokenistic gesture?
23 February 2022
The increased attention on youth on behalf of the EU must be applauded. It must also be monitored. There is only one question that matters: is the European Year of Youth a meaningful initiative or a tokenistic gesture?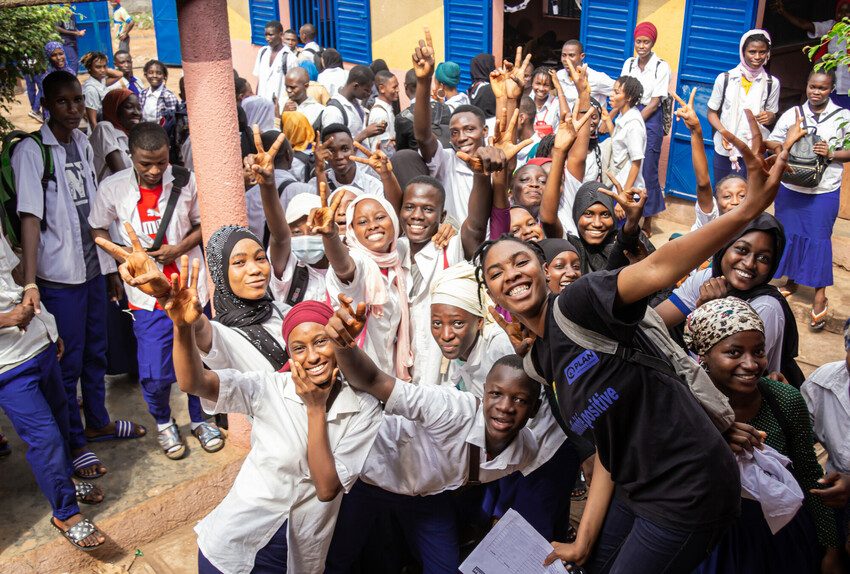 It has been almost half a year since European Commission President Ursula von der Leyen announced the European Year of Youth during her 2021 State of the Union address, to all of our surprise.
The idea is simple: the pandemic is taking a huge toll on people all around the world. This is why the European Commission decided that 2022 will be dedicated to youth, in solidarity with young people missing out on many experiences because of the COVID-19.
Unlike the announcement itself, which -allegedly- surprised even EU officials working on youth policy themselves, the focus on young people seems consistent with increased attention on youth.
The Commission currently works on its first Youth Action Plan. DG INTPA, the European Commission's Directorate for International Partnerships, recently launched its advisory Youth Sounding Board and Commissioner Urpilainen appointed a Youth Advisor for the first time.
This increased attention on youth must be applauded. It must also be monitored. There is only one question that matters: is the European Year of Youth a meaningful initiative or a tokenistic gesture?
A bit more than one-month in, it is admittedly too early to tell. But even a quick look at the year's new website is enough to suggest the need for some pointers.
Youth is everywhere
Back in 2021, President von der Leyen announced the "Year of European Youth." Thankfully, this quickly became the "European Year of Youth", bringing hope that focus will be on young people everywhere.
The initiative will not live up to its potential if it excludes young people outside Europe. A commitment to equality does not mean much if we split young people into priority and non-priority groups.
The EU prides itself in its external action, through which our institutions reach people all over the world. If the European Year of Youth is meant to leave a legacy, it is only natural that the Commission must ensure youth is mainstreamed in all its external work.
Youth is diverse
Our institutions need to look at who young people are. It is important to draw from the lived experiences of young people and yes, age is naturally key. Our work does not stop there, though; youth is not a homogenous group. It is the intersecting aspects of our identity that define our experiences.
For an impactful focus on youth, the EU needs to pay attention to how different aspects of young people's identities interact. This includes gender, ethnic background, sexuality, socio-economic background, ability and more.
In practical terms, this would mean that mainstreaming youth in all policies is not enough by its own merit. Such an exercise would produce results only if it considered an intersectional approach or, in other words, how different identities shape our experiences. By doing so, we make sure no group, especially girls and young women, is left behind.
Meaningful and safe youth participation
During Africa-Europe week and the AU-EU Summit, leaders from both continents mentioned again and again the need for children and youth to be involved in the decisions that affect them.
Indeed, a European Year of Youth has little to show if it does not ensure young people's participation in decision-making. Only when we offer youth the opportunity to shape decisions we are seriously listening to what they have to say.
But in decision-making processes, the risk of tokenism is even higher. From women in corporate board rooms to POCs in government bodies, it is easy to appear inclusive while ensuring power is not shared. What is the impact of a seat at the table If you are allowed to join only after a decision is made?
With some optimism, one could argue this year promises new ways of including young people in EU decision-making. If that is the case, we need transparent processes on how they will be able to co-design, and how their involvement is safeguarded against risks. Creating a safe environment requires resources but failing to do so is not only tokenistic but could even be harmful.
Inter-institutional push
In December 2021, the Council and the European Parliament agreed to go ahead with the European Year of Youth themselves, making it a commitment by our three main institutions.
This is promising.
All institutions must do their part to make youth involvement in EU developments sustainable. And the EU is not alone in this. Civil society organisations will continue to be a partner and connect the EU with young people.
In a few years, us working on youth policy will look back at 2022 in one of two ways: either as a PR activity whose shelf life came to an end on 31st December or as the year that kickstarted the true inclusion of young people in the DNA of our Union.
Youth empowerment, Civic engagement