How the AU-EU Youth Hub brings about sustainable change
21 October 2020
Ahead of the 6th AU-EU Summit, where European and African Heads of States will contribute to redefining the partnership between the two continents, there will also be the 5th Africa-Europe Youth Summit. The Youth Summit is a place to raise awareness on meaningful contribution and engagement of young people in decision-making processes. Back in 2017, young people from both continents developed new ideas in six thematic areas to be included in the AU-EU Partnership. But besides being a voice, young people were asked to take on a meaningful role in the co-creation of projects in both continents. Their goal was to reflect on what European and African youth can do together. The AU-EU Youth Cooperation Hub was the result of this youth-led process. Launched in 2018,it brings together an innovative and operational group of 42 young experts, who were tasked to develop six projects with an initial budget of 10 million euros.
Together with the EU and AU this group of young experts provided their inputs throughout the process of developing the projects to be implemented in 17 different countries, selecting the Civil Society partners to collaborate with and continued to carry out an advisory role throughout the projects' implementation.
Youth leading stabilisation efforts in the Lake Chad Basin Region
The crisis affecting the Lake Chad Basin is one of the most severe humanitarian emergencies in the world, with more than 2.2 million displaced people, half of whom are children. A decade of violence by Boko Haram is gaining political attention and concern with regards to the stability of the region. Striking about this context is that, in particular youth are often marginalised or perceived as violent perpetrators, and consequently rarely involved as positive actors of change in peacebuilding efforts.
It is against that backdrop, that the Peace & Security cluster of the AU-EU Youth Hub provided inputs for a pilot project in the Lake Chad Basin Region that aims to empower youth to lead stabilisations efforts. The project they have designed is all about putting young people at the center. As part of the project a digital mapping tool has been developed to track basic services such as education and health, as well as engagement and partnership with young people, and facilitate the coordination of humanitarian and stabilisation efforts on the ground to feed into peace processes.
The introduction of the tool ensures both young people and local civil society actors are involved in the collection of data feeding into the digital mapping platform, with 50% of women as data collectors. Based on the efficiency of the pilot project, this can be replicated in other conflict-affected and developing areas to better identify and respond to factors of instability and engage youth as active drivers of change.
Along with Plan International Germany and the Kaleri Youth Group, the real-time mapping tool will be implemented in conflict-affected regions in Cameroon, Niger and Nigeria.
Youth empowerment, Civic engagement, girls' leadership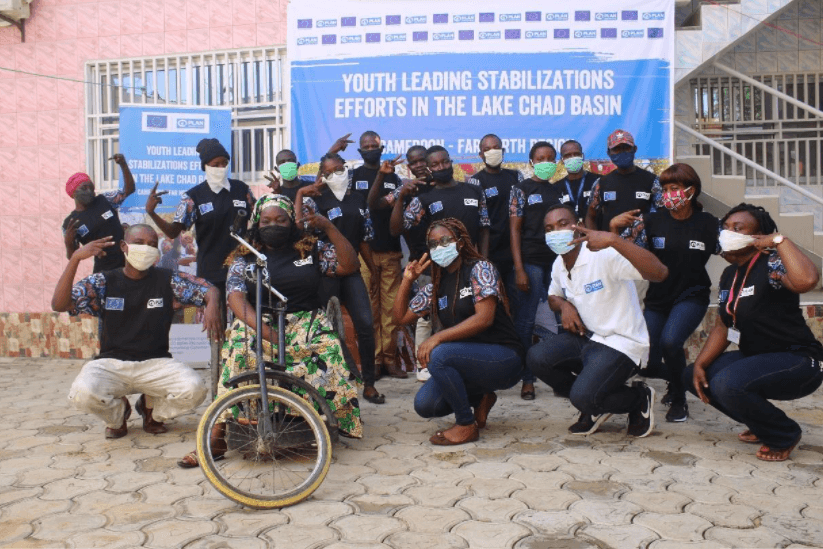 Why meaningful youth engagement matters and some ideas for the future
This innovative approach enhances youth capacity to lead development and contributes to local ownership. For our project in the Lake Chad Basin Region, my Nigerian colleagues Imrana Buba and Oyewole Simon Oginni were consulted and their expertise and perspective were of incredible added value. We need to continue to involve local young experts and involve them in the draft of proposals.
Youth-led advisory roles such as the AU-EU Youth Hub are essential when it comes to identifying priorities and key areas for projects to work on that take into account youth priorities and involve youth in an inclusive manner. I strongly believe we need to learn from this experience and replicate them, appoint more young experts and allocate sufficient resources to achieve lasting and sustainable change. In addition, it is important to recognise the AU-EU Youth Cooperation Hub's role in bringing youth voices and priorities to the fore and contributing to the 5th Youth Summit.
For the future, while each project that has been designed within this framework mainstreams gender, it is important to have a future project specifically focused on advancing gender equality. Considering the current COVID-19 pandemic and the need to enhance Sexual and Reproductive and Health Rights (SRHR) for women and girls, my suggestion would be to create both a Health Cluster and a Gender Cluster in order to create new innovative projects to tackle the challenges our generation will face.
About the author
Yasmine is the founder of We Belong, a platform and podcast that amplifies the voice of the New Daughters of Europe. She is also an advocate for Social and Gender Justice in Europe and she was recognizedYoung European of the Year 2019 by the Schwarzkopf Foundation, EDD Young Leader by the European Commission, Women Deliver Young Leader and a member of the Gender Innovation Agora at UN Women.
As an expert on Peace & Security at theAU–EUYouthCooperationHub, she drafted a proposal in tracking basic services in fragile contexts to feed into peace processes, currently under implementation in the Lake Chad Basin Region.
Twitter handle: @yasmineouir