If We Don't Act Now, We'll Not Have Gender Equality Until 100 Years From Now
6 October 2020
<strong>"I do not feel I have had a choice whether I wanted to talk about equality or not" says 24 years old Hinda, a gender activist from PlanBørnefonden. "I'm participating in the debate as it's fundamental to put into words and action those struggles that can be hardly fought alone and that many people experience" adds the 21 years old gender activist Marie. Through their podcast Far to Gender Equality and lectures in different schools across Denmark, Marie and Hinda want to start conversations that can contribute to raising awareness and reducing inequality. A few days ahead of the International Day of the Girl (11th October), we wanted to know what drives them to support gender equality and what is the main message they want to spread.</strong>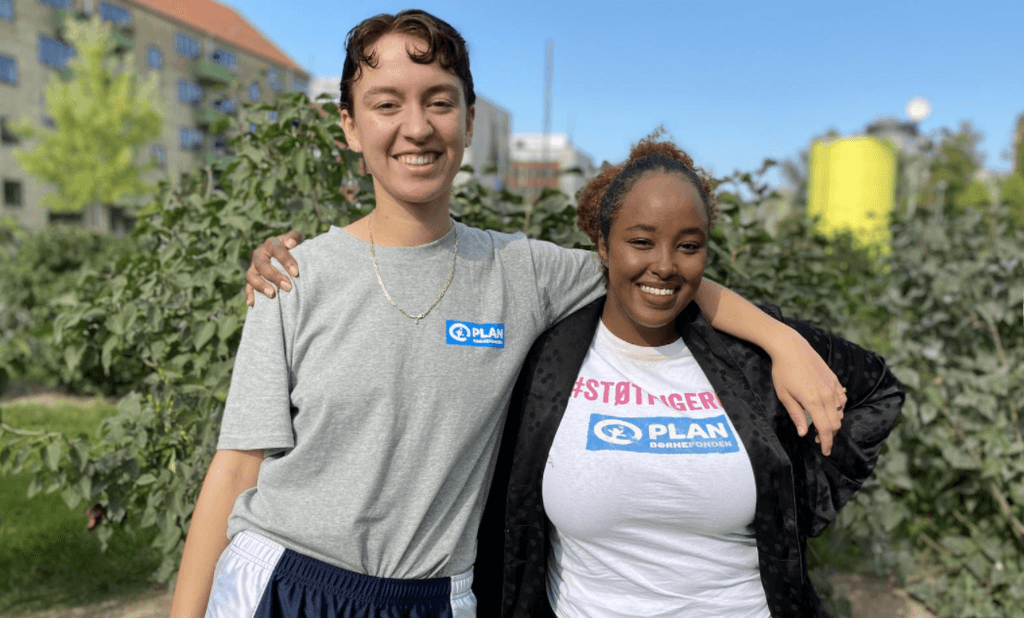 MARIE, WHY ARE YOU PARTICIPATING IN THE GENDER EQUALITY DEBATE?
Gender equality is an important topic I did not learn much about in school. It is something I have learned about through other activists and friends who have decided to do something that has clashed with society's norms. It's important to me that people speak about those topics and issues that are really hard to deal with by yourself.
HINDA, AND WHY IS IT IMPORTANT FOR YOU TO TALK ABOUT GENDER EQUALITY?
I do not feel I have had a choice whether I wanted to talk about equality or not. Because I'm a woman and I'm black, I'm already involved in it. It's about my rights, it has just been fundamental to talk about it. What's more important is to make others realise that we, as young women, have rights and everyone has to become more aware of that – just like when it comes to racism.
HINDA, TELL US ABOUT YOUR PODCAST?
Marie and I realised that there wasn't a radio program that debated topics like sexism, racism, patriarchy, power structures and class differences, so we decide to make our own podcast!
The podcast helped me speak out and give a voice to others. I think the most important thing is to focus the conversation on what needs to change. We look and analyse statistics to expose inequalities and we invite guests to share their personal stories. It is striking that in particular the personal stories tend to reach our audience.
MARIE, YOU HAVE BEEN SUBJECT TO ONLINE HARASSMENT. HOW DID IT AFFECT YOU?
When I was 17, I had an ex-boyfriend who might have been upset because I had broken up with him. He took pictures of me during sex without me knowing. He shared those photos on an Instagram profile he had with his friends, where they shared photos of different girls. Then, the photos were also shared on Facebook. When I found out, I felt completely alone and had to figure out what to do about it. I have never been ashamed of my sexuality, but all of a sudden, it was a weapon he could use against me. It became something he could use to take revenge on me. When a girl or young woman is so exposed online, we tend to think that is the worst thing that can happen. Having experienced it at a very young age, I can say it's something that has affected me heavily.
When a girl or young woman is so exposed online, we tend to think that is the worst thing that can happen.
MARIE, WHAT DOES IT TAKE TO ACHIEVE EQUALITY?
Women and gender minorities have been systematically oppressed for as long as we can remember. Thus, the first step is to acknowledge the problem. Then, we must realise that change does not come about by itself. We cannot just wait. Looking at the Global Gender Gap report for 2020, if we continue to keep the same pace of change, we will only achieve equality in more than 100 years. I will be dead by that time. I want political progress now!
We may have to accept that we need women's quotas to have more women in top management. Topics such discrimination and inequality should also be thought in schools. Everyone should get an understanding of what it means to be discriminated, not only those experiencing it.
HINDA, HAVE YOU EVER FELT LIMITED BECAUSE OF YOUR GENDER?
Yes, growing up I noticed a big difference between girls and boys and the way they are treated. Being a girl closed many doors for me. People reminded me that I was fragile, I was told how I should dress and who I should become in the future.
When I was about 11 years old, I remember someone saying to me: "Right now you are girl but soon you will become a mother". There I got nauseous. Girls are brought up to be someone's mother and someone's wife. From a very young age, they are told that they are beautiful or that a certain dress looks good on you. How come that as a girl, you are never told that you are smart or independent?
Give their podcast a listen! (in Danish)
This interview is a translation from the original that appeared in Danish on PlanBørnefonden.
Girls Get Equal, Sexual and reproductive health and rights, Skills and work, Youth empowerment, Civic engagement