14 SEPTEMBER 2018
During the conflict in Central African Republic, Nafi has lost both her parents. Thanks to training provided by Plan International, she's gaining new skills and looking to the future.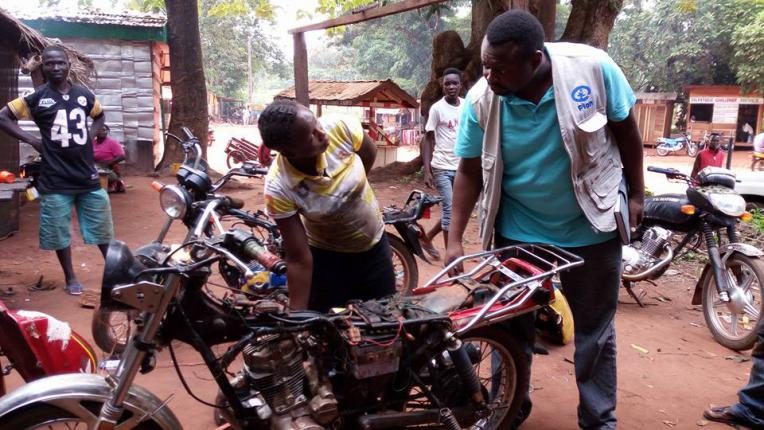 During the conflict in Central African Republic, Nafi, 17, has lost both her parents. She lives with her grandmother who is not able to pay for her school fees.
Determined to build a better future for herself, Nafi has enrolled in a vocational training programme supported by Plan International Central African Republic. To date, over 150 youths aged between 13 to 18, including 78 girls, from the province of Mambéré Kadéi have benefited from the project. It offers youth the chance the learn skills such as hairdressing, catering and carpentry as a means to overcome the effects of the conflict, get good jobs and follow their ambitions.
New skills
Nafi choose to pursue mechanics. "The mechanics interest me. I like to disassemble and reassemble a bike and look for what is working wrong. It's true that girls are rare in this business, but I know I can do it," she says.
Nafi is the only girl working in the motorcycle repair shop but this has never been an obstacle for her. "I love this job. Now I can fully repair the bikes by myself. I hope to improve. One day I'd like to have my own repair shop," she says.
Her manager says, "At first I did not think she would go through the training, since she was the only girl in the group. But over time I realised that her choice was irreversible and I had to really support her." At the end of her training, Nafi was hired as a permanent member of staff. "She's good and very committed to her work. She will make an excellent mechanic."
A bright future
Nafi's training was made possible through a partnership between Plan International Central African Republic and the regional direction of vocational training.
This project focuses on the education and protection of children who are victims of conflict in Mambéré Kadéi. We help children return to school where possible and provide vocational training for those who are too old to be reintegrated into education. We also establish practices within communities to protect children.
Emergencies, Skills and work, Lifeskills training