New skills for children at risk of recruitment by armed groups
Enrolment onto vocational training courses in sewing, carpentry, motorcycle mechanics and hairdressing help adolescent girls and children at risk of recruitment by armed groups develop new skills and build a better future.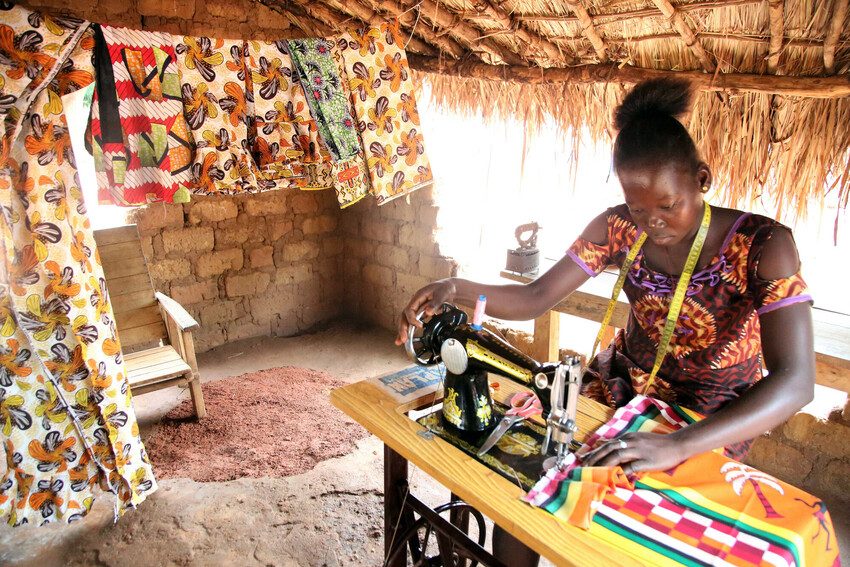 During conflicts, violence against children increases – particularly for girls – and conventional protection systems designed to protect them are weakened.
In some countries, children as young as 8 are abducted, threatened or enticed with money to join armed groups. Some receive military training and are indoctrinated to believe in the armed actors' cause. Studies show that in some countries, many of these children, particularly boys, are used as human shields placed closest to the enemy, often under the influence of drugs and alcohol.
Vocational training
As part of a joint response project led by the Deutsch Relief Alliance – Plan International is supporting 50 children in the Central African Republic (CAR), including adolescent girls who were associated with armed groups, and children at risk of recruitment or re-recruitment.
Now in its seventh phase, the project was first implemented in 2015 in the Nana-Gribizi and Ouham regions. The initiative, funded by the Dutch government, supports adolescents through enrolment onto vocational training courses in sewing, carpentry, motorcycle mechanics and hairdressing.
Child-friendly spaces and family support centres have also been set up where parents can take part in dialogue and learning sessions. We also provide reunification services, helping families separated by the conflict find each other and reunite unaccompanied children with their parents.
Gracia, 17, lost both her parents in the war when she was just 11. As the eldest of 3 children, she struggled to fend for herself and her siblings. Thanks to the project, Gracia has managed to avoid joining an armed group – which often visit her village to recruit lone children – and instead is benefitting from vocational training.
"Due to poverty, some of the orphaned and vulnerable girls and boys I knew were forced to join the armed group," says Gracia. "Plan International enrolled me at the vocational training centre, where I learnt how to sew. I can look after myself and my family."
Recently, Gracia won a contract to make curtains and tablecloths for a health centre in Bouca. "I am earning a decent income, which enables me to provide for my family," says Gracia with some pride.
Conflict zones increase the risk of abuse
In CAR, girls living in conflict zones are often forcibly married off to armed combatants. These girls have to endure the horrors of sexual violence and other forms of abuse and may also be assigned combat roles and take part in active fighting. If mental and psychosocial support is not provided, such traumatic experiences can affect the girls for the rest of their lives
Poor and displaced children or those separated from their families are also easier targets for recruitment by armed gangs. Junior, 17, remembers how one night an armed group came and took over his village in Bouca district, where he was living with his mother. Many children were separated from their families during the invasion.
"We had to flee from our home," says Junior, "and take shelter in a camp in another part of the district. If we had stayed, I would have been forced to join the armed group, alongside other children, who included my friends."
Plan International identified Junior during an outreach workshop held at a shelter for internally displaced people. Through the project, he has received training in carpentry at one of the vocational training centres in Ouham region.
"Although I am happy that I did not end up like other children forced to join in the war, it makes me sad that my friends were not as fortunate as I was," he says. "Through my new carpentry skills, I can make an honest living and can look after my unemployed mother."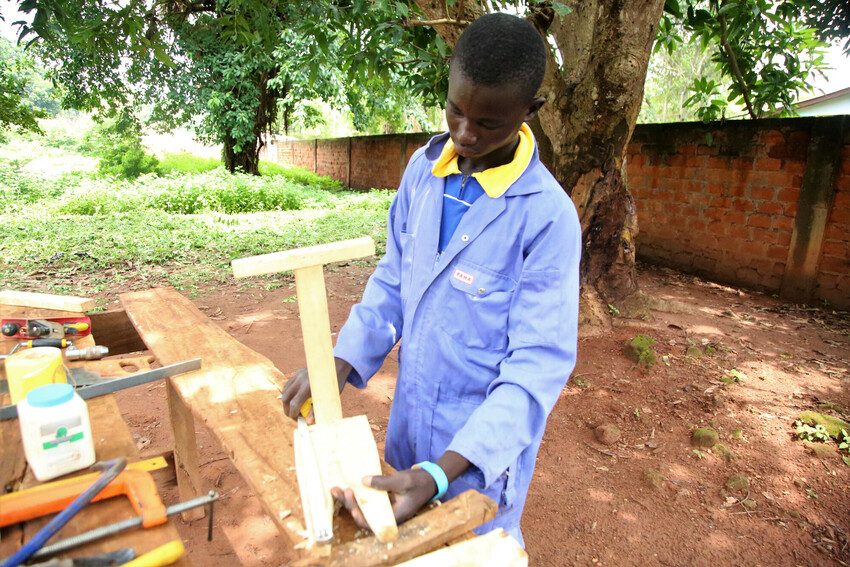 New toolkit enables workers to better support conflict-affected children
Today, armed conflicts have become more protracted and complex than ever before – with devastating effects on children. Around the world, the problem of child recruitment in armed conflicts persists, despite a plethora of international laws prohibiting the involvement of children in hostilities, whether as soldiers or involved in other ways, such as preparing meals for the fighters, working as spies, sex workers or messengers.
"There is an urgent need to galvanise actions to enhance the protection of children in emergencies," says Dr Unni Krishnan, Global Humanitarian Director, Plan International. "Supporting all girls and boys associated with armed forces and groups to have a voice that can influence the architecture of interventions, and increase the impact of protection in emergency response, is a humanitarian imperative."
An Inter-Agency initiative led by Plan International and Unicef has developed a children associated with armed forces and armed groups toolkit.
"It will equip workers to better understand international standards and child protection guidelines," said Krishnan, "and dynamics such as the Mental Health and Psychosocial, cultural and economic effects of war on children associated with armed actors."
Dr. Krishnan further explains that the toolkit will influence the design of gender-sensitive programmes, with a strong focus on upholding the rights of girls – and informed by children's own experiences, including those previously associated with conflict.
Meanwhile, it is critical, says Krishnan, that within the child protection ecosystem in emergencies, Child Safeguarding Policies for all organisations are developed. "This is emphasised in the toolkit to ensure that staff, operations and activities do not inflict further harm on children associated with either armed forces or armed groups," Krishnan concludes.
Emergencies, Protection from violence, Skills and work, Child protection in emergencies, Livelihoods, Vocational training