14 SEPTEMBER 2018
In commemoration of the Day of the African Child 2016, Plan International Central African Republic organised an event for children released from armed groups in partnership with local organisation UTEFAJEDE.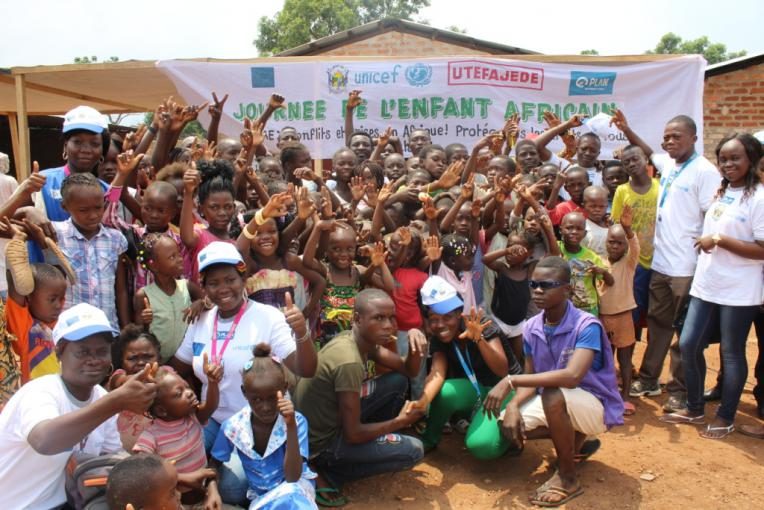 Plan International Central African Republic and local partner UTEFAJEDE marked the Day of the African Child 2016 by organising an event for children recently released from armed groups. "Today, the children here have decided to lay down arms and build a better life," said a representative of the Major of Bangui. "This day is an occasion to show them that peace is priceless'' he said.
The occasion was marked by a number of traditional dances, sketches on disarmament and poems about peace and social cohesion.
Reintegration into society
Plan International Central African Republic works in partnership with UTEFAJEDE to reintegrate children involved in armed groups back into society. We provide them with skills training including carpentry, sewing, commerce, saponification and pastry-making so they can get good jobs. We also provide literacy courses and help children overcome any trauma they may have experienced. To date, we have provided over 100 children who have been released from armed groups and forces in Bangui with skills training.
In addition, we provide those people who run the training courses with information on child protection and children's rights to ensure their courses are both safe and beneficial for the children who are taking part.
New start through training
Wilfried is one of the children who has been released from armed forces and provided with skills training. "Plan International and UTEFAJEDE gave me a second chance. I didn't think that one day I would lay down arms and live my life but now it's a new start. I am undertaking a professional training and I intend to find a job at the end of training,'' he said.
Emergencies, Child protection in emergencies