The 2021 Asia-Pacific Girls' Report: Voice, Choice, and Power
This report highlights both the civic engagement activities of young female activists in the Asia-Pacific and the unique challenges girls and young women face throughout the region.
The 2021 Asia-Pacific Girls Report is Plan International's annual research report concerning girls in the Asia-Pacific region. It is part of our contribution towards the United Nations 2030 Agenda for Sustainable Development in 2015, committed to equitable and inclusive development for girls and young women.
Asia and the Pacific's geographic scope and socio-economic diversity have fostered the region's role in growing the global economy and advancing technology and innovation. Although this has enabled the region to make substantial headway in the 2030 Sustainable Development Agenda, countries in Asia and the Pacific will not be able to fulfil their 2030 commitments without achieving gender equality and the empowerment of girls and women.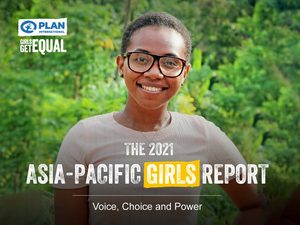 Many governments fail to promote, respect and fulfil girls' rights in participation and continue to disregard the critical need to engage and consult them on the very policies and programmes that affect them the most. To spur real change, it is not enough to simply encourage activism in the public sphere. Governments and decision-makers must work towards ensuring:
An enabling environment so that girls and young women can demonstrate their leadership potential
Open and equal civic spaces so that girls and young women can exercise their freedom of expression along with peaceful assembly and association
Equal representation in policies and programmes that affect girls and women.
When necessary, governments and decision-makers should also develop and implement relevant mechanisms that specifically address girls' needs and help them develop their leadership capacity.
As part of this research, Plan International conducted interviews with sector-based experts and young female activists to assess the current situation in the region.
Plan International developed and updated the Asia and Pacific Girls' Leadership Indexes to measure the opportunities of adolescent girls and young women to develop and demonstrate their leadership capabilities, their unique voice in the region, the gaining of support for their choices and collective and individual power.
Girls Get Equal, Protection from violence, Youth empowerment, Activism, Civic engagement, girls' leadership