Lila can finally play football at her school in Bangaldesh
Overcoming great challenges, Lila became an agent of change and brought about positive impacts for her school and community
"I am the first one in my family to play football!", said Lila, a 14 years old adolescent girl from Kurigram who was given the title of Best Player in a local match.
Lila comes from Nageshwari, a disaster-prone and poverty-stricken area in Bangladesh. Natural hazards such as floods, storms, and lightning are a common sight in her area. Further exacerbated by climate change, her community faces several floods each year, which greatly affected their livelihoods. Every time there's a flood, Lila's school has to close, pausing her, and her peers' education.
Natural hazards pose a great challenge to Lila's family. Lila's father works as a cobbler in the local market with little income. But every time a disaster hits, he loses his job, and they can't afford to fix the damage their house suffers. Belonging to a community that is socially identified as a "low-caste minority" from the Hindu religion, they have limited access to resources and opportunities to raise their opinions in the community affair. "During the flood, our toilet was washed away, I had to use my neighbours' toilet. But they did not like that, so I used to feel very uncomfortable," said Lila.
Access to information is one big challenge for girls like Lila in her community. What's more, Lila, as a girl is not always welcomed in different competitions or discussions at her school which blocks her from participating in group events. This lack of knowledge about climate change, and its effects on adolescent girls' health, education, participation, rights, and menstrual hygiene management limits Lila from realising her fullest potential.
Despite this frequent occurrence, Lila remains determined. She scored the second position in her class last year from the science group. Things started to turn around for Lila when Plan International Bangladesh along with ESDO started reforming Student Task Force (STF) in early 2022 to foster a safer and more gender-responsive school environment, and to enhance the community disaster risk management capacities through integrated and inclusive school-wide preparedness initiatives.
For the first time ever, Lila was welcomed to participate, and invited to become a member of this task force. Through different activities in her school and in the community for awareness raising, capacity building, and knowledge acquiring, especially on disaster risk reduction, Lila quickly became an active and dedicated agent of change. With her newly-equipped knowledge, she has been actively involved in the contingency plan development at her school, and she has been supporting other community members to develop disaster preparedness plans for their own families.
As a leader of her group, Lila also advocates for a safe school environment along with the other STF members. For instance, her school used to have no boundary wall, and the field was used as a marketplace during the day, which made her and her peers feel uncomfortable and unsafe. Lila and other STF members raised their voices to address the issue and following their effective advocacy, the Gender Responsive School and Community Safety Initiatives (GRSCSI) project supported the school by building a boundary wall. The students are now relieved and able to enjoy a safe learning environment. Lila, along with her friends, can now participate in different sports without any fear of discrimination.
As a confident young woman, Lila is leading the change toward a safer and more inclusive environment, in schools and in the communities. With more access to information, resources, and opportunities for decision-making, girls like Lila can make big differences.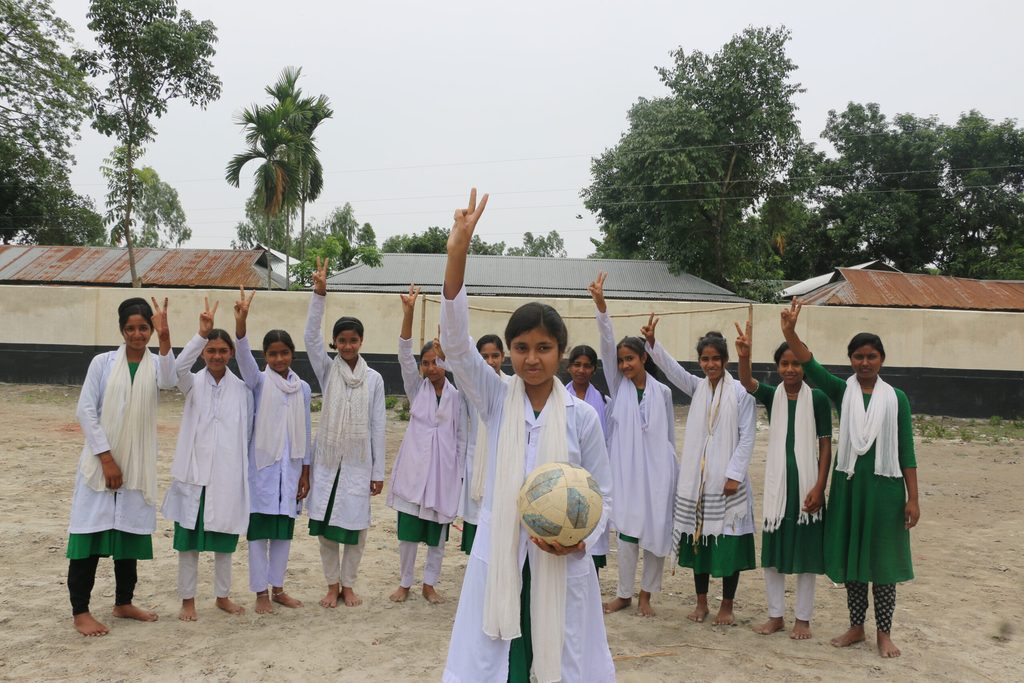 Emergencies, Youth empowerment, Activism, girls' leadership