Combatting Child Marriage with her Karate Skills
17 January 2022
<strong><span class="has-inline-color has-black-color">Through girls' empowerment projects and finding a passion in karate, Gaiotree has become a fearless advocate against child marriage, stopping 34 cases of early marriage.</span></strong>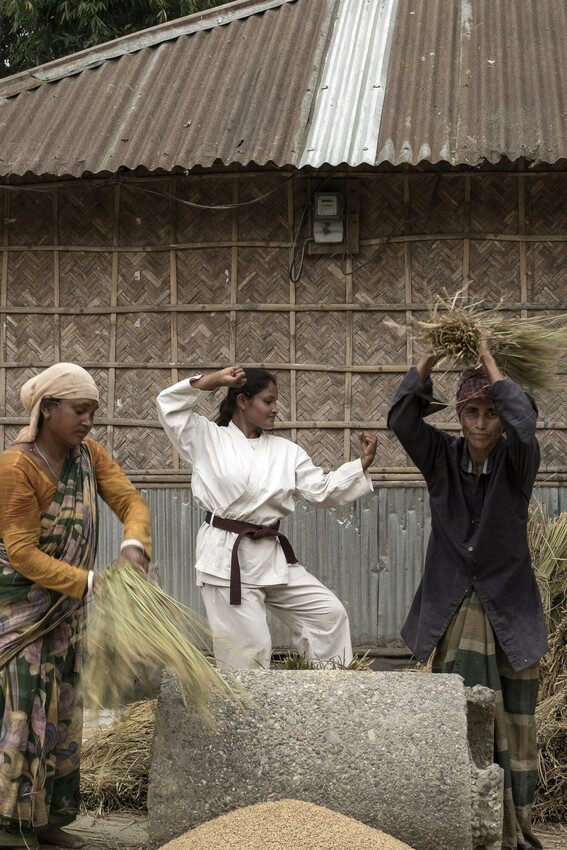 Gaiotree's own experiences have formed part of her activism. When she was just 12 years old her father, the main breadwinner of the family, passed away and her mother left her and her siblings to marry another husband.
'I was only 12 years old and suddenly the sky fell on my head.'
As her world turned upside down, she needed to provide for her siblings and work as a farm labourer on land left by her father. Despite all the extra pressures, she managed to continue with her studies. This resolve continued when her uncles wanted her to marry, and she resisted.
"I refused, thinking who would look after my siblings!'
Her steadfast determination to choose her own path has been aided by becoming a member of the Girl's Power Project in 2014. Implemented by Plan International Bangladesh, it aims to build the confidence of girls and challenge the gender stereotypes entrenched into society. This is where her passion for karate took off.
'This project changed my life. A karate trainer came to Joldhaka, I joined the classes and was selected for a six-month advanced training course in Dhaka.'
Her newly found passion for karate helped her grow in confidence and discover newfound purposes in her life. "I realised I have the power to change my life and support other girls."
"I realised I have the power to change my life and support other girls."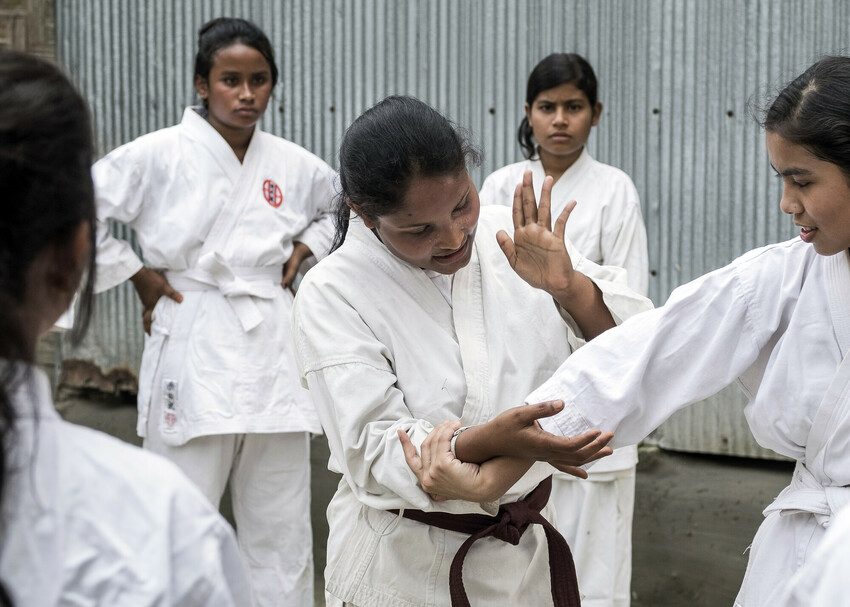 Gaiotree brought these motivations back with her to her village, where she began working in her community and raising awareness on self-defense training for girls, with help from her new karate skills.
These karate classes have brought together and empowered many girls in the region. They have created a community where girls can learn, share and educate each other. Through the bond they make in practising karate and learning with the Girls' Project, these girls have been able to become the inspiring advocates against child marriage they are today.
When Gaiotree witnesses an incident of child marriage in her community she intervenes, speaking to the parents and local authorities to convince them to stop. She believes the support from like-minded people in her karate community has been pivotal in stopping 34 cases of early marriage.
Many people in rural areas of Bangladesh don't consider learning self-defence as an essential skill for girls, they are regularly harassed, and the challenges of daily life put girls at risk of child marriage and dropping out of school.
Gaiotree's efforts are proof that self-defence enables girls to protect themselves from gender-based violence and to fight for their rights.
However, deep-rooted patriarchal traditions and norms persisting in Bangladesh can often limit progress in ending gender-based violence. Parents often are reluctant to pay for their daughters to join Gaiotree's classes. Yet her many followers have inspired her to one day open her own karate school.
"I want my own karate school; I want to teach karate as a self-defence and as a sport. I hope some would pay me while some would not."

"I want my own karate school; I want to teach karate as self-defence and as a sport."
Men have an important role to play in bringing solutions. Self-defence experts can support girls with training. Gaiotree is helping to change the perception of men in her community.
'Men did tease me in the beginning, but not anymore, they know I am strong and can defend myself.'
While the COVID pandemic has brought delays to her dreams, Gaiotree has been training day in day out for her black belt so she can become a karate master and continue her inspiring classes.
"I hope the pandemic will end soon and I will be able to start working in the schools again, doing demonstration classes for girls, so that they can boost their confidence.'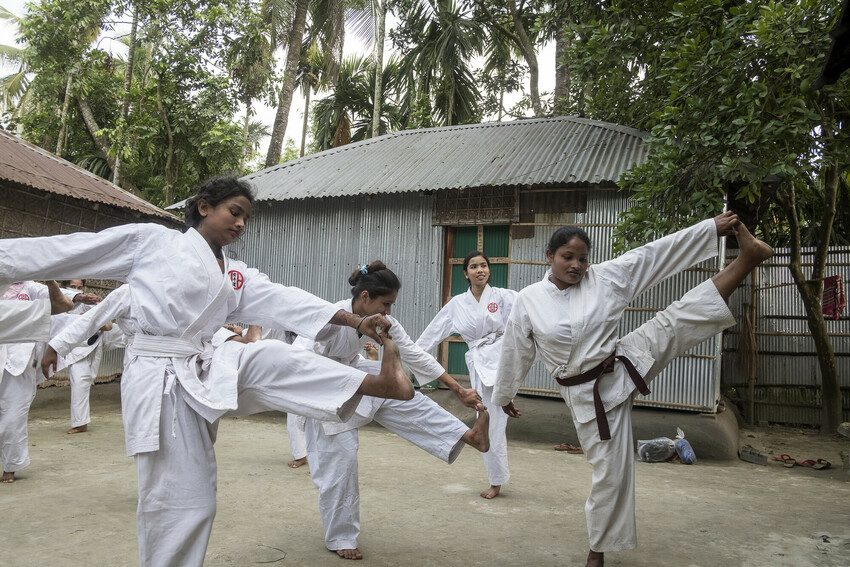 Gaiotree's inspiring efforts demonstrate how community intervention can go a long way towards challenging gender-based violence. Through support by organisations like Plan International Bangladesh, girls are given the right tools to lead and fight for causes they believe in. Gaiotree not only stopped her own early marriage but has become an advocate to stop others from going through it as well. All the while, inspiring more girls to join her in this fight.
2021 Asia-Pacific Girls Report
Plan International's 2021 Asia-Pacific Girls Report reveals how girl activists like Gaiotree are becoming a necessary force for gender equality in the region. The report, presenting the region's state of girls' and young women's leadership, finds that girls and young women are working tirelessly to ensure gender-transformative change and social inclusion. Yet the environments in some countries are more enabling than others. Across the region, social and cultural norms continue to contribute to gender inequality and the lack of opportunity.
Girls Get Equal, Protection from violence, Youth empowerment, Activism, child marriage, girls' leadership