Going bananas for sustainability: Turning waste food into tasty snacks
Pham is among a group of young people producing and selling banana snacks to create a profit and a better future, following training and support from Plan International Vietnam.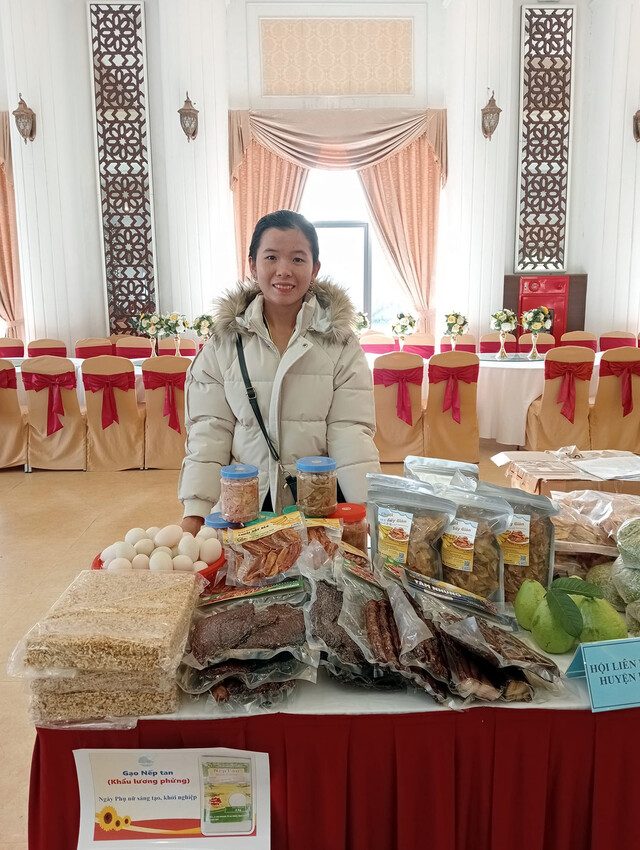 Pham, 24, is the leader of a group of enterprising young people from Lai Chau province who produce dried bananas, a traditional chewy snack in Vietnam. Starting their own business was not easy, and Pham says the group's journey to bringing their product to market has been a tough one.
"In those first months, we went from being super excited to downhearted. The theory behind producing the product was far more complicated when put into practice. Hundreds of batches of dried bananas were spoiled as we tried to get the manufacturing temperature right."
Sustainable local businesses
The group were helped to start their own business through Plan International's Ready for the Future project which supports young people aged 18-24 to come together in sustainable working groups to produce consumer goods using locally available resources.
Pham nominated herself as the team lead and encouraged her friends and family members to join the collective. The group decided to process bananas which are plentiful and grown locally. Plan International supplied them with training on the manufacturing process as well as the machinery needed to mass produce their banana snack.
As the team leader, Pham takes care of every part of the process, from purchasing fresh bananas, manufacturing, quality control, budgeting, financial management and marketing.
Things became extremely busy for Pham who also has a young child to take care of, however, she had the support of her husband. "My husband had my back. He supported me and believed in me with this business. He also takes care of our son while I'm working with my team. I appreciate him so much."
Despite the time and effort the group put in, they still were not able to make a profit and some members of the group decided to quit. "When there's nothing in return, it's easy to understand why they decided to give up," says Pham.
Regardless of this setback, Pham wanted to keep the project moving forward and try something different. Noticing that many bananas on farms were not being sold, and were being left to rot away in the fields, she started to look for a way to save the farmer's produce, while at the same time helping her business model.
New business model yields profit
Being able to source the unwanted bananas directly from the farmer at a cut price, Pham was able to reduce her costs and the business started making a profit at last. "Hard work pays off," she explains. "After many times of failing and retrying, we started to get stability into the manufacturing process and our products were of a high quality."
The dried bananas have since received a local OCOP (one commune – one product) certificate and Pham has introduced them at various local exhibitions and started promoting them throughout the province, where they are now widely known.
As a member of Plan International's Youth Advisory Committee in Vietnam, Pham also had the opportunity to present her dried bananas to her fellow committee members at their annual meeting, as well as inspiring them with her story of success. "My friends got excited and started discussing how to promote the products, from content on social media, to exhibitions in other provinces."
After deducting all their expenses, each member in Pham's working group is paid 2 million Vietnamese dong per month (around €80), which is considered a good income for a young person in the community.
"Giving up is the easy choice. I almost gave up, but I had the group looking up to me. I also had my family behind me, believing in me, and I had the support of Plan International. Now I truly understand it when people say: "If you want to go fast, go alone; if you want to go far, go together."
Skills and work, Livelihoods, Vocational training