Two years after the Typhoon according to the Survivors
How children and their communities perceive their lives 2 years after Typhoon Haiyan devastated Eastern Visayas.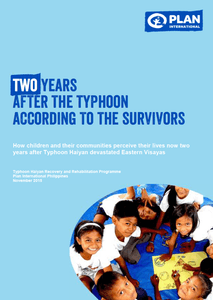 For 2 years, Plan International has worked and continues to work with children and their families in helping address immediate and intermediate needs arising from the havoc brought by the typhoon.
The organisation has had significant contributions in helping stakeholders and duty bearers deal with child rights violations.
On 20-21 October 2015, Plan International talked with affected boys, girls, men, and women to learn more about their current situation and prevailing needs.
The organisation conducted 36 focus group discussions in 11 villages in 8 municipalities and one city across Region VIII attentive to differences in people's experiences in terms of age, sex, and geographic location. A total of 339 persons (87 boys, 87 girls, 74 men, 91 women) became part of these discussions representing a cross-section of the affected population in areas where Plan International continues to work. This report builds primarily on the insights and opinions of those who were involved in these discussions.
Emergencies, Protection from violence, Child protection in emergencies, Disaster relief