Child Protection Rapid Assessment: Marawi Displacement
This report presents primary data collected during the month of October 2017 and is further enriched by available secondary data on the humanitarian situation in affected areas of Mindanao in southern Philippines following the conflict in Marawi City.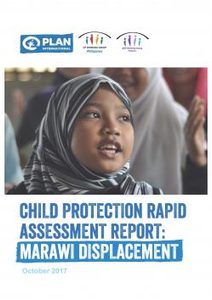 The Child Protection Rapid Assessment, which is part of the Joint Regional Child Protection and Gender-Based Violence Working Group, carried out the child protection rapid needs assessment that led to this report.
The Department of Social Welfare and Development in the Autonomous Region in Muslim Mindanao (ARMM) and Region X (Northern Mindanao) and Plan International Philippines led the task force. Plan International Philippines provided overall technical support to the preparation and completion of this report.
This report highlights the existing support mechanisms and the critical humanitarian needs in terms of child protection, and contains information on grave child rights violations due to the Marawi displacement. Primary data was collected through purposive sampling in ARMM and Northern Mindanao. The assessment only covered the identification and analysis of needs of affected populations, and does not measure the level of response by humanitarian actors.
Specifically, this assessment sought to:
Outline and describe the scale of protection needs and risks
Present priority areas for further assessment, action, and fundraising
Provide recommendations for the development of response strategies.
Emergencies, Protection from violence, Child protection in emergencies, Disaster relief, Gender-based violence