17 JUNE 2021
Mana Fe hopes to inspire communities to address cases of Violence Against Women through VAW Desks.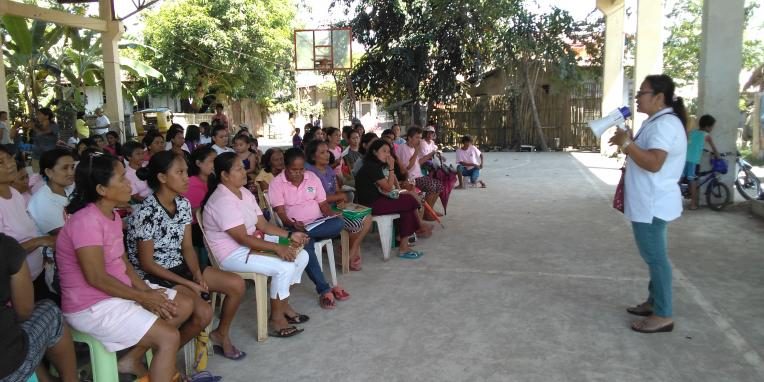 WESTERN SAMAR, Philippines — Where can we go to report cases of abuse against women and children?
The VAW (Violence Against Women) Desk, of course.
All barangays in the Philippines should establish its own VAW Desk. For this, we have the Magna Carta of Women to thank for. The VAW Desk is a "frontline service provider to victim-survivors who experience physical, sexual, psychological, economic, and other forms of abuse," as defined by the Philippine Commission on Women (PCW). It is managed by a "VAW Desk Officer designated by the Punong Barangay." It is usually set up in the barangay hall.
"Don't be afraid to report cases or to seek help," said Mana Fe, the VAWC (Violence Against Women and Children) Desk Officer of Barangay Solsogon in Sta. Margarita, Western Samar.
"Have the courage to visit the VAWC desk," she added.
Empowering a community
Aside from serving as a VACW Desk Officer, Mana Fe is also a Barangay Kagawad. She also leads the Barangay Health Committee, where she assists Barangay Health Workers who are among the frontliners during the COVID-19 pandemic.
As a public servant, her main goal is to educate the public about the rights of women and children. This is especially important during the pandemic, where cases of domestic violence have notably increased. Mana Fe emphasizes the importance of reporting incidents of abuse against women and children wherever it may occur — households, schools, workplaces, online, and public spaces.
"We should never tolerate cases of violence," Mana Fe stressed. "All forms of violence should be reported immediately, and all women and children should be given immediate assistance."
Aside from running the VACW Desk in her community, Mana Fe is also capable of conducting counselling sessions for couples experiencing marital problems. She also carries out VAWC awareness sessions not only for her own barangay, but for the neighbouring ones too.
"I share best practices and train other barangays on how to properly handle and refer VAWC cases to the Municipal Social Work and Development Office (MSWDO) and the Philippine National Police-Women and Children's Protection Desk." "I am also involved in championing women's and children's needs when it comes to preparing the barangay's budget plans," Mana Fe continued.
Purpose of VAW Desks
Here are the functions of a VAW Desk, according to the PCW:
Assist VAW victims in securing Barangay Protection Order and necessary services.
Respond to gender-based violence (GBV) cases brought to the barangay.
Record the number of GBV cases handled by the barangay.
Keep VAW case records confidential and secured.
Develop the barangay's gender-responsive plan in addressing GBV, including support services, capacity building, and referral system.
Coordinate with and refer cases to government agencies, nongovernment organizations, and other service providers as necessary.
Address other forms of abuse committed against women, especially senior citizens, women with disabilities, and other marginalized groups.
Lead advocacies on the elimination of VAW in the community.
Empowering community leaders
Barangay Solsogon is among the community partners of our RAISE Above Project, and Mana Fe is among our project participants.
Mana Fe received trainings from Plan International, as well as from our partners from the local government and the Department of Interior and Local Government. She was trained on Gender Equality, Child Rights, and GBV prevention.
Aside from training community leaders, the RAISE Above Project also conducts community awareness campaigns on the above topics, as well as on the importance of education, skills development, and adolescent health.
"The RAISE Above project also works to end VAWC through different modalities such as community bandillo and community awareness sessions," the project's Gender Specialist. "The project also collaborated with the DILG in establishing VAWC Desks and assessing its functionality."
To do all these despite the pandemic, the project made sure to strictly follow health and safety protocols.
"I want our VACW Desk to continue serving the public," said Mana Fe. "We have to always do our best for the wellbeing of the women and children in our beloved community."
The RAISE Above Project empowers adolescent girls, young women, and young men by making them better realize their rights to education and skills development.
The project is implemented by Plan International Philippines through the funding and support of Dubai Cares, part of Mohammed bin Rashid Al Maktoum Global Initiatives.
Protection from violence, COVID-19, Gender-based violence