10 NOVEMBER 2020
KC was married at 15 and became a mom at 16. Now she is determined to pursue her dreams and resume her education.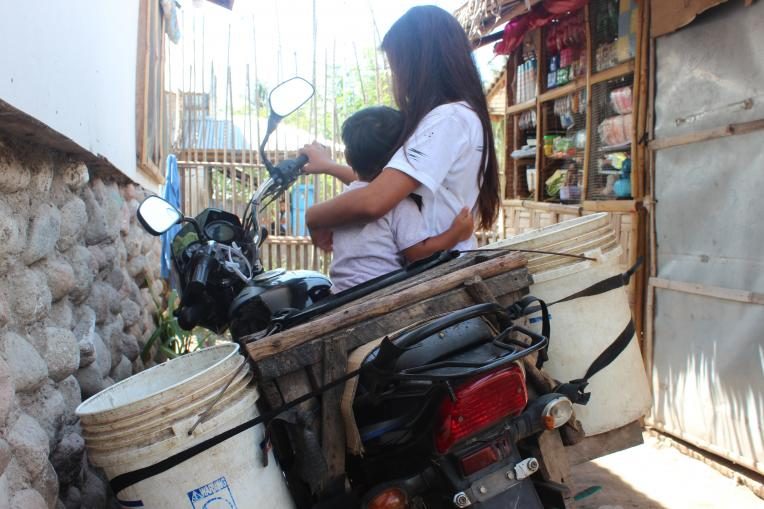 MAGUINDANAO, Philippines — Children belong in schools, not in marriages.
Unfortunately, many children and teenagers worldwide are still forced into early marriages.

At only 15 years old, Filipino high school student KC was married off.
KC lives in a coastal community in Maguindanao—belonging to the Teduray ethnic group—located in the Bangsamoro Autonomous Region in Muslim Mindanao.
"I got married at 15 and this was the reason why I quit school," KC said in Filipino.
A year later, she became a mother. KC is now a child who is expected to raise a child of her own.
We at Plan International recognize that Child, Early and Forced Marriage (CEFM) is a violation of children's rights and rob millions of girls around the world of their childhood.
CEFM forces them out of education and into a life of poor prospects, with increased risk of violence, abuse, forced sexual relations and early pregnancy, which carries high risks of maternal mortality and morbidity.
Early marriage, early pregnancy
"Being a mom at 16, I realized that life is really difficult," KC shared. "I have to redirect my life and take actions one at a time for our family."
"Having my own family at such an early age has changed me," she continued. "This includes my perspective on perseverance."
In the Philippines, "the legal age of marriage is 18 years, although marriage before this age is permitted among the indigenous peoples and among Muslims," the National Demographic and Health Survey (NDHS) reported.
"Only 2% of women ages 25-49 report that they were first married by age 15," the 2017 NDHS showed.
The same survey revealed that "2% of teenage Filipino women had sexual intercourse before age 15."
In 2017 alone, more than 194,000 young Filipino women ages 15-19 gave birth, according to the Philippine Statistics Authority (PSA).
"Among Filipino women ages 15 to 4, 1 in 4 have begun childbearing," the PSA found out. In fact, around 538 babies are born to Filipino teenage mothers every day.
KC is now part of this statistic.
It is important to note that comprehensive sexuality education is rarely taught in Philippine schools—despite the passage of the Responsible Parenthood and Reproductive Health Act back in 2012.
"Childbearing at a very young age is associated with an increased risk of complications during pregnancy and childbirth and higher rates of neonatal mortality," the NDHS stated.
"Child marriage particularly affects many girls' opportunity to realize their right to education," said Mona Mariano, Plan International Philippines' Country Gender Specialist.
"Education—which is relevant to the needs, rights and aspirations of girls—is a critical factor in empowering girls and women to make free choices and decisions about their health and their future," Mariano stressed.
Early marriage and teenage pregnancy are also among the top reasons why girls leave school. Other factors include financial problems and lack of personal interest.
Since KC has an infant to take care of, she feels she could not easily leave home to work and earn an income. "I felt guilty and remorseful every time my husband and I cannot provide our child's basic needs," she admitted.
Pursuing dreams
"Life has indeed thrown us a very painful and challenging experience," said KC. "We cannot buy our own household supplies and needs, so we have to wait for our parents' provisions."
Their situation is made even more difficult by the COVID-19 pandemic.
"These trying times have pushed me to start dreaming again," KC added. "I want to pursue my education again—but first, I also have to provide for my baby."
One day, community leaders invited KC among other young women and young men to attend a training on community-based enterprise development (CBED) conducted by the Reach Mindanao Project.
KC was trained on how to craft business proposals, manage finances, and run small enterprises. She was determined to become a young entrepreneur.
At the end of her CBED training in August, KC received a start-up capital, which she used to set up her own sari-sari store.
After a month, she used her earnings to diversify her business ventures. She started selling fish with the help of her husband, which proved to be a profitable move.
Eventually, KC branched out to her third small business—a street food stall operating at night.
"My husband and I are currently supporting each other, so we can effectively co-manage our small businesses," KC proudly shared.
"Now, I can sufficiently provide for my family's basic needs," she continued. "Moreover, I am also starting to build my own savings for the future of my baby and also for when I return to my schooling."
"I think I am still capable of learning," said KC.
"I want to go back to school and pursue my dreams of graduating from college. Then I will work, while also running my own business and giving back to my community."
KC is a beneficiary of Plan International's Reach Mindanao Project, which is part of our Youth Economic Empowerment Program.
The Reach Mindanao Project promotes inclusive education and flexible learning options. Our goal is to strengthen the capabilities of young people by enriching their technical and vocational skills, so they may gain decent employment or start their own business.
The project is funded by Reach Out to Asia Foundation.
Protection from violence, Sexual and reproductive health and rights, child marriage, Comprehensive sexuality education, Teenage pregnancy